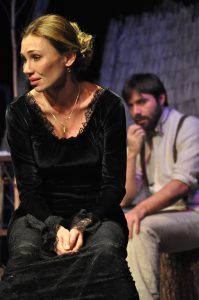 It is hard to put a finger on exactly why Termination Productions' version of "The Seagull" by Anton Chekov directed by Richard Haymes-Esposito at the June Havoc Theater is so disturbing.  This staging of the play is very uneven and choppy.  The performances range from superb to lousy.  But it is this same unevenness that prods the audience into questioning the aim of the direction and mise en scène.   Is the director's existential frame of reference rooted in the historical and political turmoil of decaying and moribund Czarist Russia of the 1890s?  Does the collapsing capitalist infrastructure of Russia's late industrial flowering inform the text?  Or are the imbalances due, on the other hand, to a lack of understanding of Chekov's text?  What is Haymes-Esposito trying to achieve here?  The answer of course depends on the audience's knowledge of Russian history, a subject that in the United States, very sadly, is almost exclusively esoteric or academic.
"The Seagull" has always been one of the most difficult dramas to mount on any stage.  The play's debut is one of the most famous flops in the history of theater and it wasn't until Stanislavski dusted it off that this cornerstone of modern drama achieved its rightful place in the canon.  Because of the handling of the play's subtexts and psychological layers, "The Seagull" makes it hard for an audience to reach consensus.   Unfortunately, this production may be consigned to the heap of failures unless the political environment in which the play was written and which cannot be ignored (it's hard to believe that Chekov was ignorant of the coming upheaval) are somehow smoothed out.  For example, the volatility of the character of Konstantine (played by Enrique Huili), clearly the most politically symbolic of the characters, is over-emphasized here.  Huili does far too much screaming and his hand movements are too kinetic, while his speeches on occasion simultaneously become monotone.  The effect is lack of integration.  The interactions between mother and son, the play's real pyrotechnics, are well handled, but again -- the volume is too loud.
Ella Ayberk shines as Mme. Arkadina.  With the exception of some over the top vocal strokes, her diction and movements are beautifully fused with the personality of the aging actress that is the central female role.  The quality of her excellent performance really calibrates the analysis of the rest of the cast.  The role of her lover Trigorin (generally considered one of Chekov's most important male characters) as played by Dangerfield Moore is certainly very good but not equal to Ayberk's side.  There are moments when Moore really has his finger on his character's pulse, but there are also moments when he is boring.
The faults of this production are very visibly the fault of the director.  But overall this version of "The Seagull" is worth seeing -- even if only for the value of Chekov's text.
Performances of "The Seagull" continue through November 30th.  For more information, check out our event listing here: https://stagebuddy.com/listingdetail.php?lid=16166