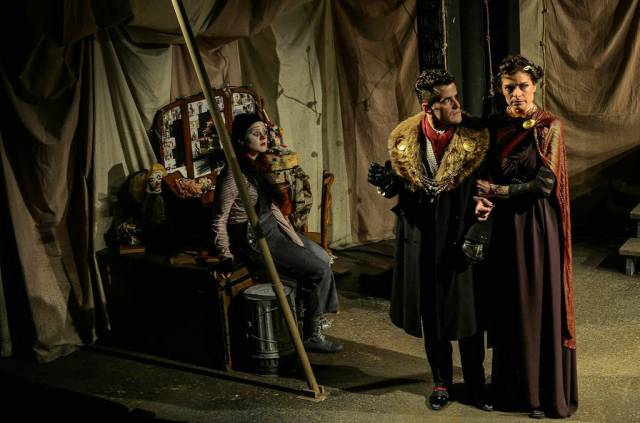 Before he wrote Hamlet, Macbeth and Julius Caesar, William Shakespeare produced his most violent play, the bloody revenge tragedy Titus Andronicus. It was a hit.
As the centuries passed and Shakespeare's legacy as The Immortal Bard grew, Titus Andronicus was viewed by many arbiters of taste as unseemly and even revolting, not in the same class as the fine tragedies mentioned above. But in recent decades the play's reputation has improved and it has reappeared onstage more and more often, most famously in Deborah Warner's celebrated production with Brian Cox as Titus and in Julie Taymor's film starring Anthony Hopkins. Now the bereaved Titus appears yet again in a new production at HERE presented by The New York Shakespeare Exchange.
The play is a gruesome parade of vendettas. Most of the victims are the children of Titus Andronicus' central characters, each of whom begs for mercy in turn only to be rebuffed as they see their issue mercilessly slaughtered. Revenge  turns the violence back upon the unmerciful and the killing and torture goes on and on and on. It is the most Greek of Shakespeare's works.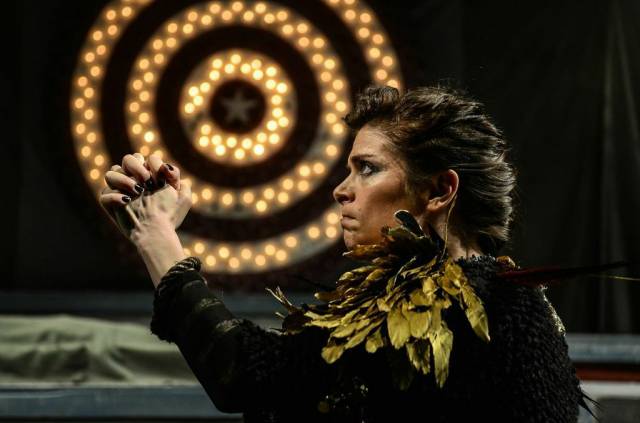 The visual metaphors used by this production are a faded circus and a perverse game of tag. Both are apt. Violent theatre does sometimes resemble a circus or a carnival, with audiences often hoping to see something bad happen. The set, designed by Jason Lajka, with its faded red and white canvas, corrugated tin walls and wooden platforms presents the perfect arena for this twisted three-ring mayhem. And everyone who has ever played tag is all too aware of the fact that no one wants to be "it"; as soon as one is christened with the ignoble title the only thing one wants to do is to pass it on to someone else. So it is in Titus Andronicus with the unwanted title of bereaved parent.
Director (and adapter) Ross Williams has staged the play with clear attention to the story; the action line is clean and uncluttered; there are no dreaded, "Wait, what's going on?" moments that often spoil less carefully staged productions of Shakespeare. The presentation of violence is fascinating as well. At the beginning of the play the violence is bloodless and somewhat over the top, like young boys playing cowboys and Indians. Lots of "Oofs and "Ugghs" after which everyone gets up when the fight is over. But when the moment comes in which Titus' daughter Livinia is found raped and mutilated, the blood appears in a shocking spurt, and from then on the violence is awkward, ugly and messy.
As the wounded warlord Titus, Brendan Averett is somewhat uneven. His best moments come during the scenes of black comedy, especially the final one in which Titus presents his foes with rather unappetizing just desserts. Averett  underplays the dark humor and yet manages to make it land with precision. The play's tragic moments are less powerful; we don't really agonize with Titus as he faces horror after horror, each new one, as he says, foolishly adding "water to the sea."
Gretchen Egolf is dynamic as Tamora. She expresses grief and rage as well as cunning and cold patience. In her we see the seeds of both Lady Macbeth and Claudius. Her ability with Shakespeare's verse is quite impressive; her voice is both natural and expressive. Most surprising is the bold southern accent she employs as she disguises herself as Revenge in order to lure the mad Titus into her endgame.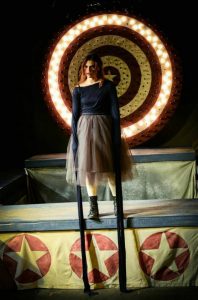 Vince Gatton is wonderful as the decadent Saturninus. Sly, quick-witted and perfidious, he is  this cast's best speaker of Shakespeare's verse. He plays the debauched Emperor with genuine wit; he is funny while never actually reaching for laughs. And he never loses sight of Saturninus' intense desire to be seen as the rightful ruler of Rome.
Also noteworthy is Warren Jackson as the fascinating Aaron. The granddaddy of Iago and brother of Edmund, the nakedly unrepentant Moor, as presented by Jackson, is actually quite charming. He is also surprisingly touching as he protects his own baby from certain death. Some of his best moments are in Aaron's marvelous speeches. Instead of vacantly gazing out just over the audience's heads as he speaks, Jackson looks directly into the eyes of select audience members, his gaze flitting from one to another as he coaxes them to come along with him. Other members of the cast employ this choice as well, and it is a simple yet powerful technique, allowing the speeches to really connect the characters to the audience.
All in all, this is a solid production. It comes in at a trimmed two hours and twenty minutes and moves quickly, especially in the second half. Anyone who has ever enjoyed Hamlet or Macbeth or any of Shakespeare's plays for that matter should seek it out. In this country Titus Andronicus is rarely done, and even more rarely done this well.