The title of "Two Alone/Too Together" sets the tone for Peter Welch's dark comedy, presented by Theater for the New City. By turn, the play's two actors evoke intense emotion in the audience -- their delivery is in good form, from their reflective soliloquies to their interpretation of the script's mild humor. The way that they are able to capture the audience's imagination seems even more impressive when you consider the play's setting: both acts take place in a single room at a hospital.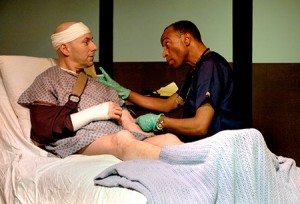 At the beginning of the play, two men, Nurse Stephen (Dan Kelley) and patient Jude (Peter Welch), are so alone in their lives that they come together to share each other's strife through a long and perilous night.  These dynamic characters take part in a confusing, emotional tryst in which they engage in a role play to relieve negative emotion and explore a new possible reality. Both men agree on a commonality: they have suffered broken hearts. Jude, who instigates the experiment, is eager to "cut through the bull, and reach the core" of what haunts our lives as humans.
The play challenges us to explore our own reality: can we face humanity after the "rug is suddenly pulled out from under you for no apparent reason"? In "Two Alone/Too Together" this is exactly what happens to Jude, as he lies injured in Nurse Stephen's care. We are left to make our own conclusions about the happenstance that brought these two men together. Was it planned and orchestrated by Stephen? Did Jude really attempt a suicide? Is their relationship a romantic one? One question remains prevalent, hanging in the air as thick as fog: was it worth it? 
Peter Welch brings relevant questions to the stage and asks the audience to step outside the mundanity of everyday life to consider an alternative way of thinking. His play comes at a appropriate time in our modern era -- at a time of rapid change within the LGBTQ community as its members gradually gain acceptance from mainstream society. Even now, Stephen struggles not only with heartache but with disapproval from his father.
"Two Alone/Too Together" invites you to open your minds (and hearts) as you bear witness to a story that carries truth for so many people. You are sure not to leave the theater unmoved.
Performances of "Two Alone/Too Together" continue through December 22nd.  Check out our full event listing here: https://stagebuddy.com/listingdetail.php?lid=16338