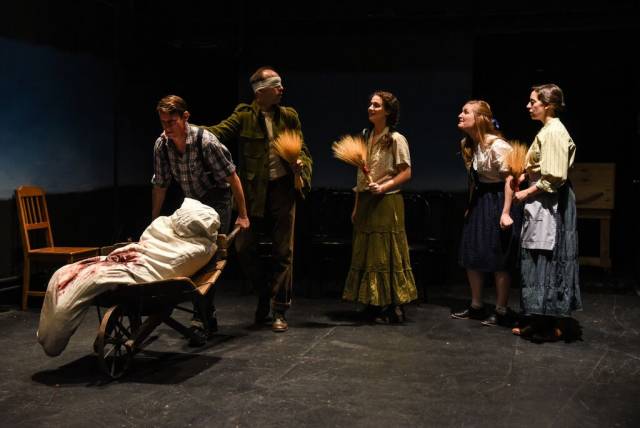 During the First World War, influenza attacked country after country after country. As injured soldiers returned home, they brought the virus with them; it turned into a plague. Some thought it was the beginning of the apocalypse: the War ended in the year 1918, and the Bible stated that the world would be around for only 6,000 years (4,082 of those B.C.).
This is the setting for Kevin Kerr's play Unity (1918), currently being presented by Project: Theater at the Gene Frankel Theatre in the play's U.S. premiere. Set in a small Saskatchewan town called Unity, the play follows the personal journal entries of Beatrice Wilde (played by Jessi Blue Gormenzano with the sweet grit and determination of a woman fighting for her own).  Along the way, it deals with war, coming of age and discovery of love, and the fear of what's around the corner.
Unity (1918) also shows us the never-ending body count during and after the war, most from the influenza. When Stan, a farmer with a new child (played wonderfully heartfelt by Joshua Everett Johnson), loses his wife in childbirth, it's the march to the funeral home with the echoing sounds of a crying newborn that cements the reality. When the blinded soldier Hart (Joe Jung, in delightfully comic, honest and touching performance) screams about the truths of war versus the lies of the media, we feel the body count rise. As these deaths pile up we get a coffin for each lost soul, both literally and figuratively.
The minimal designs and immersive feeling of such an intimate space are only enhanced by the direction of KJ Sanchez: Everything here overlaps -- dialogue, staging (with some scenes happening within others, or above others, but always directed for you to follow the light), and the recycled use of minimal props and costumes, reinforcing the hard times of war and the simple lives of the country. With this dedicated and talented ensemble and this brazen script, Sanchez has guided this production to highlight the harsh realities of war, love, and loss.