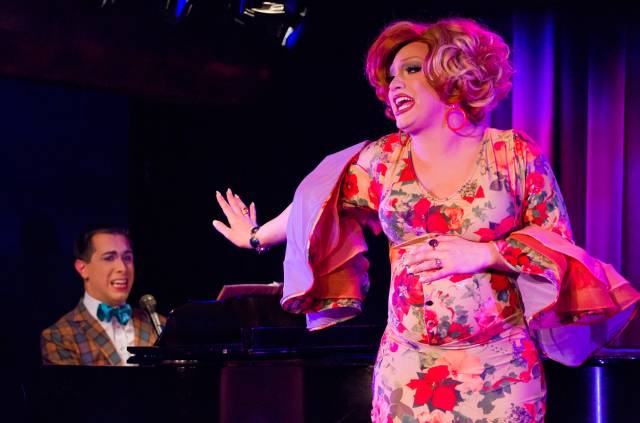 If Captain America had any musical talent and loved talking about sex, he would be in The Vaudevillians; like the famous superhero, the team of Dr. Dan Von Dandy (Major Scales) and his wife Ms. Kitty Witless (the terrific Jinkx Monsoon) were also caught off guard and ended up frozen after an avalanche buried them while touring Antarctica. It's only "thanks" to Global Warming that the team were thawed out and came back to reclaim the throne that was unjustly stolen from them, since they also pretty much wrote every great pop song in the world.
In their show Bringing Up Baby, the follow up to their smash 2013 run, the duo reveal that despite their best efforts, Ms. Kitty somehow ended up pregnant and might go into labor during the show! As tension rises they delight audiences with songs of their era, like "Let's Fall in Love" and also manage to squeeze in modern hits like Taylor Swift's "I Knew You Were Trouble".
What's surprising about Bringing Up Baby, is that for a show whose novelty could run out real quick, Monsoon and Scales make it last from beginning to end, and like the best cabaret performers they leave just in time for you to crave more. Scales' piano accompaniments and comedic timing are wonderful, while the extremely talented Monsoon gets to exploit her pipes, delivering numbers with equal doses sensuality, humor and emotion.
Monsoon is at her very best during the audience interaction, as she walks through the tables the Laurie Beechman Theatre looking for victims to quench Ms. Kitty's lust. What begins as a joke on gay hook-up apps, slowly reveals to be a way to bring the audience together, men sitting next to each other, half nervous of being next, half nervous of being ignored smile at each other and aww together as the voracious character moves among them. It's a wonderful moment, in what's already a helluva night.