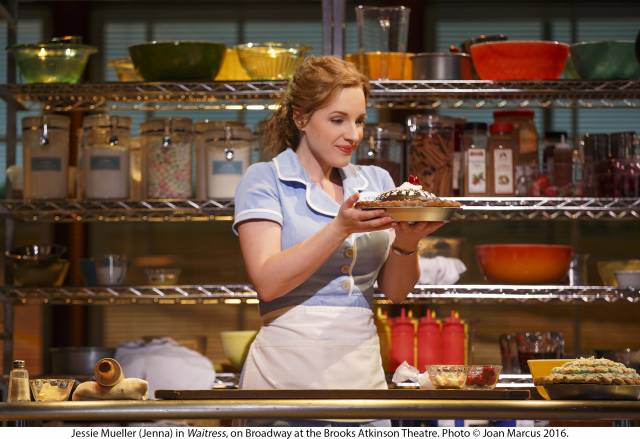 Waitress is a musical about the legacy of women. Jenna (Jessie Mueller) learned how to bake pies by watching her late mother come up with special concoctions to commemorate special times in her life. From heartbreak to joy, Jenna's mother had a pie for every occasion, and her daughter grows up to be just as creative in the art of baking. But life has forced Jenna to put this knowledge aside. She works as a waitress in a diner where she collects tips she then brings home to her abusive husband Earl (Nick Cordero). She allows herself to dream of having a better life when she's with her work friends Dawn (Kimiko Glenn) and Becky (Keala Settle). Then she gets a wake up call when she learns she's expecting a child. What legacy will she leave her child?
Jenna's potential fairy godmother arrives in the form of a pie baking contest set to take place in a nearby town. The 20 thousand dollar prize would give Jenna the chance to pack her bags, leave her husband and start anew with her kid. To say that the pie contest is a red herring wouldn't be so much a spoiler as it is a testament to how Waitress is a musical about real life. People dream of winning the lottery all the time, they count the figurative eggs in their basket wondering what they would do if they won, but many fail to even buy a ticket. What Waitress proposes is that the dream itself is the ticket. As Jenna sings, "Sometimes I still see her my mother the dreamer, she said nothing's impossible child."
With a book by Jessie Nelson, and music and lyrics by Sara Bareilles, Waitress strangely enough feels like the "realest" kind of musical -- one in which we actually believe the characters within the show would be willing to suspend their disbelief and burst into song. Bareilles has crafted gorgeous, delicately constructed songs that would be as appropriate on the radio as they are within the plot. In fact, one could even imagine the characters in the show trying to explain their current situation by comparing it to "Sara Bareilles' songs". That's not to say that the songs are too precious or take one out of the show.
In numbers like "When He Sees Me", in which the shy Dawn worries out loud about her upcoming blind date by confessing "what scares me the most is when he sees me...what if he runs the other way," it's as if the show is daring us to look at our own fears, and even more important, it makes us develop empathy. Few Broadway musicals make audience members swoon, as they wonder about the rights they think they have on other people's bodies.
When diner cook Cal (Eric Anderson) declares he's leaving before he dies of "estrogen asphyxiation" he's also conveying audience preconceptions that might lead some to believe this is a show "for chicks". While the show celebrates the bonds between women, it's refreshing to see how it uses male characters as sidekicks, not in the offensive way some fiction written by men portrays women, but as creatures who are overcome by the power of the women around them. The women in Waitress aren't afraid to declare they have sexual needs just as important as those of men. Several of the characters engage in extramarital affairs they end without unnecessary drama, and not once are we given the opportunity to judge the characters based on their actions.
This is owed in great part to the terrific work of the ensemble, especially Jessie Mueller whose ability to transform into different people, with slight changes in her vocal delivery and body language, is simply exceptional. Her Jenna is an imperfect heroine unafraid to make mistakes, but also open to change. We see how much she aches, and we can't help but admire her for her transparency. It would be wonderful, albeit way too much to ask, if by the end of the show, when we gave another glance at the Playbill, the title had changed from Waitress to Jenna, because the piece has taken us on a journey in which we've seen this woman, who can come up with clever names for all her pies on a whim, finally reclaim her own name. It is only by discovering who she really is that she will be able to leave behind a worthy legacy of her own.