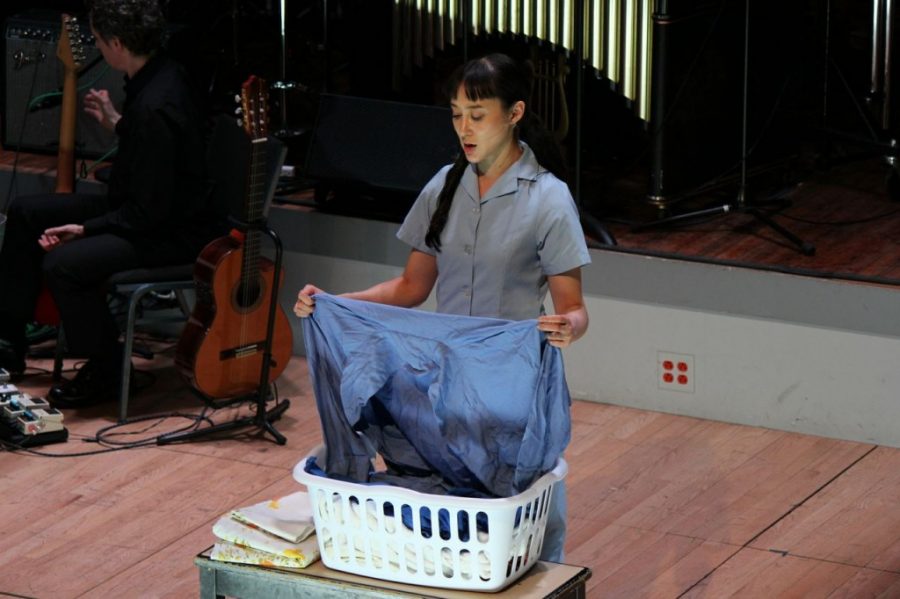 Two wildly different one-act operas, "The Wanton Sublime" and "The Companion", premiered at Brooklyn's Roulette space on Tuesday evening, performed by the American Modern Ensemble and American Opera Projects, and presented by Ear Heart Music.
"The Wanton Sublime", a solo piece about The Virgin Mary, portrays existential angst from the mother of Jesus and has a score that fuses atonal modernist sounds with electric guitar and drums. Tarik O'Regan's score is sometimes lyrical, and occasionally beautiful, especially the way the timpani blends with a lone violin or flute to make a magical third sound. But the appearance and reappearance of the electric guitar, punctuated by brief patches of the slow Amen break on drums is superfluous.
Hai-Ting Chinn has a rich mezzo-soprano voice with a wonderful range, at times whispery and also powerful enough to shake the walls. Her Mary is no naïve child. She has the strength and intelligence of a mature woman. It was the portrayal of a Mary who debates whether to be God's vessel that was the most intriguing aspect to this opera. Anna Rabinowitz's lyrics provided no ambiguity as to what was going through Mary's mind. The words were replete with imagery, often stilted and sometimes pretentious, reminiscent of poet Alice Goodman's collaborations with John Adams.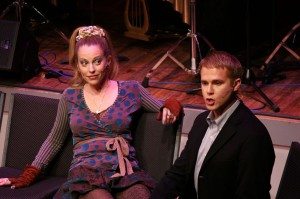 "The Companion" begins as a light romantic comedy and evolves into satire. Maya comes home from work to be welcomed by her lover, the so-good-to-her-he's-dull Joe. As he unexpectedly launches into advertisements for various products it becomes clear he is a mechanical lover, programmed to make Maya happy. But the ads are increasing and the glitches are annoying, so it's time for an upgrade. If the premise seems obvious, the music and performances more than make up for it. And the libretto by David Cote is filled with amusing, melancholy observations about the inexplicable things humans do to find love.
Nancy Allen Lundy managed to capture the essence of Diane Keaton in her acting and singing. She was funny and touching, clearly frustrated but endearing. Baritone Kyle Guglielmo was perfect as Dax, the bemused technical support who keeps returning to fix Joe. He has a clear, rich voice that captured the essence of his character, an amused observer of human foibles who secretly loves Maya.
Tenor Brandon Snook was comically endearing as the predictable pre-programmed lover, funny as the retooled, obnoxious upgrade and ultimately moving as he wisely solves Maya's romantic troubles with a touching farewell. His voice is bright, nuanced and beautiful.
Robert Paterson's brilliant score provided a magical counterpoint to the humorous contretemps by revealing the emotional truth of what was really happening instead of being whimsical or humorous. Despite the predictable concept, the elements came together in a fun way that made "The Companion" a highly enjoyable comic opera.