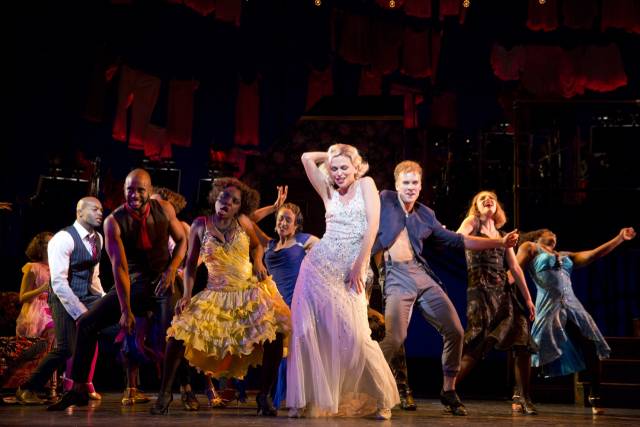 Queenie was a blonde, and oh what a blonde she is as played by the ever sensational Sutton Foster, who from the moment she makes her entrance casts a spell on the audience of The Wild Party. With legs for days and a feline, sensual purr, Queenie lets us know we're in for a treat as she invites us to party like it was the 1920s, in an opening number that blew the roof of City Center on July 17 as part of Encores! Off-Center. We learn soon enough that Queenie is romantically involved with vaudeville clown Burrs (Steven Pasquale) who looks at her with equal parts lust and contempt, their relationship clearly as volatile as the overall feeling of the Prohibition era.
Scared by Burrs' temper, Queenie suggests they throw a party to appease his mood and perhaps rekindle their passion. The party proves to be an assembly of colorful characters, all visitors from the underworld in which their hosts move. Queenie's friend Kate (Joaquina Kalukango) arrives with the enigmatic Mr. Black (Brandon Victor Dixon) who immediately catches Queenie's eye, and soon the four, including Burrs, become involved in a game of seduction and betrayal with tragic consequences.
Fans of Lippa's anachronistic score were in for a treat as music director Chris Fenwick conducted the band with the energy of a true jazz era virtuoso, the brassy elements seamlessly blending with the electric components, and what singers the band was accompanying! Pasquale was overpowering and terrifying as Burrs, but still allowed his incredible voice to seem modulated enough, as if the clown was trying to balance his sad and smiley sides. Dixon's Black was seductive and gentleman-like, while Kalukango's Kate was a true scene-stealer, each number more outstanding and vibrant than the previous. Featured players like Miriam Shor who played Madelaine True and Ryan Andes as Eddie were equally compelling to see and hear, even if they don't have much to do, for how do you get to meet every guest at a party?
But the show, as usual, belonged to Sutton Foster, who even when standing to the side and letting her "guests" have a chance under the spotlight, somehow still managed to be the center of attention, not that she needed to try for that matter, but just watching her glow as she saw others perform was wonderful, her smile saying more than any song could. It was great to see Foster play a much more sexualized character than she's ever done before, for Queenie is certainly much more modern than Millie, but while she aced the slightly pathetic seduction techniques of Queenie (making one crave for a version of Chicago featuring her as Roxie Hart) she was incomparable in the more revelatory moments in which Queenie must face herself. Even in the middle of such a bombastic party, she can't hide from the demons within.