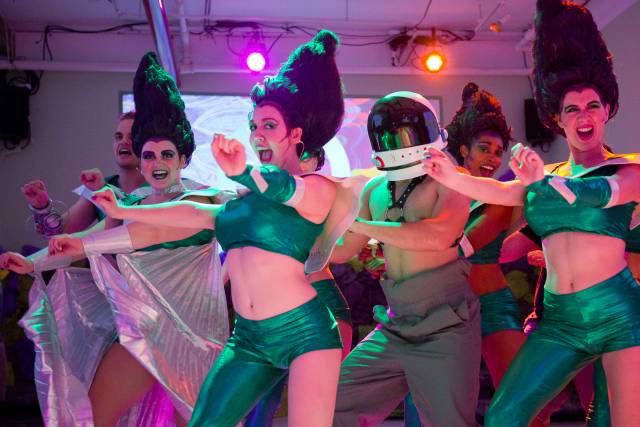 When it comes to interactive theatre, it's hard to think of a better staging location than a bar. The creative team behind the '60s sci-fi musical dance party extravaganza Wild Women of Planet Wongo chose well when they set their immersive showcase in Brooklyn Fireproof, where the audience can sit in the bar space and order drinks while they wait for the show to begin. The green-colored "Wongotini" is highy recommended to get you ready for the adventure you're about to embark on.
The audience is herded into a hallway where they are introduced to astronauts Ric Rogers and Louie La Fever (Miki Hellerbach and Howie Schaal, respectively) on their way to deliver a bulk order of potato chips to a crew on a distant planet, guided by their snarky computer Hermie. Their ship crash lands on the planet Wongo, famously inhabited solely by a race of scantily-clad alien women. Louie is ecstatic over their predicament but Ric wishes to complete their mission, until he sets eyes on the planet's Queen Rita, portrayed by vocal powerhouse Alyssa McGuigan. However, the men soon realize that the flirtatious nature of the women masks their deadly ulterior motives and they are soon running, hiding and...singing for their lives.
The majority of the show takes place in a large room decorated in green alien plant life, where the audience is free to roam and stand pretty much anywhere they wish. The actors immerse the audience in the show as much as possible, even using them as cover when hiding from the wild women in pursuit. One might think the song and dance numbers would be impeded by the crowd but the performers flawlessly perform Juson Williams's choreography without any audience casualties.
In contrast with the show's shoestring budget, the music by Dave Ogrin, Ben Budick and Steve Mackes is surprisingly memorable. All of the performers are as talented vocally as they are with comic timing, excelling on all fronts. A particularly enjoyable number is Queen Rita's tyrannical "By the Book", sung powerfully by McGuigan with a Menzel-esque belt. The leads Hellerbach and Schaal also play perfectly off of each other as the straight man and the loud-mouthed oaf. The ensemble of "Wongettes" together create a sound that could fill a Broadway theater, and the bit part of "Bubble Boy" (Alex Rivera), a dancing muscular helmet-clad man straight out of a Mad Max film, is visually captivating despite having no role in the story.
Of course the fun of interactive theater is the audience participation, and Wongo succeeds in that department, inviting the audience to dance with them for the "Wongo Luau." Don't worry, they teach you the correct moves. Director David Rigano clearly prioritized a fun time for the his attendees.
If drinks, dancing and music are your thing, Wild Women of Planet Wongo will not disappoint. Again, make sure you order the Wongotini at the bar.