Review: A Wilder Christmas: "The Long Christmas Dinner" and "Pullman Car Hiawatha"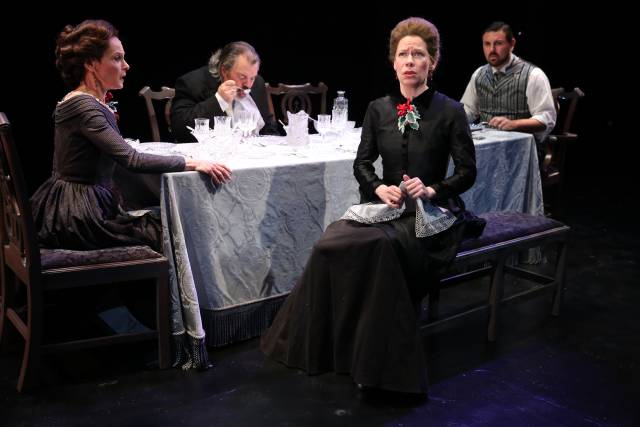 In walking into a night of Christmas one-acts, one might expect a familiar, uplifting experience. Seasonal stories about redemption, hope and triumph of spirit. But if the Peccadillo Theater Company's presentation of A Wilder Christmas, directed by Dan Wackerman, is uplifting, it's only in an intangible, spiritual sense. Its two shorter plays by Thornton Wilder – The Long Christmas Dinner and Pullman Car Hiawatha – are so squarely about birth and death that these universal codependent experiences practically appear as characters in both.
The Long Christmas Dinner takes place over nearly a full century, covering the multi-generational existence of the Bayard family. It is composed of dozens of brief moments from many different Christmas dinners; the ends of these moments are signified by second-long actor pauses. The whole stage freezes, as if modulating into a photograph, and this little action helps to place all of this history in the past where it belongs. In fact, there is a stillness to the production that creates an eerie voyeurism – something like the experience of riffling through long lost family photos at a flea market, with nothing but handwritten dates on their otherwise blank white opposite sides to offer some context.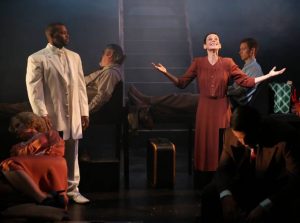 Pullman Car Hiawatha is a guided tour of a train car on its way to Chicago from New York. Our guide is played by a gleefully unusual Michael Sean McGuinness as a character who presents himself as a "Stage Manager" (much like in Wilder's later Our Town). In actuality, this Stage Manager is more like a curator of the passengers' thoughts; we get glimpses of their private anxieties and desires, disparate as they may be. Some are heightened, some are banal. But soon – after an audience-addressing aside which further blurs the fourth wall – the immediate fears of one dying passenger take precedence. Pullman Car Hiawatha takes a turn towards the transcendental, and Peccadillo's translation of this portion of the play is particularly powerful. Smoke pours out from the stage, obscuring the light, and ethereal but sometimes discordant music plays for minutes on end. Everything coalesces to transport the audience to a different state of mind; it creates the kind of unnerving tranquility that can make the New York streets we spill into seem silly in their business.