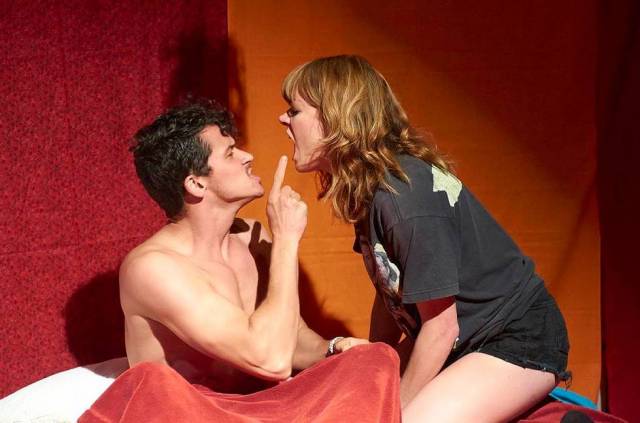 War between the sexes has been raging since the beginning of time, and with the proliferation of technology and the rampant narcissism that comes with it, things have not necessarily advanced for the better. In fact, they've gotten a whole lot messier, leading one character in Women Are Crazy Because Men Are A**holes to lament, "I wish I lived in times of arranged marriage!" Writer and director Brad T. Gottfred tackles the psychological minefield that is love and sex in 21st-century America, serving up a roller coaster ride that leaves its audience laughing out loud at the absurdity of it all.
After two months of internet dating, Dylan (Devlin Borra) has flown to Los Angeles to finally meet Nicole (Mandy Henderson) in person at a brunch she's put together to celebrate the occasion. Nicole is convinced that Dylan is the one, setting herself up for major disappointment. To make matters worse, her friends have all been invited to witness the unfortunate -- and hilarious -- turn of events. Luckily for Nicole, her pals don't have their lives together enough to judge, their own dysfunctional relationships unraveling during the day.
Nicole's crew consists of best friend and loveably unhinged Mandy (played expertly by JJ Nolan) and her untrustworthy boyfriend Benny (John Weselcouch), her siblings, the cold Bella (Christine Donlon) and super clingy Tim (Justin Sintic), and their respective partners, the out of touch sugar daddy Reynold (Blake Boyd) and fed up Phoenix (Nikki McKenzie). Hillary (Tunisia Hardison) and her ex-boyfriend of three days, George (Baxter Defy), are also on their way to the gathering, but can't seem to stop fighting long enough to actually make it.
The cast uses every bit of the set, which serves as a bedroom, living room, dining room and two cars. The actors even utilize the theater aisle, as if the stage can't contain the insanity of the play. Women Are Crazy is an interactive experience, and the buoyant Mr. Boyd also serves as a charming emcee. The actors, perfectly cast in their roles, frequently break out of the fourth wall to divulge what they are thinking, and it's often funny. The set design (by Christopher and Justin Swader) made of mostly red and orange ties in nicely with the concept that men are apples and women are oranges; the men also wear at least one red item to drive the point, while the women stick to orange.
The title may seem sensational to some, but accurately reflects the farcical nature of the play. There are pearls of wisdom strewn throughout: if someone has to change to be with you, don't be with them; make yourself happy so you can stop making everybody else miserable. But just as in real life, the characters let their egos prevail, ignoring these simple truths or failing to follow what they preach. By the end of it, it's pretty evident that women are crazy because men are assholes. However, like attracts like, so the inverse is also true. It takes two to tango in love, or more accurately, in codependency.