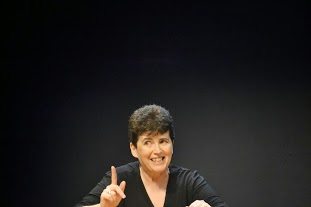 Playwright Monica Bauer has a way with words.  And she's a natural-born story teller.  And she can act.  And she's funny.  All of these talents come together beautifully in her one-woman show "The Year I Was Gifted".  This hour-long piece of autobiographical performance art tells the story of what happens when the financially weak challenge the financially strong -- a simple, if not ordinary theme.  What brings a genuine pathos and poignancy to this particular story is that this terrible defeat comes as a result of defending the victimized and defenseless.
In her early teens, the narrator of "The Year I Was Gifted", after overcoming almost insurmountable obstacles, manages to raise enough money to escape her dreary, Midwestern, suburban high school and attend the prestigious Interlochen Arts Academy in Michigan.  Soon after her arrival there, she is informed by the dean of financial aid that her partial scholarship (which includes work-study kitchen duties) is valid for only one year, but that if she does well on her junior project – a composition to be performed by her talented classmates -- the school will give her a free ride the following year.  Unfortunately she decides to write a musical about a student who is expelled (the 34th that year alone) for being gay and the establishment pulls all funding.
Bauer delivers a kind of perfect performance art rich in exquisite detail.  Her miniature of the residential districts of Nebraska's slaughterhouse industry induces instant depression.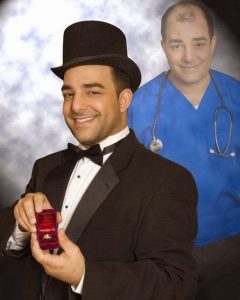 Yes, Monica Bauer has a way with words and a powerful ability to make them come to life, whether she is performing her material herself or trusts others to do it for her, as in the second performance of the night's double bill -- "Made For Each Other."  This one-man show, performed by John Fico and written by Bauer, dramatizes the development of the relationship between Vincent, a high school teacher, and Jerry, a nurse in the nursing home to which Vincent's mother has confined with Alzheimer's Disease.  The men decide to marry after a short time, but as the wedding approaches, Jerry suspects he, too, is falling victim to his mother's illness – even though he's adopted – and disappears before the wedding.
"Made For Each Other" contains four characters, all of whom are wonderfully played by Fico.  Whether playing Jerry, Vincent, Jerry's mother or Vincent's grandfather, Fico has an ability to transform persona at the drop of a hat.  He never fails to reveal character or to elicit an emotional response in his audience.
For more information, check out our event listings: "The Year I Was Gifted" and "Made for Each Other".  And don't miss out on our interviews with Monica Bauer and John Fico.