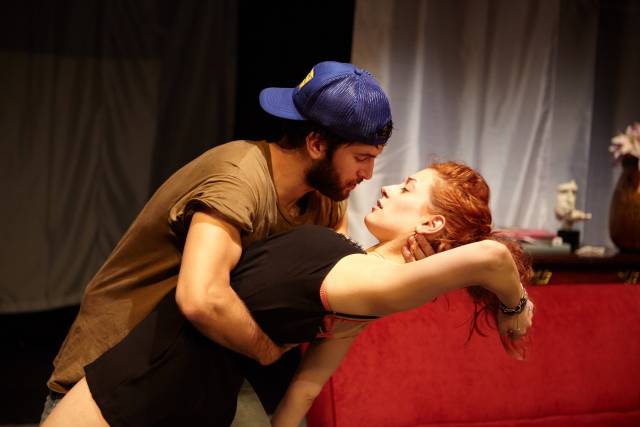 The lead characters in Leslye Headland's Bachelorette are what millennials would refer to as "hot messes", they are young, single women trapped in the limbo between responsibility and hedonism. Headland's gift is that she doesn't push them into choosing a side, at least not before they're ready. This comes to surface beautifully in the revival playing at Walkerspace through September 17, as director Hannah T. Wolff allows them to be as ugly as they want to be, without robbing them of their humanity. Take Regan for example, the oft selfish goddess of destruction who pretends not to know she's about to wreck her frenemy's wedding, as played by Darcy Wright, Regan is a jumble of contradictions, and yet one can't help but want to help her. Wolff has the ability to amp the comedic scenes thanks to her ensemble's naturalistic work, but it's quieter moments where the play truly haunts. In the best scene a drunken Becky (Emily Ota) talks about life with the sweet, clumsy Joe (Scott Friend) and the intimacy was such that we didn't feel like intruders, but guests invited to see a truly precious moment.
One of the most joyful moments during the ShakesBEER pub crawl on September 10 came well into its third hour as audience members saw a scene from The Merry Wives of Windsor unfoldl at Landsdowne Road in Hell's Kitchen. What was so remarkable about the moment wasn't just how great Carey Van Driest and company were (the ensemble was terrific!) but the contrast, given that we were in a bar filled with football fans, and surrounded by sports memorabilia. It's the kind of place where, historically, theatre nerds got beaten by jocks! And yet, here they were laughing and sighing along with the actors. Such is the magic the Shakespeare Exchange folks elicit at each event. The previous scenes had ranged from the dance in Romeo and Juliet (with a swoon worthy Cory O'Brien-Pniewski) and a hilarious scene from As You Like It that seems like it was written for the era of Tinder. Since this was a special Irish Edition, the company also did a scene from The Cripple of Inishmaan, the one where Helen (Kim Krane) makes use of some eggs on her poor brother's (O'Brien-Pniewski) head. The avian embryos were the only rotten element in an afternoon that proved to be a complete success.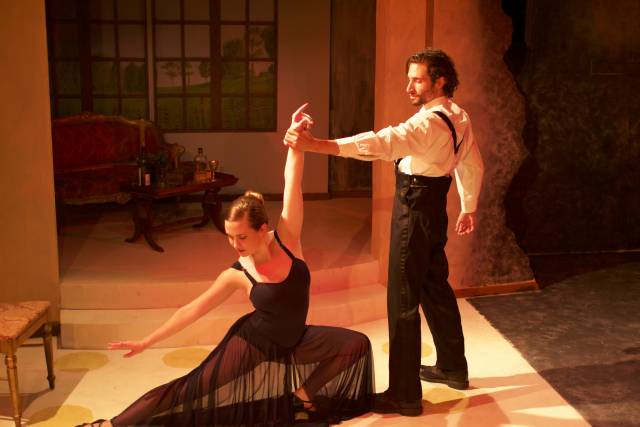 Celeste Mankoff's Crashlight suffers the curse of most modern day musicals, it has a gorgeous, haunting score, but the words have very little substance. In this case we find ourselves in the presence of a The Hunger Games/Fahrenheit 451 hybrid set in a world where music and sunlight have been forbidden by the state. Leave it to idealistic violin maker/smuggler Rian (Lindsay Danielle Gitter) to try and Katniss her way out of this oppressive system. Details of the plot aren't essential, because you can see every twist coming from miles away, and while the performers are quite good, the casting would have been better served by featuring some older actors in the ensemble (as delightful as Andy Dispensa is as the evil dictator, he lacks the gravitas to make us believe he's someone millions would fear), with that said Mankoff has crafted some melodies that pierce the soul, her music is so lovely that if it were to be banned, anyone would be proud to start an uprising to reclaim it.
Mint Theater Company's exquisite production of N.C. Hunter's A Day by the Sea brings to light a play that after an unsuccessful Broadway run more than half a century ago, sank into obscurity; however, unearthed in 2016 has so much more to say about our days. Even though the play concentrates on the midlife crisis of a stuffy English diplomat (Julian Elfer), it's the supporting characters who paint a world worth visiting. From the spinster nanny (Polly McKie) who understands that she must carve her own path if she wants to survive, to the elderly uncle (George Morfogen) who has chosen to "tune out" and live in oblivion in a world that has all but given up on "values", the play seems to be commenting on the apathy of modern society. Scarily enough there are also mentions of a fascistic movement that fears the unknown, and the characters are seen trying to cope with what might be their last peaceful summer together. Divided into three acts, the play's structure recalls the different stages of a political being, from idealism, to frustration, to nostalgia. Directed by the masterful Austin Pendleton, A Day by the Sea is essential theatre.