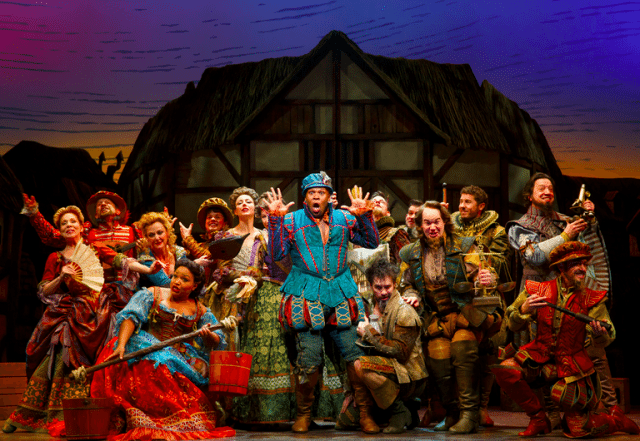 Bard envy consumes the lead character of Something Rotten! an Elizabethan playwright by the name of Nick Bottom (Brian D'Arcy James) who simply can not understand why he's unable to write a single hit, while his rival William Shakespeare (Christian Borle) churns them out effortlessly. As Nick lets anger and frustration take over him, his younger brother, the sensitive Nigel (John Cariani) keeps a folio he fills with complex poetry much to the disapproval of his brother who fails to see how anything so dark can be commercial. In a desperate attempt to beat Shakespeare at his own game, Nick visits a fortune teller by the name of Nostradamus (Brad Oscar), not the legendary seer, but "his cousin Thomas" as he explains, who goes into a trance and brings Nick news back from the future, a place where the most popular thing on the stage are something called "musicals".
The idea of plays where the action is advanced through song and dance seems ridiculous to the cynical Nick, who eventually decides to take up Nostradamus' advice seeing no other immediate solution to his problems. With this in mind, Nick and Nigel set out to make the world's very first musical, an extravagant production involving depressed princes, backstabbing kings and eggs. With music and lyrics by Wayne Kirkpatrick and Karey Kirkpatrick (who also co-wrote the book with John O'Farrell) Something Rotten!  is the very epitome of a crowd pleaser. It's a blissfully entertaining show that doesn't pretend to contain anything particularly original, its premise being a reworking of films and shows like Amadeus and Shakespeare in Love, and its music paying homage to famed musicals like Gypsy, Fiddler on the Roof and Spring Awakening among others.
However its greatest achievement is combining all these elements and transcending parody because of how openly it wears its heart on its sleeve, it's a show by musical lovers made to please other musical lovers. In the rousing number "A Musical", Nostradamus takes us on a journey that could very well sum up the entire history of the modern musical, a number which could very well be titled "meta" for it pokes fun at things like the price of drinks in Broadway theatres, provoking endless bouts of laughter from patrons sipping on those very drinks. If at times the show seems to be aiming at the lowest hanging fruit - the gay slang connotations of the brothers' surname for instance - it makes it so in a way that they seem fresh and would fail to offend anyone. The book and lyrics balance delicately on the line between adolescent humor and clever homage, "don't be a penis, the man's a genius" they warn Nick of Shakespeare.
Choreographed and directed by Casey Nicholaw, Something Rotten! might be one of the most energetic offerings put on Broadway in recent years, with at least four numbers that could very well be called "showstoppers", Nicholaw cleverly spreads these numbers evenly so that the audience are often left begging for more. This is remarkable especially considering how small some of these numbers begin; in "We See the Light" for instance, Nigel and his paramour, a puritan by the name of Portia (Kate Reinders) share an intimate ballad that suddenly explodes into something straight out of Sister Act, and the delicious "Bottom's Gonna Be on Top" sets off as a tap battle between Will and Nick, only to then become Nick's very own "Rose's Turn".
The show's success is also owed to its pitch perfect casting, James' neurotic take on Nick is often heartbreaking, while Cariani turns Nigel into an unlikely romantic hero. Borle turns in a stylized performance as the Bard, who the writers have conveyed as a combination between Freddie Mercury and David Bowie, a pansexual charmer who is always aware that nothing matters if there's no audience to see it (he is the only character in the show who has a British accent). Reinders' Portia seems to be borrowing from Amy Poehler, and Oscar steals pretty much every scene he's in (one of his non sequiturs in particular had the audience roaring with laughter). Heidi Blickenstaff as Nick's feminist wife Bea similarly does more with every line she's given than one would think possible.
For all its fun and laughter, Something Rotten! also touches on deeper issues about art vs. commerce, and even playfully comments on the cultural rivalry between England and America (especially in the finale), but unsurprisingly the show proves to be a love song to the Bard, who might have been a despicable human being, a thief, or an impostor, but still left us with the richest legacy in all of the English language. When the Kirkpatrick brothers musicalize "To Thine Own Self", they seem to be taking on the form of the Bottom brothers, two creators who are so in awe of Shakespeare's ability to turn words into melody, that their envy is not only understandable but also touchingly humble.