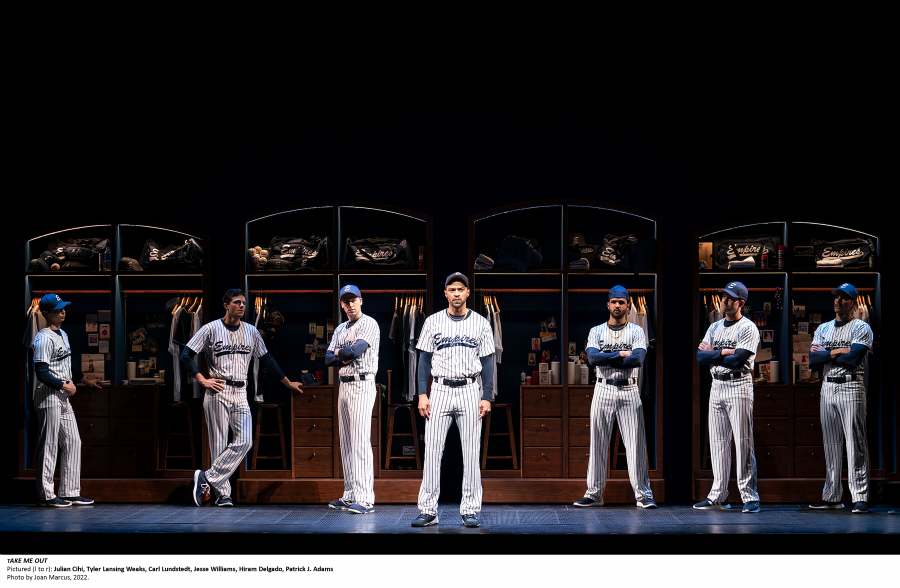 What a quandary! There was a new show to review, but it was opening night for my favorite baseball team. Which one should I choose? The theater won this time.
A timely revival of Richard Geenberg's insightful play, Take Me Out deals with all the current issues - discrimination, homosexuality, bigotry and racism. Yet at its heart, it is about baseball with "baseball is a metaphor for life."
Darren Lemming, a mixed-race superstar player with a multi-million dollar contract, has it all. Played by Jesse Williams (Grey's Anatomy) making a fine Broadway debut, Lemming is a five tool player but is arrogant, even comparing himself to God.
In his play, Greenberg envisioned the aftereffects of an athlete playing in a macho environment publicly announcing his homosexuality. Presented by the Second Stage at The Hays Theater, the drama is presented in a form of flashbacks with Kippy (Patrick J. Adams) serving as a narrator. During a press conference, Lemming has revealed he is gay. The reactions are mixed, as is the team itself. There are Hispanics and Blacks, as well as an ace Japanese pitcher who seemingly speaks no English and has isolated himself from the team.
The action turns ugly when Shane Mungitt, a dull Southern relief pitcher, joins the club. During an interview following an impressive victory, his deep-rooted prejudices are revealed. He insults the Blacks and Hispanics on the team and speaks disparagingly about the 'faggot' in the shower. Things get worse from there.
However, in the midst of all this drama appears "Mars" Marzac, a diffident gay man who handles Lemming's financial affairs. A loner, he becomes enthralled with baseball. Played by an energetic Jesse Tyler Ferguson, he provides comic relief because he doesn't fit in. Not with the jocks nor with the gays. Yet when he finds a community as he discovers the beauties of baseball, from the symmetry of the number three to the camaraderie of the fans, the play becomes imbued with a certain joy.
When I saw the play for the first time years ago, I was impressed by Greenberg's skilled use of language. Characters range from super-intellectual (Kippy) to almost guttural (Mungitt.) Yet it doesn't matter how intelligent they are, there's a breakdown of communication. Whether through religious ideology, background or prejudice, these men just are unable to communicate with one another.
When audience members enter the theater, they are told to place their phones in gray pouches to be unlocked at the end of the show. When I asked why, I was told it was so no one's phone would go off (which sounded fallacious since that's a problem at all theaters.) Then my colleague observed they probably wanted to prevent people from taking nude photos and posting them.
Oh, did I not mention that this show has nudity? The play, expertly directed by Scott Ellis, is set in the locker room where the players are constantly changing and showering. The nudity is very natural and not at all gratuitous. However, if this type of display makes you uncomfortable, you might want to skip this play.
The inclement weather that night worked in my favor. I left the theater savoring Greenberg's play , but due to a weather delay, the baseball game had been delayed. I got home in time to watch my home team win its opening. (Go, Mets!) A victory all around.