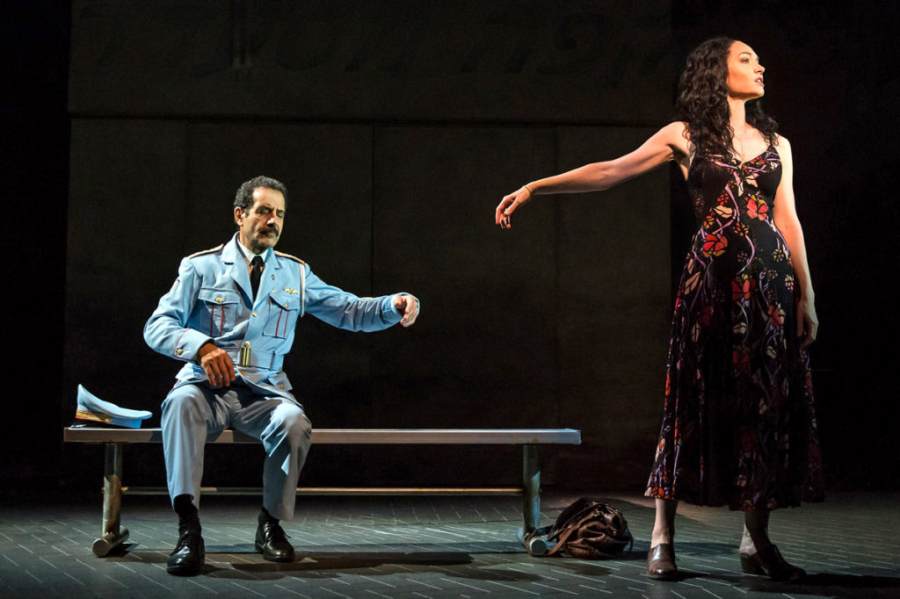 Everyday comes depressing news from the Mideast.  And now, finally, some pleasant news! A troupe of Egyptian musicians gets lost in Israel and is warmly welcomed by townspeople living in the middle of nowhere.
Last season The Band's Visit played at The Atlantic Theatre Company, winning several awards. Now people who missed this small gem of a show can catch it at The Ethel Barrymore Theatre with most of the original cast intact.
The show, with music and lyrics by by David Yazbek (The Full Monty) begins with miscommunication. Haled (a charming Ari'el Stachel) doesn't speak English very well, so The Egyptian Ceremonial Police Band, consisting of eight musicians en route to Petah Tikvah, winds up in Bet Hatikvah, a sleepy town in Israel where all the inhabitants we meet seem vaguely discontented, if not downright unhappy. As the band has missed the last bus out, the locals volunteer to house the band members. Quietly and subtly, the interactions are profound. Through music, conversation and sometimes a calming presence, all seem momentarily buoyed and transformed, even if only for an evening.
Both lonely, Dina (played by sensuous Katrina Lenk) and Tewfiq (Tony Shalhoub) connect and, except for an interruption by Dina's ex-boyfriend, it appears that they will have a passionate moment together. Itzik (John Cariani) and his wife are not getting along. He has been out of work and she's overworked and angry. The presence of the Egyptian clarinet player who has an unfinished introduction to a symphony calms and reconciles them. Poor Papi cannot express himself to the girl he likes and is aided in song by Haled, an Egyptian playboy-type who sadly must return home for an arranged marriage. Then, in what appears to be the saddest situation of all, the Telephone Guy waits night after night at the phone booth for his girlfriend to call him. Spoiler alert: she finally calls and his jubilant song "Answer Me" is probably the best piece in the show.
Director David Cromer has created a play with a slow-pace and much introspection. The skilled actors go from excellent Hebrew and Egyptian to perfectly accented English.
Yazbek's music has a decidedly Middle Eastern flavor with use of the  clarinet and Egyptian musical instruments. There's a band offstage, but most of the Egyptian band members play as well. After the curtain, the band entertains the audience with a rousing Arab-sounding song.
So could it be that with a little understanding and a lot of music the perpetual strife in the Middle East would end? Maybe, if only the band would visit.