The intimate and striking performance given by the cast of "Three of a Kind, With Two Wild Cards" is one that will have your heart pounding and thoughts whirling. Ongoing through December 1st, Robert Homeyer's sophomore production for Theater for the New City invites the audience into the lives of eight dynamic characters who happen to cross paths during trying times. Embedded throughout this series of four one-act plays are familiar motifs and moral themes that engage the audience with each personality.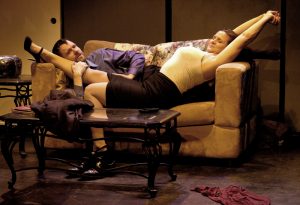 In the opening play, we find two ordinary individuals -- a man and a woman (played by Robert Homeyer and Steph Van Vlack) -- meeting in a typical, everyday situation. Polite conversation between them naturally progresses into playfulness, leading to a romantic exchange and, eventually, a marriage. Yet their relationship ends in turmoil and disbelief; and by the end of the play, the man is asking the question: "Who am I?"  Lies, deceit, and manipulation will break apart what is fundamental to any bond: trust: the card of truth was misplayed, and thus, the curtain falls.
Homeyer plays with our perception when we reach Act II, which is titled "Waiting for Goodreau". In a dialogue between two people (played by Oliver Thurn and Aristotle Stamat) in the waiting room of their shared psychiatrist, the air is filled with tension building around unethical behavior. One man banters to the other, claiming not to care about his woes. Yet by the end we find that the tables have been turned with blind man's bluff: not all things are exactly as they may appear to be.
If you haven't been shaken at this point, "Out of Order" will really stir the pot. In this act, the audience observes snapshots from twelve years of a perverse and tumultuous relationship between a mentor (Mark Lang)  and mentee (Matthew Angel). To avoid spoiling this meticulous portrayal of time sequenced just right, I will only give insight into a snippet of the audience's position. The stage setting resembles a small law firm bathroom, where the actors are looking front and center into imaginary mirrors. While discussing their positions across the years, you become aware of a slight flip-flop in role-play. I couldn't help but recall the mantra "do unto others as you would have done unto you". In "Three of a Kind, With Two Wild Cards", if this golden rule is not followed, you could end up with a 'bad beat'.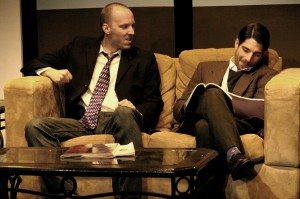 Alas, Act IV. Our hearts go out to the two personalities taking the stage: an addict (played by Kim Vogels), and a caregiver (Lissa Moira). While one suffers from loss of control, the other bears the burden of sustaining her own husband's life. Each player gives us a grandiose glimpse into their hardships and strife while we try to understand the nature of the situation. Before you realize what has happened, shots are fired and sirens take the airwaves.
With such a small space to work in, I felt the cast did a superb job at utilizing it purposefully. Acoustics were certainly not an issue, but at times, some soliloquies were undue. Overacting can have a more negative effect than breaking character, but the majority of the performance was well-executed.
To conclude -- if this performance can really have just one final conclusion -- you will find that "Three of a Kind, With Two Wild Cards" has something to offer everyone. Robert Homeyer reminds us that we are all connected in this world and makes us think about human discovery: a theme not too uncommon in our own daily lives. Be kind to others, because you never actually know what cards they've been dealt.
Performances of "Three of a Kind, With Two Wild Cards" continue through December 1st.  For more information, check out our full event listing here: https://stagebuddy.com/listingdetail.php?lid=15945