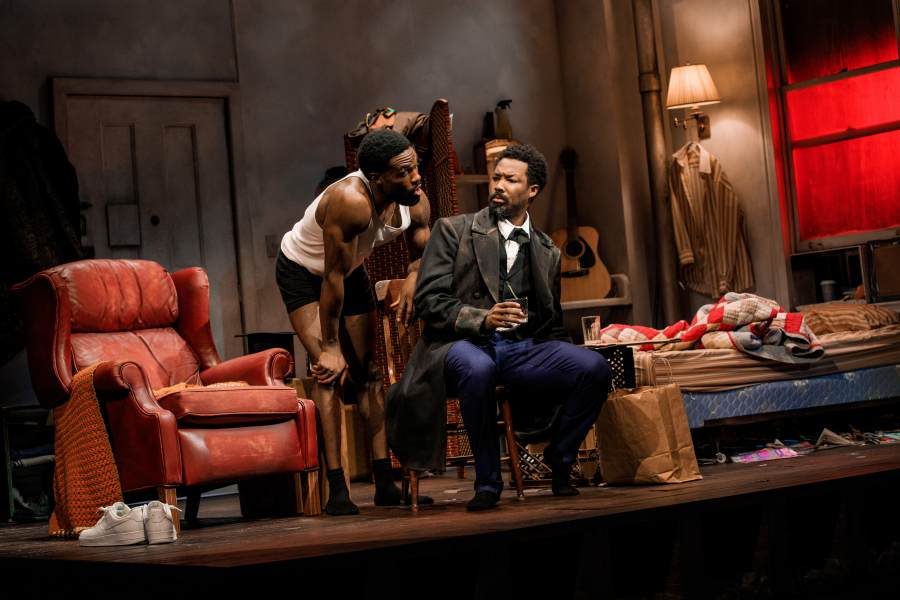 photo by Marc J. Franklin
"Keep your eyes on the cards," instructs the young man on stage as he shifts three playing cards around on a makeshift stand. It's not so easy as we get lulled by the rhythmic cadence of his voice and his beguiling friendly smile. Would it be surprising if we picked a losing card?
The revival of Suzan-Lori Parks drama "Topdog, Underdog," recipient of the 2002 Pulitzer Prize for Drama, is a two character play, yet often each of them addresses an unseen audience. Brothers Lincoln ( Corey Hawkins) and Booth (Yahya Abdul-Mateen II ) so-named by their father as a joke, have a close bond. Their parents left them when they were children. First their mother ran off, and three years later their father was gone. The brothers love and care for one another, but there's always an undercurrent of sibling rivalry, especially evident as Booth tries to emulate his older brother's skill with cards.
When Lincoln makes his first appearance on stage, it is disconcerting. He's a Black man in white face, wearing a black top hat and a shabby evening suit. Lincoln works in an arcade where he portrays President Lincoln attending the final performance at Ford's Theatre. People pay to creep up behind him with a gun and 'assassinate' him. The concept of this as entertainment is disturbing, yet Lincoln likes his job. It offers benefits and a way out of the street hustle. However, he's rightly concerned that he will soon be replaced by a mannequin.
On the other hand, Booth seems to have no job, but he does possess a special talent for 'boosting' things from stores. In one of the funniest scenes, he enters wearing a huge quilted ski jacket. Grinning as he undresses, he reveals the two suits, ties, shirts and two pairs of shoes that he's "boosted "from a local store. He's even brought home a room divider.
Booth urges his brother to give up the job and return to the streets where he was a master of Three-card Monte and the hustle, but Lincoln resists, having witnessed the violence the game has wrought. In the meantime, Booth practices to be as good as his brother, using the same patter.
The play is beautifully crafted and the characters deftly drawn. Hawkins and Abdul-Mateen make their characters so endearing that, although Booth is a thief, we root him on. When he brags about his prowess, we are laughingly applauding him. Abdul-Maleen is always smiling and grinning and drawing us in by his charm. Lincoln is more serious, yearning for stability. Despite his success in his former hustle, he quit after a friend was shot. We genuinely root for the brothers, even as we anticipate the trajectory of the play.
Directed by Kenny Leon, the play is commemorating its 20th anniversary. In a story reminiscent of Cain and Abel, two brothers who should bond against the world that is inhospitable to Black men, find themselves pitted against one another. As typical brothers, they take turns with one-upmanship, even betting all they have against one another in a final Three-card Monte game.
The dialogue is superbly written and moves very quickly. The performers are terrific and the play well worth seeing even though the subject is troubling. Parks provides enough foreshadowing that we are not surprised by the final turn of events. Nevertheless, we are saddened because we've come to care about the brothers and wish they had cared enough about one another.