Rachna Nivas is finally bringing her prestigious lineage in Indian kathak dance to NYC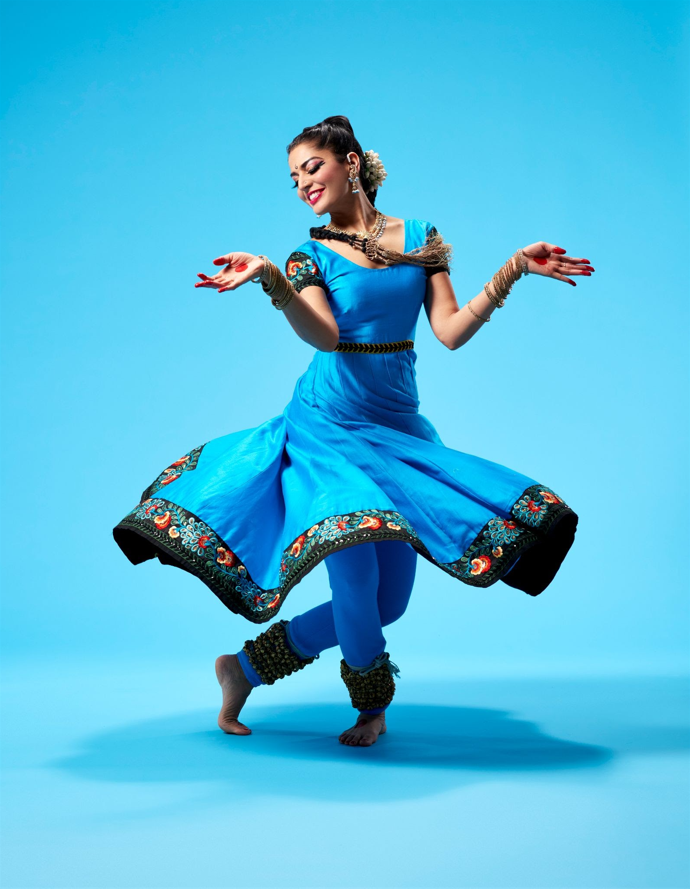 As the dance capital of the world, NYC is home to many forms of dance. But one thing we've long been missing is kathak: a rhythmic, multifaceted type of classical Indian dance. Acclaimed kathak dancer Rachna Nivas is about to change that. Later this month, she'll bring her powerful solo show Unedited to New York audiences. A founder of Leela Dance Collective, which performs and teaches kathak dance, she'll soon open a branch of Leela in New York, ensuring that this rich dance tradition is here to stay. Ahead of her performance, we spoke with Nivas about what it takes to be a kathak dancer, how she created her new solo show, and why it's high time kathak came to New York City.
Most people probably aren't familiar with kathak. How does it differ from other forms of Indian dance, like bhangra?
Kathak is one of the eight classic dance forms of India, and it's particularly distinct from the others. Bhangra is actually a folk dance, which I love as well, and grew up doing. Both bhangra and kathak come from North India, but kathak is characterized by percussive footwork, very fast, complex rhythms, and pirouettes. When you get to a certain point, you really only perform with live musicians. There's a constant interplay between the dancer and musicians, and a lot of improvisation. We also vocalize our rhythms and replicate what we vocalize. So it's a lot encapsulated into one performance.
Another thing that makes kathak dance unique--we don't know of any other form like this--it's highly influenced by both Hindu and Muslim cultures. The migration from central Asia and Persia brought kathak dance into the great lavish courts, and it was during that time that it took on the complex rhythmical structure of the North Indian classical system. India is truly a melting pot of thousands of years, and kathak signifies all the different cultures that have come together to make India what it is.
You mentioned the interplay and improvisation. It sounds like there's a lot of that in kathak dance. Do you find that challenging?
Oh yeah, very challenging for sure. And it's not something you can do right when you begin learning. You have to train for many years. My teacher always used to say that it's calculated risk, because it's based off of years of mastering the vocabulary. To do that with the musicians requires a deep understanding of the music. We often see, not just in kathak, but across Indian dance and other dance forms too--I have a lot of tap friends who speak of the same thing--a separation between music and dance. My teacher was very particular about making sure that we learned all the fundamentals of the music, because if you separate the two, you're missing something. So while it's challenging for sure, and requires a certain fearlessness, it comes naturally with serious study and training.
You trained with the great Chitresh Das, and part of that training included living with him in a student/teacher setting. What was that like?
I lived in California and trained with him for many years there, because that's also where he had immigrated to. But every year we traveled to India together. It's called a gurukul setting, which is where you train together, eat together, do chores together, have off the dance floor discussions and conversations. That immersion is when you start to have transformation, aha moments, eye-opening experiences. Some of my most humbling moments in life were during that time because of how grueling the training was, but it's also after you finish that kind of a training that your mind and heart and spirit are so open, and I think those are the moments that you can really internalize the art.
Now you're a teacher yourself, do you think your teaching style is at all influenced by Chitresh Das and the years you spent learning from him?
Definitely. My style is highly influenced by him in the sense of the energy that I bring and fuse into the classroom, which was something that he relied heavily on. For him, the purpose of the classroom was to generate vibrations, and as a teacher, as a guru, he would generate those vibrations either through his recitation, through his playing of the tabla, or through his leading style. He believed that through those vibrations, that energy and power, students can transform or break certain boxed ways of thinking, cross through what we think is possible, cross boundaries—physical, mental, spiritual. I try to teach in that similar way in the moment. But I would say the relationships with my students and other aspects of my teaching are different. I'm going to talk to them differently. With him it was pretty merciless, tough love, no nonsense and no sugar-coated pills at all. A lot of truth, and that was a high-pressure environment and not everyone's cup of tea. I try to bring some of that spirit in for sure, but if I did it the way he did, I don't think I'd have any students at all in today's time. (laughs) And because I have the life experience of being an American, I believe my responsibility is to be a bridge between that very old school style and today's younger generations.
On that note, can you tell us about Leela Dance Collective?
Our guru left an incredible legacy of 50 years. He had brought this art form to American soil and trained multiple generations of students and disciples. So when he passed away in 2015, there were a small handful of us who wanted to carry forward that legacy. We didn't think going into our own corners and creating separate dance companies would be the most fruitful and effective way to do that. Instead, we wanted to come together and create a collective vision, an institution of standard-bearing education. So that's how it was born. It's an all women founded and run collective. At first, it was just a little project, but as time went on, we found that the concept of Leela was something  younger generations were very drawn to, and it really grew into something so much larger than ourselves, which was what we wanted. As a result, we now have multiple centers: in San Francisco (which is the original center that our guru founded), in Los Angeles, in Denver, and I recently moved here to open a brand-new chapter of Leela in New York.
What excites you about bringing Leela to New York?
It's high time! The seeds of this legacy were planted in California in the 70s, when all the kathak masters settled there and created their own renaissance. But that level of history, mastery, and excellence wasn't here as much, although of course masters have performed here. New York is the dance capitol of the world, and to not have these teachings here would be a miss. It's an opportunity for people of all backgrounds: whether you're South Asian and trying to connect with your heritage, or you aren't and you want to experience the benefits of this incredible art, because it's truly universal. Aesthetically, physically, and spiritually, everybody can get something out of it. So I'm really excited to be able to provide access to it for people here.
Unedited combines dance, music, poetry, and storytelling. How did you put all that together?
It's a traditional solo performance, which is the only way kathak was performed prior to Western influence. We've had to evolve for modern audiences, with ensemble work, which is actually not traditional to the art, and short form. But the solo is what we trained for. I've been dancing for 23 years now, so really, that was my preparation. A solo is also an opportunity to see the full breadth of the art, which includes pure dance, interplay with the musicians, improvisation, and storytelling. That's a big aspect of the dance form, too--to tell stories. And as a soloist you're doing all the characters: you're a man, you're a woman, you're an animal, you're nature. And your recitation of poetry, and dancing of that poetry, is part of the training too.
But of course, whenever you decide to do a solo you pick different things you're going to perform. That has been a wonderful process. This is my first performance in 20 months, period. So I decided to do it with a big bang. It's really forced me to get excited about performance again, especially for the communion with an audience, which is the beautiful thing about the solo. There's no fourth wall. You talk with the audience, and you take in audience feedback: what they're liking and how they're responding to things. Where you take the journey is really based on that.
Why did you title it Unedited?
I love dance video and film, which became an increasingly important part of our work during the pandemic. At the same time, throwing out things that are totally unedited would be a mistake. Something like this really mimics real life, which is what makes it exciting. I wanted to title it Unedited for that reason, because it's very unedited and a lot of fun. I hope folks come with that in mind, even if it's not something they would normally come to. I hope they try something new.