B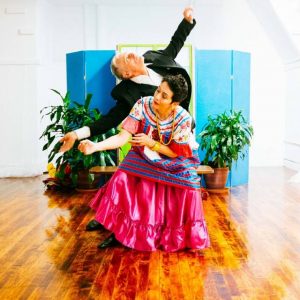 y age 15, Mark DeGarmo had already had three businesses in the venues of sales, poetry, and fundraising, and was actively working to become a playwright. Now, a self-described "man of a certain age," he's still a gladiator in various arenas. In his eyes, he's only just now coming to the meaning of it all.
Mark DeGarmo Dance is, at its core, an educational organization. His outreach programs provide more than 1,500 students in underserved, poverty line communities with exposure to dance education and intercultural experiences every year. With the influence of his parents, who were academics, his formative years were spent in an educational community, and DeGarmo remembers wanting to be a teacher from a very young age.
We're sitting in his offices at the Clemente on the Lower East Side -- Mark DeGarmo Dance's home for the last 15 years or so. It's a medium-sized studio with hardwood floors and vaulted ceilings. The table we're sitting at is plastic and folds up. We're surrounded by piles of paper records and file folders to be archived. A life's work.
DeGarmo's aspirations were always to become a choreographer. "I didn't know what it was to be a dancer," he says. From the beginning of his professional dance aspirations, after graduating Juilliard, he was always teaching and creating, both for his own company, and for the Lincoln Center Institute.
"I never saw it as separate. I always saw [teaching] as part of the creative process."
There's an unfortunate tendency in the dance world for teachers -- esteemed and historically important teachers at that -- to discourage young dancers. You are never quite good enough in the eyes of many dance teachers, and you don't have much time in which to become "good enough." DeGarmo is, as he puts it, "ahistorical" in that sense. He understands the stigma that the dance community holds around aging, he just rejects it. Rather than slowing down as his career matures, he's coming back to his roots in choreography and performance, creating a culture all his own of what is accepted.
He performed with another dancer "of a certain age," Marie Baker-Lee, in a showing of Las Fridas at the end of last year, and a collection of three solos, all works in progress, at a salon earlier this year.
"Every day that we're able-bodied is a gift," he told me. Ruth St. Denis once famously said that every age has its dance, and DeGarmo's dance continues to be lifelong, in a way that many dancers don't consider an option. A lot of dancers move past performance and into their own choreography or their own companies, and a lot of dancers move into teaching. But not a lot of dancers do that all at once.
DeGarmo sees it all as interconnected. His first exposure to concert dance came late, at age 15 or 16. After catching a performance of Lar Lubovich at Jacob's Pillow,DeGarmo was enamored. The very next day, he announced to his family his intention of becoming a dancer and a choreographer. "And they were like, 'what are you talking about?' They were just floored, because they had no idea what it was."
He began his journey to become a dancer at Northfield Mount Hermon, a boarding school that Ruth St. Denis attended as well, where he was the only boy enrolled in a dance class of 40 girls. Growing up in upstate New York, he would scan the Poughkeepsie Journal for any place he could take class; if he found a class, he then faced the struggle of having to get there. It took him until age 18 to finally reach New York, and then Juilliard, where he studied under Martha Hill. Over the years he's also worked with the likes of Hanya Holm, Anna Sokolow, Alfredo Corvino, and Hill, among others. Historically significant mentors who each helped to shape the face of their dance.
"Working with people who really are the founders of a movement made me realize that there's a responsibility with that," DeGarmo said. "You can't just take it and keep it. You have to let it pass through you."
And that's where Mark DeGarmo Dance comes in. Founded in 1987, after completing his studies at Juilliard, the company has since evolved into a sort of culmination of Mark's work over the years. From his studies at Northfield Mount Hermon and Juilliard and graduate work in education to his attraction to Latin American cultures, Mark DeGarmo Dance incorporates it all into its work and philosophy, a unique and multifaceted convergence of artistic, cultural, and social impact. Every work is rooted in multiple art forms and disciplines.
Las Fridas itself, which will be performed April 20-24 at The Clemente, was a work nearly 30 years in the making, inspired by DeGarmo's studies in Latin American culture, and his early fixation on the artist herself. Another work in progress, titled Whoever You Are after the poem by Walt Whitman, draws on the idea of being a man dancing and all that that has implied in various facets of society. The piece is more than an interpretation of the poem, and more than its parallel, in that dance is an external translation of something internal; it really touches on humanity, a person's need to create and express, and how men fit in with that. DeGarmo is merely using his own life -- and the experience of being a man dancing -- as the lens.
DeGarmo largely credits his mother, a one-time nurse and guidance counselor turned motivational speaker, with why he's ended up where he has. As a woman on the front lines of the first wave of feminism, she always encouraged him, along with her other children, to follow his own path, and to develop and cultivate his own interests. That's why he's done everything he has, and why it's been so successful. DeGarmo's goals haven't been as narrow as becoming a principal at a major modern dance company -- nor have they been as lofty as changing the whole world -- but he's nonetheless reached the heights of stage performance and social impact through his career.
"My true passion is to be a choreographer," he says, "but I'm also grateful that I've also found alternative pathways, alternative markets."
DeGarmo counts himself as fortunate in many ways. Fortunate that he gets to do what he loves every day, fortunate that he's able to create and move, and fortunate that he gets to influence the lives of so many others around him in a multitude of different ways. Nearly 100 percent of the students in his outreach programs reside in underserved communities, and a recent study has shown that every dollar put into his dance education programs have a $2.11 benefit to society, in addition to a tremendous effect on other academics, and the development of 21st-century skills like problem-solving, critical thinking, and creativity.
"Part of my desire," he says, "Is to see the field itself be sustained, grow, continue, have people from other generations that are coming up be able to grasp it and take it on and move it forward as well."