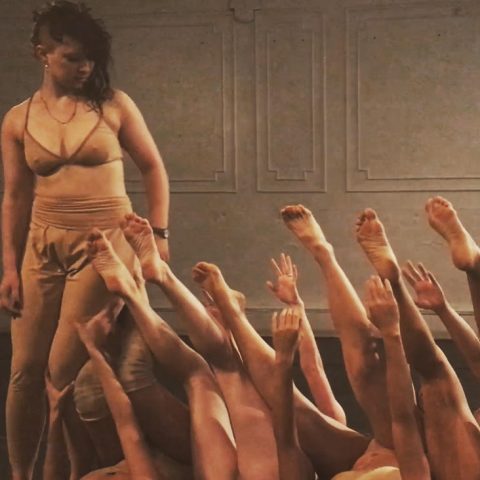 Dixon Place presented Under Exposed on November 7. Curated by Doug Post, it is marketed as a platform for emerging choreographers to showcase in-development and completed movement-based art. As always, Dixon Place has proven to be a safe haven for the experimental and avant garde, which was exhibited to varying degrees within this program.
The show opened with Jenni Hong and Danny Friedman's TREAT YOU BETTER (or: Came Here to Forget). A quartet of dancers moved through a myriad of classical modern dance and theatrics as a projection of a man dressed in a chicken costume addressed the audience. He vacillated between ominous premonitions of dying art and self-proclamations of being "the lord of the dance" -- seemingly setting the stage for an insightful exploration on contemporary art forms and their deterioration. But then… so many things happened. The chicken man asked the audience to throw little rubber balls appearing as molecular ions into two buckets on stage, each directing the dancers to behave in unique affects and behaviors. Now, I'm all for audience engagement -- and the fact that the performance was on the same day as the NYC Primary elections did not escape me -- but there was a disconnect between what the audiences "voted" for and what unfolded on stage. Their movements and decisions seemed preordained and appeared inconsequential to the democratic process. Perhaps this was the point; a leader depicted as a chicken demands participation and perpetuates the idea of individual power, yet no matter the result, the preconceived narrative is going to unfold. Hong and Friedman appear to capitalize on the inevitability, which was intriguing (though I could have done without the chicken). The movement exploration left me yearning for more, something that was derived from this abstract, politicalized world and not employed from everyday modern dance.
Molly McGrath and Shawn Brush's A Template for Stasis was a reprieve from the opening act for those looking for something a little more tangible. The duet presented vocabulary and clear motifs through repetition and structured pathways, which were consistently reoriented and distorted. It was a Trisha Brown's Set and Reset-esque exploration of minimal effort and disruption of expectation. Pulsating music encompassed an interweaving game of patterned phrase work and sporadic moments of stillness. I remained disconnected from the dancers though. Their relationship lacked clarity and the idea of "stasis" was mudded by the disproportionate amount of energy exerted by dancers. I imagined a sense of equilibrium, which was constructed through repetition, but the execution of movement appeared lopsided with differing outcomes for each. Furthermore, I detected a sense of apathy rather than balance within the work, which was perhaps intensified by the lack of clarity.
The final two performances, Keerati Jinakunwiphat & Dancers' Cellar Door and Sean Hatch's Undertow, were presented as conceptualized, engaging worlds, but I was left with questions of intent. Cellar Door was ostracizing and exclusionary. The audience entered the internalized reality of someone struggling with psycho-emotional disturbances, which titled them as "other" to the other external identities. Sudden blackouts often married with shifts in sound left the audience postulating that we were witnessing separate vignettes or scenes related in theme but disconnected in narrative. I'm pro varying ideas strung together, but the vast difference in emotionality and movement vocabulary seemed over-extended and a disjointed cacophony of unrelated points. I felt I was served a soup with too many ingredients. However, the movement vocabulary -- specifically the male/female duet and the beginning soloist -- was fresh and captivating. Wild beings throw themselves at each other and in and out of the floor in a cascading flow of bodies.
Hatch's Undertow began with silent, articulated feet stretching into a sea of automated sounds. Passing automobiles poured from the speakers as six women adorned in various nude garments entered the space, appearing purposeful in trajectory yet explorative in movement as the body slowly undulated through the limbs and spine. Unison phrases of precise contemporary dance and sporadic 'ducking' was introduced as a soloist negotiated the empty space of the stage. The dancers were complementary to the automative sound score -- a texture to the technological landscape. The delicacy of Hatch's work was nicely juxtaposed with the other works, but I was yearning for a climax or pinnacle moment. The energy plateaued early in the dance, which was further accentuated by the abruptness of the ending. Conclusively, I felt this work worked well within the program but begs for a more clearly defined ebb and flow of energy.