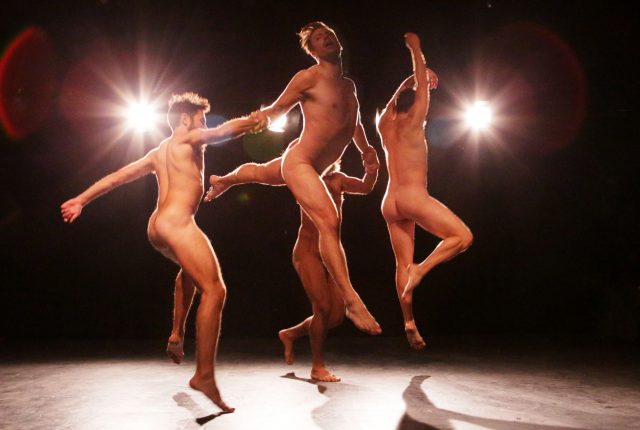 Get ready for an in-your-face, psychedelic acid trip of a show with Antonio Ramos and the Gang Bangers' Almodóvar Dystopia. The interactive, multimedia, dance-theatre performance art piece, choreographed by the colorful, queer and hirsute Ramos, is currently playing at Dixon Place. So much more than a dance performance, Almodóvar Dystopia is a hilarious examination of dance, drag and queer culture.
Almodóvar Dystopia is performed almost completely in the nude. Everyone on stage, from the fabulous dancers (Luke Miller, Darrin Wright, Alvaro Gonzalez Dupuy, Angie Pittman, Awilda Rodríguez Lora, Sarah White-Ayón, and Ramos) to the video designer (Alex Romania) and sound designer (Admanda Kobilka), perform in the buff with only a few revealing costume pieces to cover up (costume design by Claire Fleury). The result is a celebration of all types of bodies, not just the lissome bodies in a traditional ballet. They are real bodies, covered in tattoos, representing different races and ethnicities, and different sizes.
But the real celebration is queerness in all forms. Ramos strikes quite the pose in stilettos and glitter eye shadow, while simultaneously rocking shaggy hair and a full beard; the juxtaposition of glam with hyper masculine is really fun to watch. And Ramos certainly hams it up. He has no qualms with climbing nude over one audience member, then sitting his bare, sweaty ass on another. A native of Puerto Rico, Ramos speaks most of the dialogue in Spanish, so non-speakers may miss a few jokes, as I did. But the visual aids (think blow-up pool toys, signs, wigs, etc.) more than make up for the language barrier.
For those who like a sweet treat with their theatre, the performers pass out decadent pieces of artisanal handmade chocolates (made deliciously by Miranti aka Dame Cuchi). You might notice something familiar about the shape of these chocolates but don't worry, you'll get to see a revealing video on how exactly they were made. Suffice it to say, it is not as straightforward as it seems.
Speaking of video, Almodóvar Dystopia contains live video making; Romania takes different camera angles of the action and it is projected on a screen onstage. The visuals are sometimes distorted for a psychedelic, kaleidoscopic effect. The live musical accompaniment by Kobilka also adds to the groovy vibe; the ambient electronic score complements the dancers' flowing movements.
Almodóvar Dystopia has a fun, conversational tone that engenders dialogue, speaks frankly about sexuality, and isn't afraid to be a little bit shocking. It doesn't take itself too seriously and neither should you, as long as you don't mind being the -- ahem -- butt of the joke.