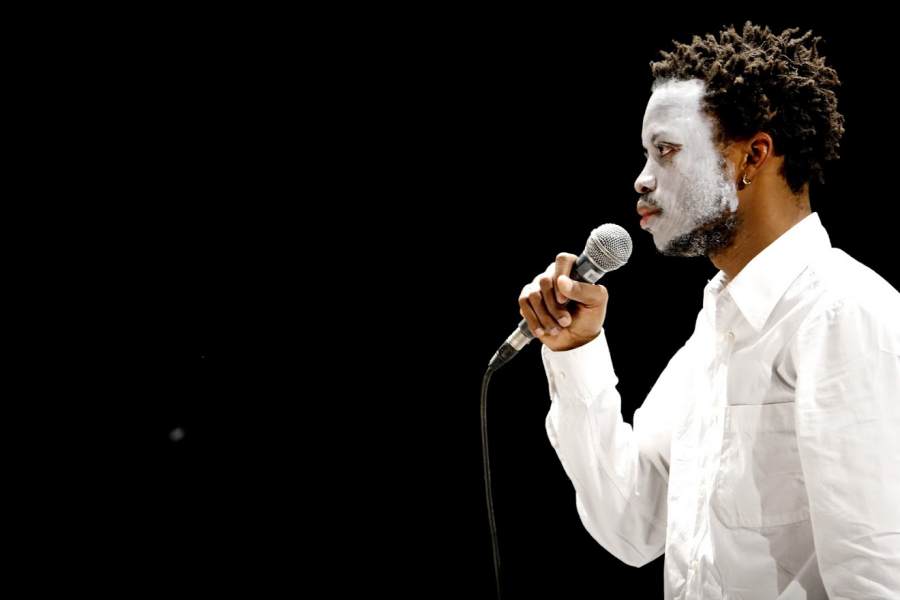 The tortured history of the Democratic Republic of Congo (DRC) is transmitted through Congolese choreographer Faustin Linyekula's Sur Les Traces De Dinozard (In Search of Dinozord) at NYU Skirball. As part of the French Institute Alliance Française (FIAF)'s Crossing the Line Festival, In Search of Dinozord is a gorgeous and lyrical dance and spoken word piece that confronts themes of war, reconciliation, and redemption.
In Search of Dinozord is performed in French (with English subtitles) and English, with text by Richard Kabako and Antoine Vumilia Muhindo performed by Papy Maurice Mbwiti and Muhindo. Dancing in a somewhat electric style are Linyekula, Jean Kumbonyeki Deba, Papy Ebotani, and Yves Mwamba Bakadiasa. Their movements bring to mind someone who has been zapped by electricity and can't walk without shaking everything. Countertenor Serge Kakudji beautifully sings the operatic excerpts from Mozart's Requiem, which comprises the score along with music by Charles Lwanga Choir of Kisangani, French composer Joachim Montessuis, Estonian composer Arvo Pärt, and American rock musician Jimi Hendrix.
In an ironic and meta nod to In Search of Dinozord as well as the current administration's continued attack on immigrants, Muhindo was unable to get a visa to come to the U.S. Instead, he performs a powerful monologue via Skype about his nine years as a political prisoner in Kinshasa that ultimately led to his escape and exile in Sweden. Accompanied by photos that were secretly taken by Muhindo inside the prison, the stories of torture and injustice come alive.
Linyekula confronts the darkest days of the DRC with the most powerful weapon he can muster: art. In Search of Dinozord demonstrates that art can, for some, be the only tool for survival.