Review: Drag Queen Panti Bliss, Street Performers Lords of Strut and More Dazzle in 'RIOT'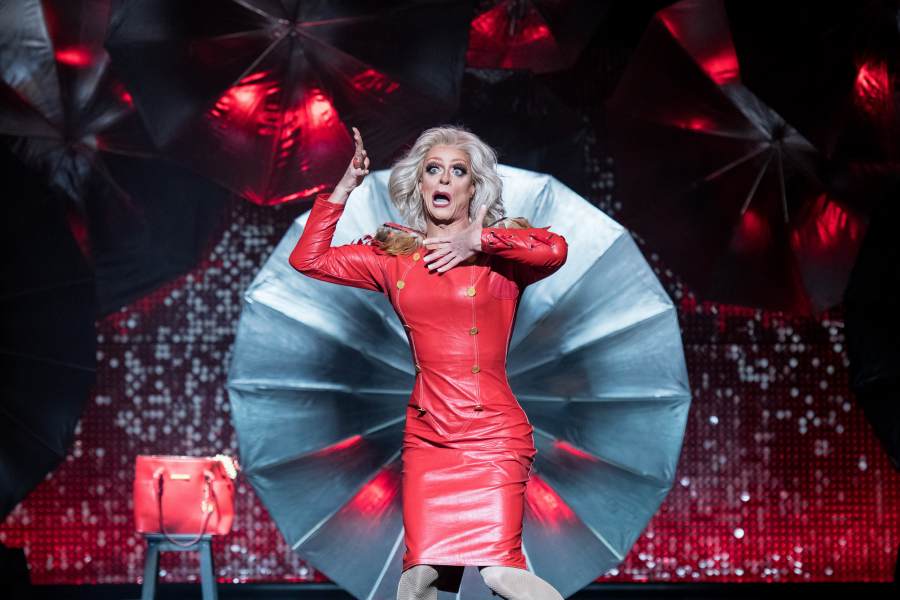 Theatre doesn't get any more sparkly than this. Irish company THISISPOPBABY, presents their celebration of queer and pop culture with RIOT, a blend of song, dance, circus, spoken word and cabaret at NYU Skirball. Created and directed by Jennifer Jennings and Phillip McMahon, RIOT evokes a rousing party atmosphere that is sure to get you dancing in your seat, if not in the aisles.
RIOT is peppered with original music composed by Alma Kelliher and sung by Kelliher, Adam Matthews, Nicola Kavanagh and Megan Riordan. Spoken word artist Emmet Kirwan impressively spins rhymes and word play with lightning speed while the vocalists accompany him.
The energetic and comedic acrobatic duo Lords of Strut (Cian Kinsella and Philip Connaughton) bring the laughs with their madcap slapstick. Dance duo Up and Over It (Suzanne Cleary and Peter Harding) perform several routines including a cheeky send-up of classic ballet, Irish Step, and their famous hand dancing. Electrifying physical artist Ronan Brady performs on Cyr Wheel and various aerial conveyances, also with a humorous bent.
Two drag queens grace the stage: The "Queen of Ireland," Panti Bliss, dazzles with wit and charm and is quite gifted at lip syncing and strutting around in high heels; and special guest Lady Bunny, who provides a rousing rendition of Kate Bush's "Wuthering Heights."
On the tech side, there is a wonderful interplay between the lights (Mark Galione), costumes (James David Seaver) and set (Niall Sweeney) of RIOT, which is mostly a backsplash of opened overlapping umbrellas with different colored lights shining on them. Most of the performers are clad in bright colors, spandex, or neon, bringing to mind an 80s explosion. One particularly memorable costume is a one piece worn by Riordan that looks like something Lady Gaga would wear. It's covered in reflective glass like a mirror ball and the lights bounce off to a dazzling effect.
RIOT is pure entertainment, shamelessly demanding you enjoy yourself. It doesn't take itself too seriously and reminds you why you should do the same. And with everything going on in the world these days, it's nice to have nothing more to worry about than a glitter bomb.