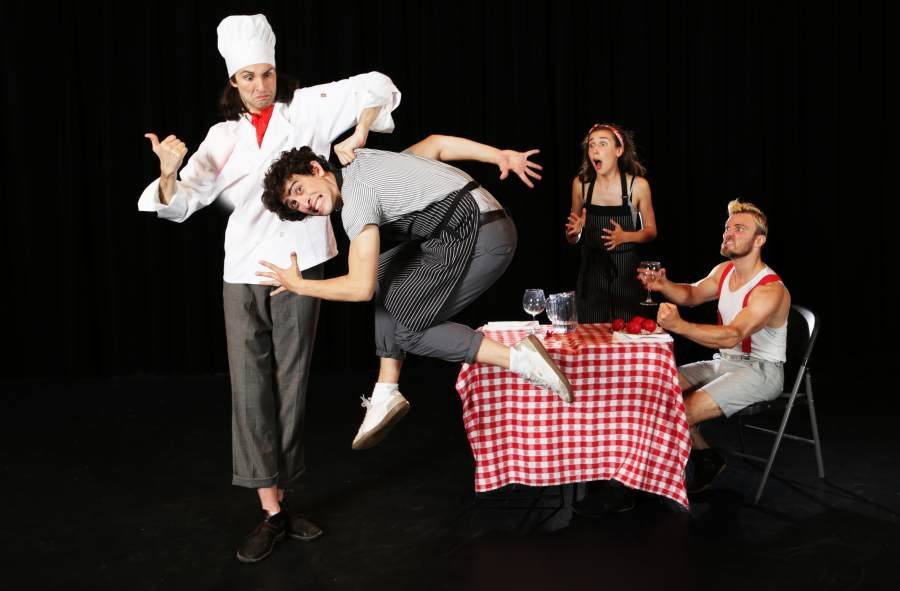 A man, asleep and blindfolded, is standing atop the shoulders of another man. He slowly begins to slump and the awake man cannot hold him any longer. The sleeping man careens toward the ground and miraculously stays asleep. Atlas Circus Company, a company that blends acrobatics, magic, dance and theatre, makes being hopelessly unlucky look good. Their delightfully interactive, slapstick-heavy new show Lucky, now at Dixon Place, is complete with zany antics and broad physical comedy and is perfect for kids and adults alike.
Keeping with the grand clowning tradition of pratfalls, magic tricks, juggling and more, Lucky follows a hapless recent transplant to the Big Apple (the marvelous Henry Evans) as he tries to survive in the big city. Ironically, he is unlucky in everything; he can't hold down a job for the life of him, and the woman (Avery Deutsch) from the cubicle next door he keeps a flirtation with continually eludes him. From picking up trash in the park, to working at a soulless office, to waitering at a restaurant, he literally keeps getting knocked down by his boss (Russell Norris). And, in the aforementioned sleeping sequence, a burglar (the Puckish Leo Abel) hilariously keeps trying to steal his briefcase, which he can't quite let go of.
The Atlas company members, especially Evans, who also created and directed the show with Tommy McCarthy, imbue Lucky with a classic vaudevillian sensibility, taking as much inspiration from Warner Brothers as the Ringling Brothers. The onstage backdrop is a cartoon drawing of rotating New York City scenescapes. There's even a banana peel just begging to be stepped on. The only thing missing is a cane wrapping around someone's neck pulling him offstage.
Together with the cast and directors, choreographer Tyler Holoboski does the near impossible by helping to make the death-defying actions of the four performers look seamless. Some of the things they do look downright dangerous (doing aerial acrobatics on a steel beam for one). But, of course, like all good circus performers, they make it work. David Evans sets the playful tone with his lovely piano music, sometimes on its own and sometimes over a recording.
Atlas Circus Company is a prime example of a new company pulling off old tricks with a modern twist. But hey, if it works.... And Lucky proves that, indeed, it does.