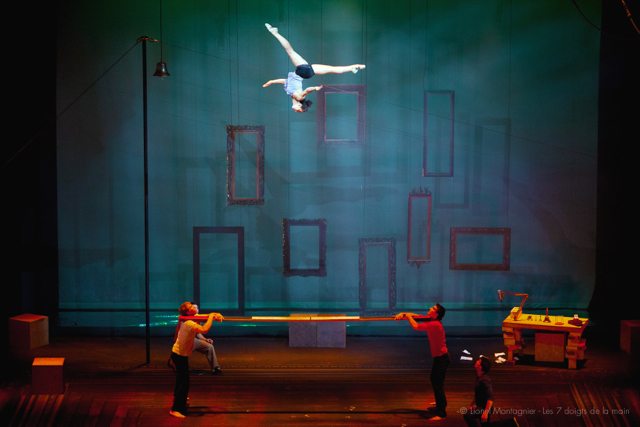 Prepare to watch in awe as the fearless members of Montreal-based company Les 7 Doigts de la Main (7 Fingers) perform gravity defying feats of acrobatics in their show, Séquence 8, at New York City Center. Directed and choreographed by married co-founders and Artistic Directors Shana Carroll and Sébastien Soldevila, the eight performers of Séquence 8 will make you laugh with their screwball antics, hold your breath as they tumble and fly in the air, and blow your mind as they land with grace and precision.
In addition to featuring amazing performances of such circus arts as Russian bar, teeterboard and aerial hoop, the hilarious and extremely entertaining Séquence 8 is infused with comedy, dance and music. Charismatic emcee and trumpeter Colin Davis provides most of the evening's laughs along with the energetic Devin Henderson, who performs a vaudeville-style act involving a Chinese pole and a bell. Eric Bates delights with his cigar-box juggling as the other performers continue to throw him more and larger boxes. Ugo Dario and Maxim Laurin get higher and higher in their teeterboard act, performing airborne flips like it's cake. Camille Legris' gymnastic abilities are quite impressive; she and Tristan Nielsen's performance of hand-to-hand, the act of balancing one hand on another's in different poses, is beautiful in its strength and simplicity. Alexandra Royer and the Russian bar, a supple tightrope-like pole held on each end by a different person, are almost like one entity as she springs several feet up in the air, does one flip after another, and magnetically lands on her two feet on the pliable board. As if this weren't enough, she later performs a gorgeous act with an aerial hoop.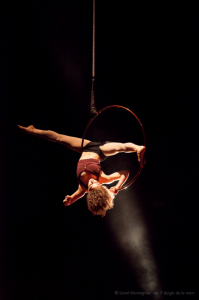 With original music by Seth Stachowski and Nans Bortuzzo and additional pop music and classical recordings, Séquence 8 also features dance such as hip-hop and ballet. The artists move so seamlessly and in sync with each other that they seem weightless. The set design, by Anne-Séguin Poirier, is simple but clever. Different shaped frames hanging upstage provide a mirror effect in certain scenes. The lighting (Nol Van Genuchten) is playful, particularly in one scene when the artists switch places and get into different poses with the lights off. Manon Desmarais' costumes are basic street clothes, but are featured prominently in a strip tease scene.
Séquence 8 is really not to be missed if you are a lover of circus, acrobatics, dance, comedy, or theatre in general. It's an all-around rollicking fun show that will perhaps inspire you to do a somersault or two.