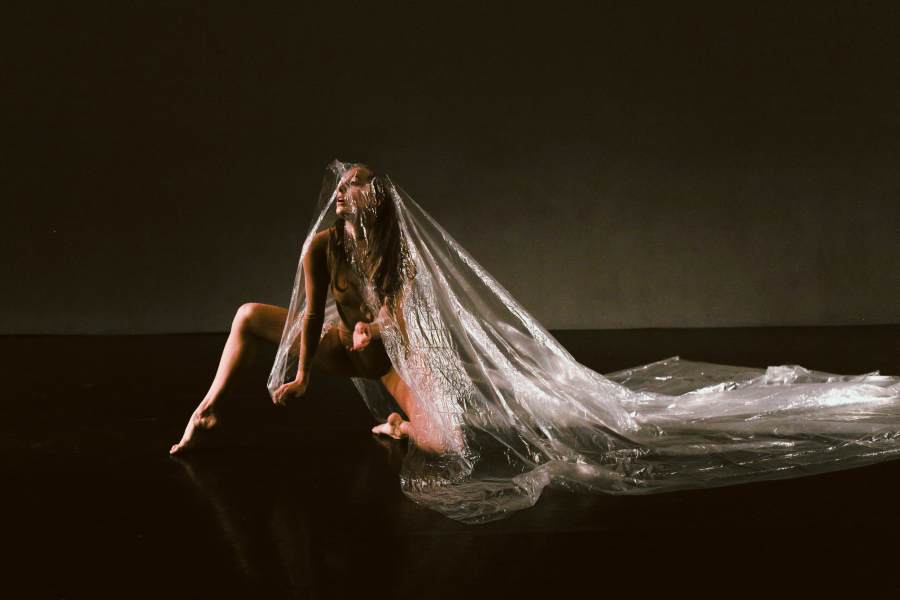 Mouthfull was presented on October 20 and 21 at the Center for Performance Research. It was an evening of dance performances and video productions curated by Of Bones||Hollye Bynum. Mouthfull was rightfully named -- the lineup was certainly saying a lot. There appeared to be universal emotionality overcasting the evening, but each performance had a unique take on the shared human experience of self-identity, isolation, love, and what remains after devastation.
Guests were invited into an immersive experience pre-show. Cesar Brodermann, a NYC-based photographer, choreographer, and dancer, designed the venue's lobby into a world of photos expressing raw emotionality and physicality. The walls of CPR were adorned with images of nearly (some entirely) nude males. Men were transposed in front of pastel backdrops and contorted to fit within the crevices of other men in an exploration of the body. However, the photos conceptualized more than physiological studies of how bodies can reshape into new, imagined beings; more so, it encompassed a sense of vulnerability required to allow another into those places hidden from the eye. There were also underlying considerations of male masculinity and gender through the repeated use of pink in many of the photos. The solo portraits further this point through an unfocused lens and folding of oneself medially. Are we ready to impart our intricacies onto another? Are we even clear of what those are? Brodermann has an uncanny eye to detail, and I remain captivated by his images.
The show began with a solo performed by Brodermann. He continued his multimedia exploration as he negotiated a space consisting of a nude man (used as a focal point and prop), television set, and projection. "Are you holding me, or am I holding myself?" vacillated between self-repulsion through undulating spinal movements pulling away from self coalesced with explosive movements and identity exploration. A video projects Brodermann walking on a beach in a suit before he falls in a hole unexpectedly. Later, the television set illuminates to present a suited Brodermann digging his own grave.
Other notable video projects were Nicola Hepp's Songs of the Underworld and Kayla Farrish's With Delicacy and Permanence (Short Film). Though conceptually different, each encompassed worlds that were accessible and, to my delight, relatable. Hepp's journey depicted two distinct couples (program notes state they are the same at different moments in life, but I did not get this sense). The contact-based duet of the younger couple and the slower, yet equally engaging, dance of the elderly couple commented on the multiple ways of being, loving, and supporting loved ones. It was surprisingly joyful given its context and a lighthearted reprieve to the highly emotional content of Mouthfull. Conversely, Farrish's short film appeared less narrative driven. The changing environment and corresponding light sources depicted an adaptation of varying internal and external habitats. Close-ups of Farrish's emotional responses and wardrobe adjustments leads one to consider how much individual's choose to expose of themselves and consequent internalizations.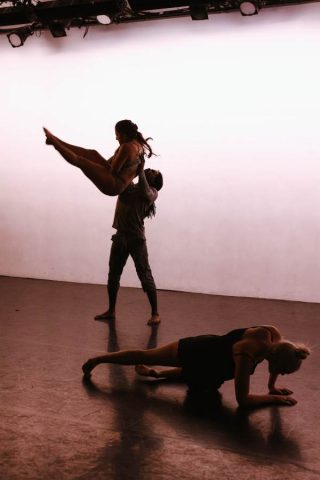 The live performances were resounding and consisted of substantial merit. Sarah Richman's Where Has Your Body Been? canvassed the stage with interweaving duets and intricate movement explorations that appeared disconnected, giving the illusion of distinct vignettes. The highlight was the soloist and her explosive dynamism as she crumbled and reassembled in a labyrinth of limbs folding in on themselves. Alice Halter choreographed and performed her Experiment P, a study of shifting light and momentum. Vocabulary was sharp and drastic in her intriguing world of traverse, rebounding investigations. The show ended with Bynum's we all fall down, a call and response group work accentuating the struggle and pull of relationships. Bynum worked tenaciously to create a dissonance within her movement and music, and I felt she was successful in this venture. Her dancers were ferocious as they tactfully negotiated the space. They were openly aware of one another and responsive to the impulse exuded by the others in a world of wild, exhaustive energy.
The highlight of the evening was Andrea Ward's World of Forms. Though all performances were inviting and highly valued, none left me with the same visceral satisfaction as Ward's underwater world (filmed in a pool). Her navigation of body construction within the pressure of the water and the texture orchestrated within her video editing was utterly beautiful. Images of a still body standing on the pool floor appeared weightless, yet I know from experience how difficult this is. It conjured a sense of turmoil within me. Inspiring felt emotion is something art makers crave, and I definitely had the feels! The physical repulsion of the other identity in the pool and tossing of oneself had me considering what was tangible within Ward's reality and what was unconscious projection. If her intent was to present a sense of ambiguity for the audience, she was undoubtedly successful. I ended the video with a resounding "Yes," and wishing I had more time to live within her world.