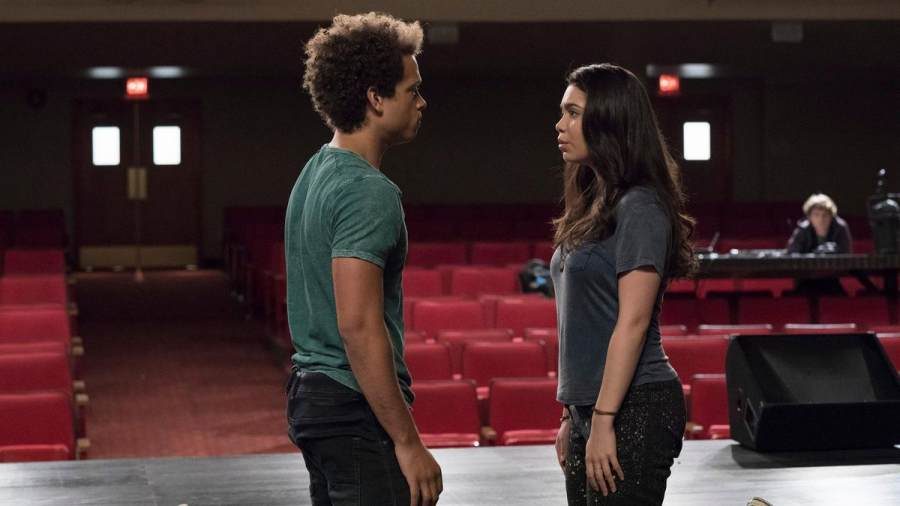 It'll soon be time to Rise (and shine), as the eponymous musical drama, from the brains of Parenthood's Jason Katims and Hamilton producer Jeffrey Sellers, readies for its highly-anticipated premiere tonight on NBC.
Based on the true story of drama teacher Lou Volpe and his mission to overhaul his small-town school theatre program, the show, which finds drama teacher Lou Mazzuchelli mounting 2006 Tony winner Spring Awakening in an effort to revitalize his school's curriculum, is undoubtedly the answer to every theatre kid's prayers.
Burdened by the daily pressures that come with being transgender, the child of a single parent or the star athlete who just has to make that next goal, this ragtag group of mismatched teens is forced to "rise above their circumstances," not unlike their Spring Awakening counterparts, ultimately finding solace in their communal bond.
The resulting pilot is a little bit more Glee than Smash, with Mazzuchelli undeniably taking the role of Mr. Schue, but with the bubble gum pop of early Katy Perry swapped out for the raw-and-real grittiness of the Duncan Sheik score, the doors are opened to explore more racy, sexy material — "shaking things up," to use Mazzu's words, in terms of how musicals are perceived and presented on television.
With only hours to go until the big premiere, we compiled a list of five more reasons to watch, detailing why the series is just as spectacular as it sounds! Check it out, then catch the premiere tonight. It's one you know you won't want to miss!!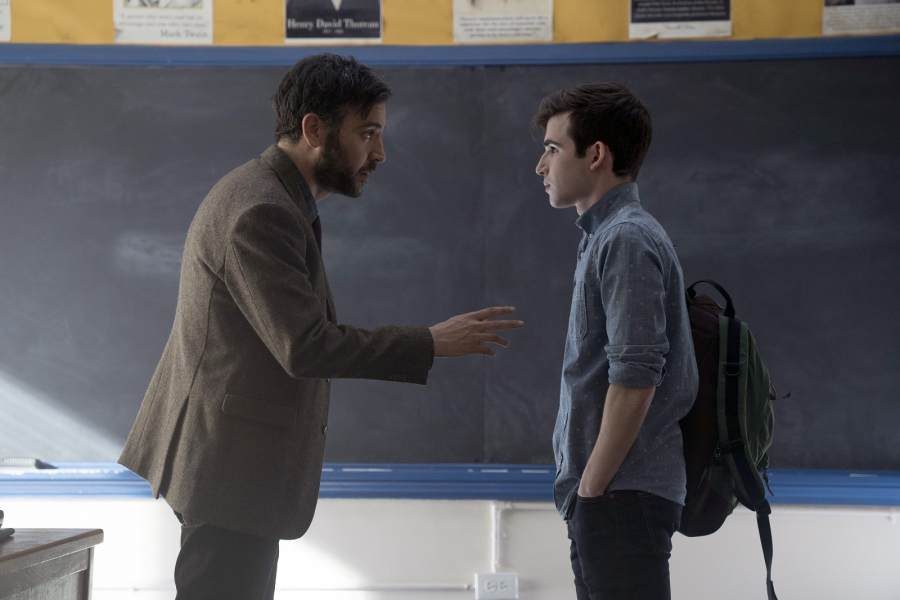 Broadway Cameos & Trivia: First things first. Sure, we knew Main Stem alums like Josh Radnor, Damon J. Gillespie, and Rosie Perez were among those in the main cast, but nobody told us that this show — at least according to the pilot — is stacked to the brim with some serious Broadway star power. Joe Tippett, Stanley Wayne Mathis and Stephanie J. Block are among the notable names peppered throughout the pilot, with Taylor Richardson (Annie) and Rarmian Newton (The Boy from Oz, Billy Elliott) on board as supporting cast members. Sean Grandillo, of the 2015 Deaf West revival of Spring Awakening, even makes an appearance as a member of that musical's cast, when Radnor's Lou is first doling out roles and scripts.
And what about those facts and figures? To the delight of theatre nerds everywhere, Gwen rattles off that Grease has had "seven Tony nominations, a blockbuster hit movie, and a 2016 television revival" (Grease: Live FTW!), while Lou finds his daughter, Kaitlin (Richardson) buried deep in the Hamilton soundtrack, spitting lyrics — much like the rest of America — at a mile a minute.
To top it all off, in a meta-moment that seamlessly weaves art with life with art, Lou declares, "There's a million things I haven't done, but just you wait… just you wait"…. which of course, sets the scene for his eventual triumph in shaking things up at Stanton High. But such an intense laser-focus on the Lin-Manuel's mega-hit is, I guess, what you might get with its producer, Jeffrey Seller, at the helm of the series.
The Return of Weekly Singles: Taking a cue from its predecessors Glee and Smash, the NBC tuner will release weekly singles of each number featured on the show throughout the season, allowing diehard fans to take part in their favorite ritual. Fusing covers of hits by artists like Macklemore and Pearl Jams, with original tunes from modern musical theatre faves like Lin-Manuel Miranda, all rounded out, of course, with those much-buzzed-about Spring Awakening standards, the soundtrack, much like the show itself, pushes the boundaries beyond the norm, exemplifying the eclectic variety that makes up music in theatre today. Covers will available on iTunes, Amazon, and other music platforms every Friday, preceding each new Tuesday episode.
Rosie Perez: Her character, the tough-as-nails Tracy Wolff, may have been "a pain in the ass when she was [a] student and she [may still be] a pain in the ass," but the Fish in the Dark standout proves she's anything but, dishing out sass, shade, and side-eye like nobody's business. In a sea of amazingly green young talent, this theatre vet stands out as just that, with a praiseworthy nuanced performance that blends comedic and dramatic in all the right ways. To top it all off, in their Spring Awakening show-within-a-show, her character serves as choreographer. We couldn't have written it more perfectly if we tried.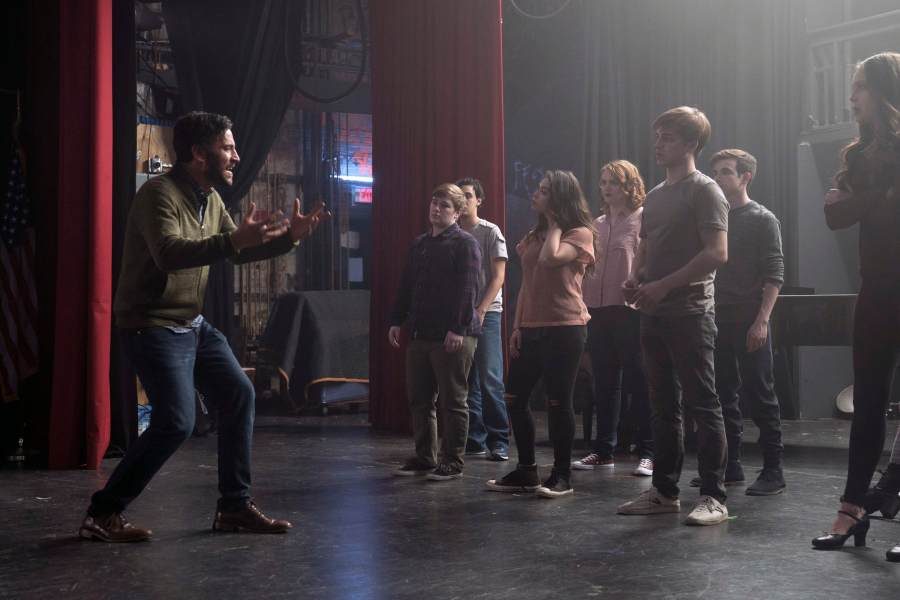 Keeping It Real: Just as Spring Awakening deals with such heavy topics as abortion, suicide, teen pregnancy, and incest, Rise itself tackles the equally mature issues of homelessness, transgender identity, alcoholism, and sexual abuse. "These kids are you. Their story is your story," Lou says in an opening speech to his cast, later adding, oh-so-eloquently, "We are artists. It is our job and duty to reflect the world we live in."
And that it does. Specifically on the subject of music, it's worth mentioning that the songs of Spring Awakening are thoughtfully woven into the storyline, so as to parallel, as Lou says in his speech, the hardships of the characters who sing them. To that end, it's particularly apt in the pilot that Gwen and Lilette, both in the midst of turbulence with their respective mothers, audition with "Mama Who Bore Me," a song whose lyrics speak of a girl whose mother gave her "no way to handle things; who made me so sad," the similarities punctuated in what they sing. Lilette eventually wins the part, her delivery of the song intensifying as rehearsals continue and details of her mother's actions are gradually revealed.
No doubt as the series goes on, she'll use Wendla's journey in the show as a blueprint for navigating her own, only further proving the weight of Lou's statement. What's more? In seeing these kids connect with their Spring Awakening counterparts, using their journeys as a blueprint to navigate their own, it helps us as viewers to, in turn, use Rise as a model to do the same. After all, it's their duty to reflect the world we live in. While they're reflecting their world, they're also reflecting ours. Which, taken in the context of Lou's inspirational words, only goes to show that teacher knows best.
A Sense of Hope: Above all, as these always programs should, Rise gives us hope. The age-old premise of an underdog teacher who transforms an equally underdog group of teens using the power of theatre for change is a predictable one. But with the state of the world today, it is what we need… and it warms our hearts and makes our souls happy to see a teacher encouraging the best in his students — all based on entirely true events, no less.
But the key to the show is that it does so much more than lift us up. Through the gritty guise of Spring Awakening under which they're performing, it asks us to tap into what makes us human and view ourselves for who we really are. "It's scary as hell because there's a very real chance that I could fail very badly," Lou tells Simon, relating his doubts of his decision to perform the 2006 smash hit Tony winner to the young student's disappointment in receiving a lesser role. Using the Duncan Sheik musical as his guide, he encourages the students to live in that fear, and listen to how it helps you react, access, and attack what you're feeling. It's real. It's raw. It exposes vulnerability… and not just for the young teen students, for all its characters at large.
But it's this relatable, communal feeling of fear that helps us know we're not alone. We see it in them, and they see it in these characters they're portraying. We're all out to help each other. "We pick up each other's lines, we have each other's back," Lou continues in his address to the cast. "We are a troupe. A sacred troupe." We are one. And that's what gives us the courage to go on. We're enlightened, and we recognize, despite our fear, now is the time to cast doubt aside. Now is the time to face the day head-on. Now is the time, aptly…. to rise.

RISE, produced by Jason Katims and Jeffrey Seller, premieres Tuesday at 10/9c on NBC.