Interview: Live From Lincoln Center Executive Producer Andrew Wilk on Why He Wants More People to See 'Falsettos'
Even though the name Andrew Wilk might not be instantly recognizable to arts lovers, he's a man we owe a great deal to in terms of making the performing arts accessible for people all over the world. As the executive producer for the award winning Live From Lincoln Center series, he has captured some of the world's greatest artists in some of their greatest performances and made them available on television through PBS and also in movie theaters. A self professed lover of all the arts, Wilk is a human encyclopedia of sorts with a vast knowledge of entertainment history and a brilliant vision for a future in which the arts are available to all. This season Live From Lincoln Center will present a special theatrical engagement of the Tony nominated revival of Falsettos. I spoke to Mr. Wilk about why it was important for him to bring this piece to a broader audience.
Why did you want to include Falsettos in the Live From Lincoln Center series?
We do a lot of different things, we want to showcase the variety of works we do in this campus, from Lincoln Center Theater, to the New York Philharmonic...we try to provide the best art that we can to the broadest possible audience. Lincoln Center Theater happens to be one of my favorite organizations here not only because I love theatre, but because their work is extraordinary. I always keep in touch André Bishop and Adam Siegel, my colleagues at LCT who told me sometime over a year ago that they'd do a revival of Falsettos. André has been involved with the project since the onset of the piece, before it even became Falsettos, I first saw the piece in 1992, my wife who was a casting director for ABC at the time praised it highly. I had never been so moved by a piece and I never forgot it, so when André said they were planning to revive it I jumped with both feet. We got our funding together, I felt this piece was so important and even it's been beautifully received, it deserved an audience outside the bounds of New York. I made the same decision with The Nance, it was a piece that would only run on Broadway, it never saw a national tour, but I felt it was so important, coming in the wake of the DOMA laws being passed at the time, that it needed to be seen by more people.
Since your job is also being a historian of sorts preserving all these pieces, what are some events you would have loved to see captured for posterity?
Wow! There's this obscure musical by Tom Jones and Harvey Schmidt called Celebration which happened after they wrote The Fantasticks, I actually did a piece about the creation of Celebration a long time ago at Tisch, and that's definitely a piece I would have loved to see. Mack and Mabel also...I'm a fairly easy audience in that I love everything I see, I would've loved to see Lonny Price bring Sunset Boulevard to the broader audience too. That's a beautiful revival and Glenn Close is so magnificent in it. There's so much of what I see that I'd love to see preserved, the recent Sunday in the Park with George was strikingly brilliant.
Why do you think the US is so behind when it comes to broadcasting shows and theatrical events?
Most of the reasons have to do with economics, our theaters aren't subsidized, LCT is a nonprofit but they still rely on their subscribers and patrons to do seasons they can afford. The same way I need to do seasons I can afford, it's very costly to do this, we need to place our bets very strategically. Thank God for the Performing Arts Library who are able to capture the pieces for posterity.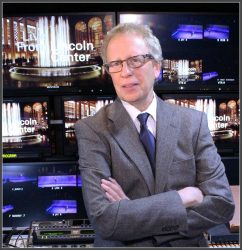 I wish I was a billionaire so I could fund all of this.
As soon as you become one let me know (laughs).
Many people still think filmed productions will look like archival footage. Can you talk about what actually goes into producing a film ready for broad distribution?
The archives are great, they have three or four cameras, but the lighting isn't augmented, the shows aren't rehearsed for cameras, so it's pretty much just that an archive. When I go into a show like Falsettos I have nine cameras, the show itself, my director Matthew Diamond breaks down the camera set up with me, we decide what we'll capture. We don't change the staging much at all, we want the lighting designers' work to be captured in the way it was meant to see in the theatre, so what you'll see in Falsettos is over two thousand different shots, all of which have been scripted. That would never happen in an archive recording. Think of it this way, when you see the show in the theater, your seat is your camera angle and you'll see everything from there. We have to take that and help you focus on what you'll see, what are the relationship shots, the background shots, we have to create that translation for you.
In terms of Falsettos, when you're planning it with the director are you thinking of it as a movie that will also work when it's broadcast on PBS, or do you have two different versions?
We frankly don't have the time or budget to cut two different versions, so we try to create the best translation between the live production and the captured assets. I think with Falsettos we really got it right, with dance, Balanchine always said you shouldn't show body parts, you needed to see dancers head to toe, so when we did dance we experimented with different angles. In The Nance we concentrated on closeups, it's a beautiful movie, I watched it with Jack O'Brien who directed it on Broadway and he said in many ways he liked it better onscreen than onstage and that was a great compliment. In Falsettos, Matthew Diamond worked very close with James Lapine to make a good documentation of what the show would be, Matthew did his director's cut which was then refined by James. Of course I get the last cut (laughs).
What are some of the moments you loved seeing the most in Falsettos?
The interesting thing about the show is there's very little to see in terms of the stage, it's not a massive production like Hello, Dolly! When you see Falsettos as a theatre patron or at the movies, it's a very simple production. It's basically four walls, it exists in a box, in a very clever unit set. It's reminiscent of You're a Good Man, Charlie Brown, all the pieces in the set form all the objects onstage. We wanted to make Falsettos visually compelling, but we didn't worry about there not being a big set, the drama isn't in the cyclorama, or the little set pieces or props, it's in the dynamics between the characters. So that's what we captured.
Was there anything that hit you watching the film version that didn't hit you onstage?
Yes, what I try to bring to the television or film viewer are perspectives and insight into the characters that you wouldn't have sitting in the theater. As beautiful and cathartic as Falsettos is, the thing that really paid off for me was a scene in Act II in the hospital room where Whizzer and Marvin are in bed and Marvin's completely dissolved in tears, Whizzer is hugging him from behind. At the Walter Kerr I thought it was a beautiful moment, but I never realized the depths of emotion that Christian Borle and Andrew Rannells brought to that moment. So I focus on this beautiful, slowly creeping in two shot of these lovers, one knowing that the other was going to pass. I couldn't see that in the theater, I can see that on the screen. We can give you slices of emotion that you otherwise wouldn't get.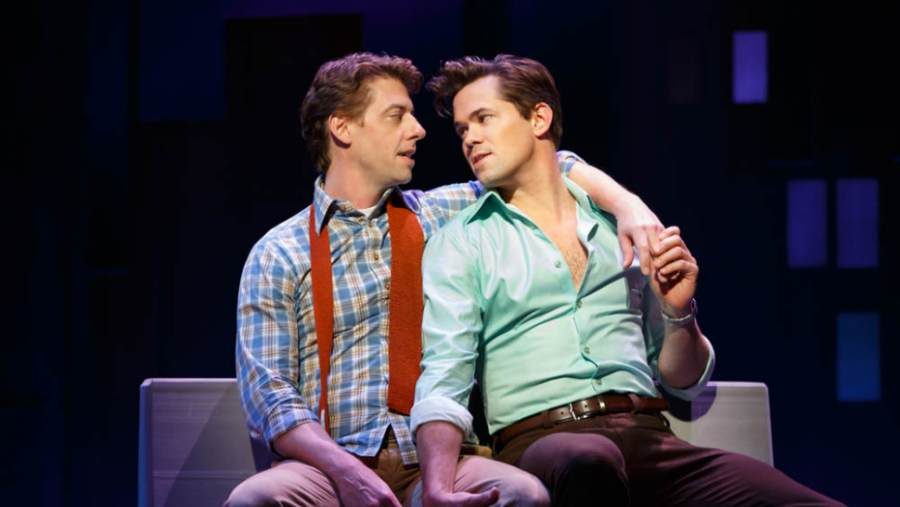 You've won Emmys for a myriad things, what's your favorite thing out of everything you do?
Our series has won 17 Emmy awards, personally I've been nominated 15 times and have won 5. I'm very proud of them, the Emmys are nice and make great pencil holders, I'm proud of them all for different reasons, but I think the one I'm the proudest of is the one we won for Sweeney Todd directed by Lonny Price and done with the New York Philharmonic. It was a miraculous production and Lonny directed it for TV as well, Mr. Sondheim was involved with us every step of the way, he provided direction and insight, he was so giving. I happen to be the one who receives the award, it's part of my job, but I'm deeply honored to represent a company of brilliant actors, designers, directors, craftsmen and the grand Philharmonic.
Is it surreal for you to now be part of Lincoln Center's history?
I used to come here as a kid, I was a Film and Television student at NYU's Tisch School of the Arts, before it was called Tisch. I had a background in music too, I actually started my career as a conductor. One of my professors, Roger Englander, created the Philharmonic's Young People's Concerts with Leonard Bernstein, so by the time I was a student Bernstein had retired and the concerts were conducted by the great Michael Tilson Thomas. The concerts were broadcast on CBS when they still cared about the arts, some of Roger's students were invited to the tapings, and one day the guy CBS had hired as the music coordinator was sick and didn't show up, so Roger asked them to find me. I got them through the show, they paid me 50 bucks and I became the new music coordinator for the series. I've always loved Lincoln Center, it's always been a cultural heartbeat for me. Coming back here towards the end of my career, feels like being home, there's nothing about this place I don't love.
If you could have any of the great composers write a musical about your life who would it be?
That's a very romantic thought. Who wouldn't love a Stephen Sondheim musical about their crazy exploits in show business? I love Sondheim, Pasek and Paul, Stephen Schwartz, James Lapine, William Finn...my God, there's so many great people. I've had a very fortunate career.
For more on Falsettos click here.