Squirrels, Sunflowers & Surprise Twists Abound on Night 2 of BROADWAY'S MASKED SINGER

As the late, great Gypsy Rose Lee once said, "If you beg for more, I'll give it to you!" Well, we begged… and they obliged: Broadway's Masked Singer is back to entertain us for another night!
Following last week's untimely unmasking of the boozy bunny, hosts Michael Hull and Dylan Bustamante return to uncover another identity, unveil a brand-new batch of costumed competitors, and of course, rattle off some Grade A theater puns... all with the help of their hand-picked showbiz supersleuths!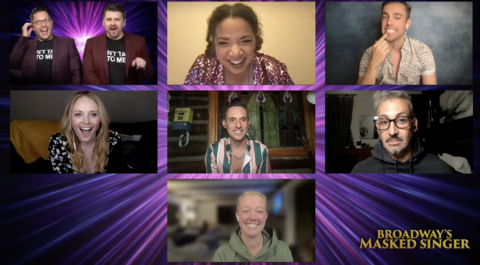 On tap to help decipher the disguises this week are returning pundits Ben Cameron, Felicia Fitzpatrick and Nic Rouleau, new faces (this season) Skivvies' superstar Nick Cearley and mainstay ensemblist Hayley Podschun, and — an entirely new addition altogether — the artist formerly known as the Shark, Patti Murin.
Before any performers grace our screens, our effervescent MCs once again remind us that between ALL eight performers (only four of which performed on Night 2, and one of which has already been unmasked), they have a collective 32 Broadway shows, 20 Off-Broadway shows, six national tours, multiple Tony Award nominations (!!!), over 50 television shows, and over 40 regional credits to their names.
Here's how it went down on the sophomore season's second episode: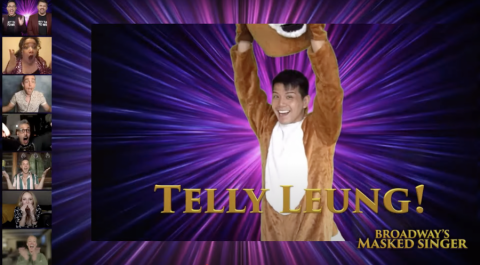 THE SECOND REVEAL (SPOILER ALERT!)
As we anticipated (but still dreaded nonetheless), before the fun could begin this week, we had to bid farewell to another one of the contestants from last week. The unfortunate victim – amassing $501 for BC/EFA – was the Reindeer! But before the red-nosed hopeful flew back to Santa's shop, he unmasked, revealing himself to be… Telly Leung!! So, we weren't exactly on the right track last week, but the panel seems happy… and looking back, the clues fit. But, serious question: When traveling, will Leung use the sleigh, the subway, or the magic carpet?
THE SQUIRREL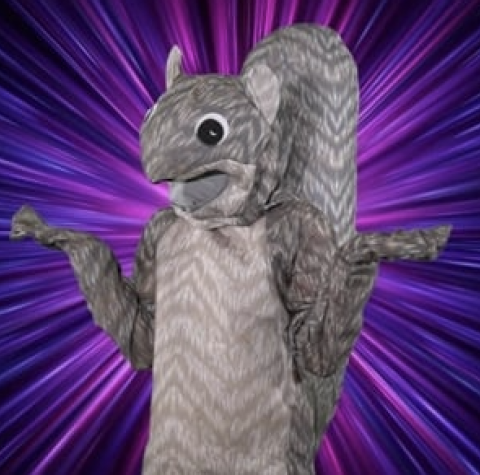 Songs: "Bless the Broken Road," by Rascal Flatts; "Watermelon Sugar," by Harry Styles
Key Clues: "Growing up so close to the city, I was able to come and see Broadway shows my entire life. NYC felt so big, and I felt so small, but making my Broadway debut at a youthful age was not only a dream come true, but it helped set the scene for my future success." Per the later clues, he's been "all around the country, swinging and dancing from state to state." The clues also reference "What is this feeling?" and "going viral." He ends thanking his fans and says, "Hopefully, I'll be seeing some of you sooner than you think."
Guesses: Citing the clues about growing up close to the city and starting a career at a young age, Podschun initially guesses Laura Benanti, but then makes a bold declaration when she hears a male voice: "I'm going to go big and guess Nick Jonas." Cameron admits to being thrown off by the references to touring, but is adamant that everything else leads to Andrew Barth Feldman. After hearing the first song, Cearley's convinced it's the "riffy riffy voice" of Waitress' Danny Quadrino, but throws in Jeremy Jordan after hearing the second. Murin points out that "What is this feeling?" indicates Wicked, but can't say much after that, because "at this point, everyone's been in Wicked." Comments refute Jeremy Jordan, but mention Mike Wartella and JJ Niemann.
It's probably: We think Andrew Barth Feldman makes the most sense so far – "So big, so small" and "going viral" being obvious references to Dear Evan Hansen, coupled with making his debut at a young age, and living so close to the city. (His initial Jimmy Awards performance and inaugural BroadwayCon appearance also went viral, if we remember correctly). But Danny Quadrino is a very close second. To our knowledge, Feldman hasn't toured; Quadrino, meanwhile, has; and he's appeared in Wicked, sung Dear Evan Hansen tunes in cabaret and debuted at a young age. He's also an established swing on the Broadway scene – and the clue specifically mentioned "swinging." Again, Squirrel ends with "I'll be seeing some of you sooner than you think," which could reference Quadrino's upcoming Waitress tour stint. But Feldman's Park Map solo show is also once again parkin' it at Feinstein's/54 Below at the end of May. Hmm….
THE BULLDOG
Songs: "Mystify Me," by INXS; "Life in Technicolor ii," by Coldplay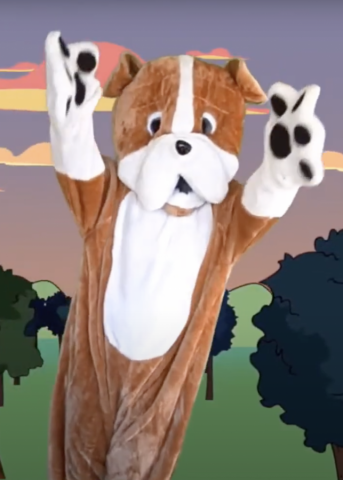 Key Clues: "Growing up in this big city, I have always known what I wanted to do, but had no idea how this puppy's journey uptown would take him to stardom. Since my Broadway debut just 14 years ago, I've been with such heartfelt and record-breaking shows. I've had the time of my life….History would suggest that you've heard my voice before on a stage or a screen, but it's a brand-new day and I'm loving getting to show off a part of my voice that I don't always get to share."
Guesses: Quick math concludes he made his debut in 2008; given that, Cameron throws out Rock of Ages' Mitch Jarvis. Fitzpatrick mentions "I've had the time of my life," while a solid reference to Dirty Dancing, is also the title of a Green Day song, featured in American Idiot, which prompts Cearley to guess Stark Sands. Cameron then suggests Tony Vincent, also a contestant on The Voice. (Panelists are also in agreement that "a journey uptown" could suggest a start Off-Broadway). Comments mention how much the voice sounds like Matthew Morrison, and Natalie Weiss, via the comments, once again suggests Sean Alan Krill ("That's just her go-to!" Cameron quips).
It's probably: While not quite a lock, Stark Sands is the best guess so far. The voice sounds pretty similar, and the clues match up. He was in American Idiot, if the "time of your life" clue indeed alludes to that musical; he's also done his fair share of television work, he's twice been Tony-nominated, and he made his Broadway debut in Journey's End during the 2007-2008 season – 14 years ago. Again, we're still not entirely certain, but we can "say yeah" 'cause Sands is a sure bet.
THE PIRATE
Songs: "When You Believe" (The Prince of Egypt); "It's All Coming Back to Me Now," by Celine Dion
Key Clues: "I've got a whale of a tale for you! But before we get into all that jazz, I'd like to give you some background on this pirate's maiden voyage. It all started about 15 years ago. I was singing, dancing and stripping my way through the underground stages of New York. It was the age of rock and roll, after all. Since then, I have been on the stage and on your TV screens as much as I can, and I have had my lucky parrot next to me to help me out whenever I need it." (And, as is quickly revealed, the parrot is, in fact, a co-competitor – the Pirate is part of a duo!!) Later, the parrot mentions flying through summer, winter, spring and fall, and says he's been on Broadway since he was little. His goal is to be the true king of the jungle.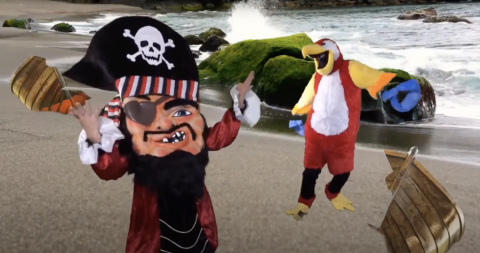 Guesses: "That was an amazing twist!" exclaims Podschun, of the surprise reveal; she then goes on to guess the "epic duo" of Amy Spanger and Brian Shepard. Cearley, on the other hand, heard notes of Diana DeGarmo and Ace Young, "both musical theatre and TV people," he points out, who've appeared in Hair, Hairspray, and, of course, American Idol. Having his two guesses taken from him, with nothing new to share, Cameron cheekily declares it's David Foster & Katharine McPhee. Hull jumps in and assures everyone it's not Patti Murin and Colin Donnell ('…unless it is," he adds with a laugh, to which Murin counters, "I can't sing like that. Are you kidding me?") Comments (including panelist Natalie Weiss) mention Kelli Barrett and Jarrod Spector, with which the panel agrees. Murin throws in Kara Lindsay and Kevin Massey, and Cearley adds in last year's panelists Marissa Rosen and Marty Thomas.
It's probably: Kelli Barrett and Jarrod Spector seem like a lock here, with Barrett as the Pirate, and Spector as the Parrot. As Podschun points out, Barrett was "singing, dancing and stripping" when she appeared in the original production of Rock of Ages Off-Broadway (the rock and roll clue supports this reasoning, too). She also appeared on television in Fosse/Verdon, to which "all that jazz" could be referring. Meanwhile, the Parrot says he flew through winter, spring, summer and fall (Beautiful – hello?!), and says he's been on Broadway since he was young (Spector played Gavroche in the original Les Misérables). We cannot confirm, but the "king" of the jungle clue may be a reference to Carole King of Beautiful as well. And he garnered a Tony nom for that show – which Hull and Bustamante noted many of the contestants have. This is Barrett and Spector for sure.
THE FLOWER
Songs: "Drift Away," by Uncle Kracker; "Diamonds," by Rhianna
Key Clues: "Ever since I was a little seedling, I knew I was destined for the stage, and my journey to Broadway has taken me across the pond and back, traveling the country and the high seas."
Guesses: "This one's speaking to me," asserts Rouleau. Citing clues regarding the West End, Broadway, touring, and cruises, he postulates it's Marisha Wallace, who's "holding back her vocals here to trick us." While she's not sure about cruise ship credits, Fitzpatrick suggests Charity Angél Dawson, soon to return in Mrs. Doubtfire, who has played in Waitress on tour. Comments mention Brittney Mack, which Rouleau latches onto, stating while Mack was not in the show in the West End, Six is a show "about people across the pond." Cearley stuns the panel when he points out Brits (wink wink) live "across the pond."
It's probably: We can "get down" (wink wink) with the Britt Mack guess for a moment. A quick Googling reveals she was a performer on the Royal Caribbean Cruise Lines. (Cruise = check). She's also toured prior to making her Broadway debut in Six (traveling the country = check). No work across the pond, though the cruise was international (does that count?) and we can chalk the "across the pond" clue up to Rouleau's astute observation that Six takes place in England.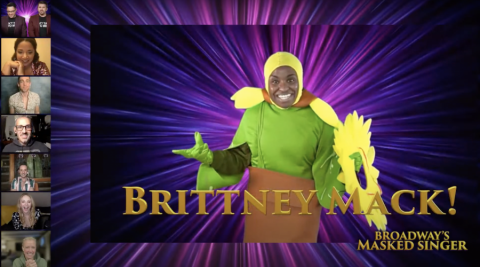 THE THIRD REVEAL (SPOILER ALERT!)
Just as she was beginning to blossom, the Flower ultimately was unfortunately, the one to unmask. And she revealed herself to be…. Brittney Mack indeed!! Her face may have cost her the Masked Singer crown, but as she says, upon her reveal, "Please continue your support of Broadway Cares, and never, never stop believing in yourself." Spoken like a true queen!!
The second of three episodes of Broadway's Masked Singer, produced in part by the Broadway-Talk LIVE Network, was presented on the BC/EFA YouTube Channel on Monday, March 28. The final four compete on the finale, airing next Monday, April 4. Again, voting for all four competitors is also open until the start of next Monday's episode, at which point another singer will be unmasked; there is no limit to the number of times one can donate. For more information, visit www.BroadwayCares.org/BroadwayMasked or search @broadwaymasked on Instagram.