Boozy Bunny, Rockin' Reindeer & More Strut their Stuff on Night 1 of BROADWAY'S MASKED SINGER

Looks like the whale was good on his word! Just as the melodious mammal indicated in his crown-clinching showstopper, the smash-hit Broadway guessing game that constantly kept us on our toes last Spring is finally back in all its glitzy glory for another (anonymously) star-studded, much-anticipated second season of fundraising… all in the name of Broadway Cares/Equity Fights AIDS!
Paving a path inspired by (though not affiliated with) the FOX phenomenon with the similar name, hosts Michael Hull and Dylan Bustamante, of the Broadway-Talk LIVE Network, have once again called upon a slew of celebrity panelists to evaluate the identities of eight secret stage stars – all of whom are completely costumed from head to toe.
Just like last year, the performances are pre-taped, but the panelists share their predictions LIVE in real-time, while viewers simultaneously donate to the cause in honor of their favorite of the four nightly performers, effectively eliminating the singer who raised the least amount of money.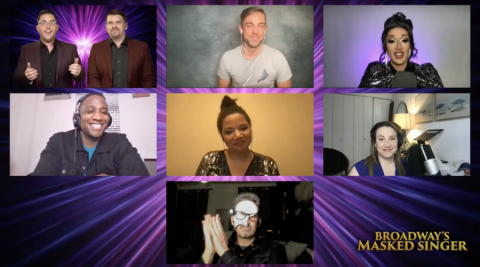 This year's trusty troupe of guessers fuses familiar faces with new additions (who are technically, in their own way, also familiar faces). The inaugural S2 lineup of panelists include returning RuPaul standout Jackie Cox, everyone's favorite Broadway buddy, actor Ben Cameron, Broadway content creator and podcast host Felicia Fitzpatrick, vocal coach extraordinaire Natalie Weiss, and – last season's winner and runner-up, respectively – Nic Rouleau and Jelani Remy.
Prior to any performers gracing our screens, our hosts gifted us with a freebie set of stats. Between ALL eight stars (only four of which appeared on Night 1), they have a collective 32 Broadway shows, 20 Off-Broadway shows, six national tours, multiple Tony Award nominations (!!!), over 50 television shows, and over 40 regional credits to their names. Wowza!
Curious to see – or rather, hear – how it all went down? Read on for our recap of the evening below:
THE REINDEER
Songs: "Hero," by Mariah Carey; "Stranger in My House," by Tamia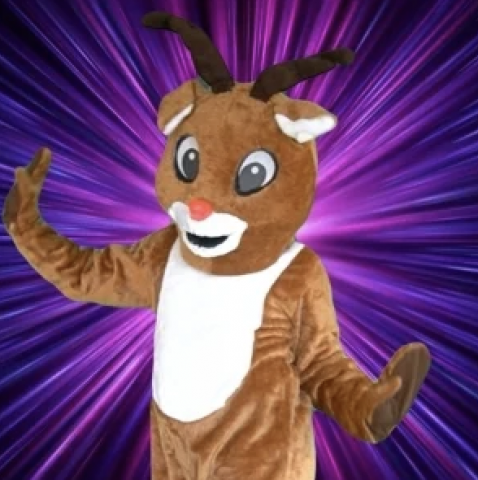 Key Clues: "I took my first bow in this wicked little town more than ten years ago. I've learned a few things about how to succeed on Broadway. And trust me. I'll be pulling out all the stops to have you shouting out with glee…I chose to compete as this very dapper reindeer in part as a tribute to my favorite Masked Singer of all time: the Tree." His "hooves have graced your television screen" before, and while "I have gotten used to performing as part of the whole herd, getting to fly solo tonight has been the day ever."
Guesses: When the clue package dropped on social media a few weeks ago, the Twitter-verse was in complete agreement that this was Darren Criss. How could it not be? How to Succeed and "wicked little town" both refer to his previous shows. (And that nod to "shouting out with glee" — hello?!) But the voice does not match the Elsie Fest host at all.
Last season's Bee is abuzz with suggestions, offering up Michael McCormick after thinking he heard a Wicked clue. Based on the vocals alone, Weiss puts out Sean Alan Krill, but retracts the guess after the second song. Rouleau proposes Michael Park, noting that the actor was in the H2$ revival with Darren Criss, and says that if it's not Park, given the "buttery vibrato," it's Aaron Lazar.
Off the H2$ clue, Cameron throws in Christopher J. Hanke. He also notes the "best day ever" nod to SpongeBob, and once again suggests Kelvin Moon Loh (relevant, as he's soon to be resurrected in Beetlejuice); Remy jumps back in and counters with Wesley Taylor. Cox, stating this person is a "vocal chameleon," guesses last season's panelist Marty Thomas, and reminds us that the singer knows the FOX show's tree – Ana Gasteyer.
It's probably: Setting aside the panel's esteemed predictions here, we're going rogue and throwing in another name altogether. The voice most closely matches Christopher Sieber's. A quick Googling reveals he's close with Ana Gasteyer, having appeared with her in a 2004 New York City Opera production of Cinderella, he's most definitely graced our television screens in a whole host of shows, from Two of a Kind to It's All Relative to Law & Order, and his current gig in the ensemble-based Company has him "performing as part of the whole herd." Those match up, no? Are we on the right track? Anyone?
THE SLOTH
Songs: "River," by Bishop Briggs; "When We Were Young," by Adele
Key Clues: "I've been hanging around for nearly a decade now, opening and closing shows left and right. If you haven't gotten to see me live on stage, it's possible that you've heard my voice piping through to you on the radio. Whether it's been on Broadway or just driving with the top down in LA, this girl has loved melting her way into the hearts and souls of audiences all over the country. So, don't tell me not to live, because I'm ready to rock… and I'm positive that you're going to love my first song."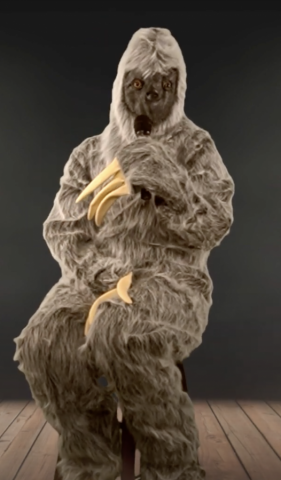 Clues after the second song include having a big heart, "turning back time," "growing up in the desert," and being "popular" among the other pups. "I don't like to be sappy, but those childhood memories will always be timeless to me," she says, while performing a move synonymous with the choreo for Hairspray's "You Can't Stop the Beat." Lastly, she dedicates the tune to "little slothy."
Guesses: "You are a deranged lunatic!" shouts Cameron to the sloth. "The craziest thing I've ever seen is a sloth floating down a river!" While he notes the clues "don't tell me not to live" and "I'm positive" reference Funny Girl & Legally Blonde, respectively, the Sloth's "rich, dark, and heavy, full-bodied tone" combined with the "hear me on the radio" clue leads Cameron to believe it's Morgan James, who isn't associated with either of those musicals. Rouleau throws out Carrie Manolakos. Weiss refutes both, and tosses in Lena Hall, citing the grit in the Sloth's voice. Cox thinks it's Loren Allred. ("They play 'Never Enough' on the radio!")
After the second song, Weiss is confident – in fact, she's "never been clearer about anything in my life!" – that it's Carrie St. Louis. Comments mention Heathers' Jessica Keenan Wynn. ("I could hear it," says Weiss, "but it's still Carrie.")
Offering a different perspective, Fitzpatrick takes the "turning back time" and "popular" clues as references to The Cher Show and Wicked, suggesting Teal Wicks could be under the mask. Using those same clues, Cox and Remy both suspect it's Stephanie J. Block.
It's probably: It's a toss-up. Any of these could be true, though listening to the timbre, we think Weiss comes closest with Carrie St. Louis. Two clues specifically support that guess – "ready to rock" refers to Rock of Ages, while "melting her way…" is – hello – Wicked, both of which she appeared in "all over the country" on tour.  Two things to note, though: Again, sharing how her childhood memories "will always be timeless to me" while rolling her arms back a la "You Can't Stop the Beat" suggests an allusion to Hairspray, which St. Louis was not in. Also, she shouts out to "little slothy," which suggests she has a kid. Could it be Marissa Jaret Winokur? Even though her kid is not "little" anymore? Or could the "little sloth" be a reference to Carrie's lil pup? UGH!! To quote our buzzy bee, who succinctly sums up what we're all feeling at the end of the critiquing session: "This is HARD!!"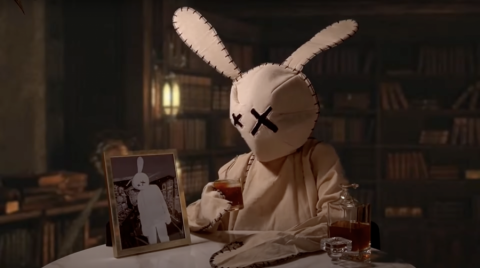 THE BUNNY
Songs: "What I'll Do," by Irving Berlin; "Why Can't You Behave?" (Kiss Me, Kate)
Key Clues: "I started my burrow on old Broadway more than ten years ago, and boy, was it magical. Bright lights, curtains falling, and candy everywhere! Peter Rabbit's got nothing on me, and trust that this hare (hair) is full of secrets." Carrots are nice and all, but this bunny loves Forbidden fruits. Let's get ready for another tune and pray that this bunny gets in the habit of wearing a crown. One thing's for sure – I've got the P-E-R-F-E-C-T song to sing."
Guesses: Given the spelled-out P-E-R-F-E-C-T clue, Cox asks if it's someone from Spelling Bee.  ("Lisa Howard!!" shouts Rouleau, who also thinks it could be Carolee Carmello of Sister Act, or Celia Keenan-Bolger, also of Spelling Bee). Weiss throws out Natalie Joy Johnson, while comments mention Audra, Julia Murney, and Jennifer Simard. Admitting to having a total disconnect between clues and voices, Cameron takes the "candy everywhere" clue as a reference to Charlie and the Chocolate Factory. "It's either the re-animated corpse of Judy Garland," he quips, "or… recent Queen Elizabeth Judy Kaye."
It's probably: Based on the clues, the go-to guess is Jennifer Simard (Victoria Clark comes close, but apart from Sister Act, her credits don't necessarily match the clues). The "hare/hair full of secrets" is a clear reference to Mean Girls, with the habit – and prayer – nodding to her turn in both Sister Act and, of course, as the prayer-praising Sister Mary Downey in Disaster!. Cox's catch of the allusion to Spelling Bee fits the bill, as does Bunny's mention of "forbidden fruit," which calls back to Simard's time in Forbidden Broadway. By the end of the second song, the panel – and the viewers – are unanimous on the current Company scene-stealer. And that's a guess we'd gamble on! (If, you know, gambling wasn't a sin).
THE FOX
Songs: "Another One Bites the Dust," by Queen; "Hella Good," by No Doubt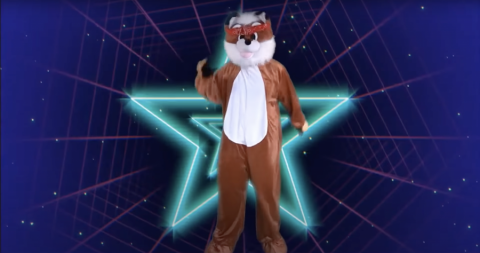 Clues: "What does the fox say? It says curtain up! Light the lights! Because I'm here, and I've got some magic to do. I'm one sly fox, and I've been sneaking around the midtown for a decade now, popping up Off-Broadway and on." She mentions working with the most elite talent of the last decade "having to rap, tap and vogue for my supper….You could say that I put the T in triple-threat," she says, while proudly standing inside a teacup. "But Broadway isn't the only place you've probably seen me. Whether it's been belting out for some of my favorite pop princesses, or just working hard for the money, this fox is ready to seize the day!"
Guesses: "Did anybody hear Ari Grooves?" Remy asks, specifically mentioning the Fox's raspy tone. Weiss agrees, as does Cameron, who noted it could be either Grooves or Ciara Renée. Fitzpatrick, infamous for knowing "exactly who this is" seconds the Ciara guess, stating the actress' work in Pippin, Frozen, and the recent Waitress ("because you can have tea with pie"). She also leaves Oscar hopeful Ariana DeBose on the table, citing her appearances in Pippin, the Broadway Princess Party, Hamilton, and Summer: The Donna Summer Musical. Comments also mention Patina Miller and Adrienne Warren. Cox, meanwhile, questions if the accent was real or not. Rouleau thinks she's faking it, and Fitzpatrick agrees.
It's probably: At first glance, one might think, could this BE Kinky Boots alum Wayne Brady, who famously triumphed as the Fox on the original show's second season? But right away, those thoughts are dashed – this Fox has an accent. She's also shown in a teacup, which could mean she's a Brit, or perhaps she's played a Brit in a show?! With all clues considered, though, Ariana DeBose is the way to go. With credits in Hamilton, Pippin, and Summer: The Donna Summer Musical, she's got rapping, tapping, and vogue-ing covered. And working with the most elite talent? Lin-Manuel is most definitely one of them, and – hello?! – she just finished a movie with freaking Steven Spielberg. The one hesitation here is, as Fitzpatrick notes, would Ari step out to do this in the middle of her whirlwind award season? Again, only time will tell…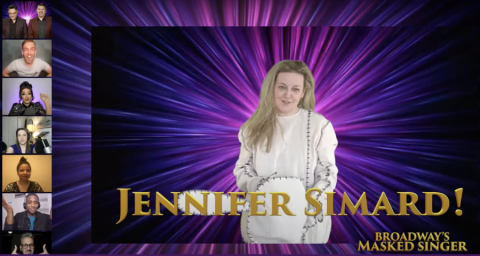 THE FIRST REVEAL (SPOILER ALERT!)
Unfortunately, the bunny was the first to hop away from the competition (or perhaps, stumble, given how much booze was in that glass). But before she did, she unmasked, revealing herself to be….. Jennifer Simard!! And the lord heard our prayer!!
The first of three episodes of Broadway's Masked Singer, produced in part by the Broadway-Talk LIVE Network, was presented on the BC/EFA YouTube Channel on Monday, March 21. The next episode airs Monday, March 28, featuring four brand-new masked performers and a whole new host of celebrity panelists. Voting for this week's competitors is also open until the start of next Monday's episode, at which point another singer will be unmasked; there is no limit to the number of times one can donate. For more information, visit www.BroadwayCares.org/BroadwayMasked or search @broadwaymasked on Instagram.