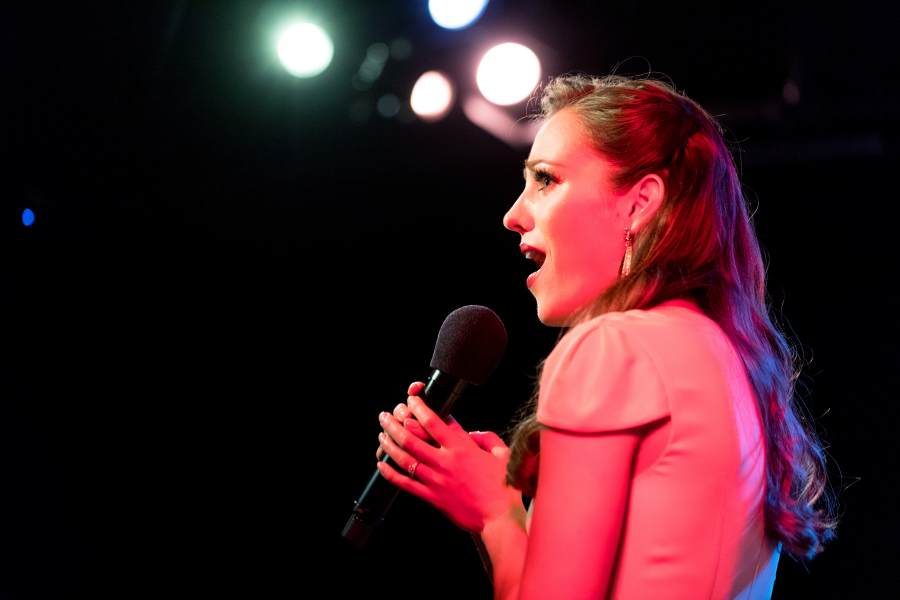 Laura Osnes has much in common with Cinderella. Setting aside the fact that she actually played her in the recent 2013 revival, to Tony-nominated effect, her journey to the Great White Way says it all: in 2007, then-21-year-old Osnes was plucked out of a quaint Minnesota lifestyle, displayed in front the entire country for eight grueling weeks on national television, before eventually coming out victorious and catapulting into Broadway superstardom. Much like the scullery maid who "won" her chance to attend the ball, though she was very much living her dream, Osnes, understandably, was the green girl, feeling somewhat out of place, blinded by the bright lights of the big city, while staving off the negative stigma that accompanied receiving a Broadway debut as a prize for competing on reality TV.
What a difference a decade makes. Fresh off an acclaimed run in her now-sixth Broadway show since her move to the Main Stem, she returns to the Café Carlyle to salute a familiar duo, exuding a calm, comfortable confidence that commands the room with every lilting note. But despite this fortitude, it's no accident that the evening, titled "Cockeyed Optimists: The World of Rodgers and Hammerstein," once again finds "small-town Laura" front and center, headlining at the glitzy, ritzy Carlyle. So, it's entirely apt that she opens the show — making a grand entrance through the aisle in a gorgeous Dennis Basso cream-white gown, no less — by channeling her inner princess and not only giving us a song from Cinderella, but one whose lyrics sing, "Impossible things are happening every day." A more perfect example of life imitating art we've never known.
From there, she segues into a medley of R&H classics, and it's clear she's small-town Sandy no longer. She's settled in, she's found her groove, and, taking full ownership of the "Broadway's sweetheart" moniker, she's having a ball (get it?) just livin' it up. And lucky for us, that's just at the beginning.
She continues on in deliciously full form, injecting each of the wonderfully familiar tunes with a creative twist all her own. Joined by musical director extraordinaire Ted Sperling, who serves as pianist and occasionally as duet partner at several points throughout the evening, the two infuse Cinderella's "Ten Minutes Ago" with a bluesy jazz twinge, and revamp Flower Drum Song's "I Enjoy Being a Girl" with updated lyrics for 2017, all while mixing and mashing up the others in exciting and refreshing new ways.
As witnesses to their musical magic, we all see that these two are a consummate pair. They're in perfect harmony both in music and in conversation, with their palpable chemistry exemplifying their longstanding comfort with one another. To boot, they're expert navigators of the R&H catalogue, fully living each lyric they sing, their passion bested only by their impressive knowledge of a cavalcade of facts and trivia regarding the R&H canon.
The evening is only made better by the arrival of Ryan Silverman, Osnes' Broadway pal and frequent concert collaborator, who joins her in song (and his fair share of solos!), lending his rich and resounding voice to such soothing standards as "The Surrey with the Fringe on Top," "Do I Love You Because You're Beautiful?" and the quintessential musical masterclass that is Carousel's "Soliloquy."
This being the world of Rodgers and Hammerstein, as the title suggests, the program's offerings don't just stop at songs. We're also treated to quite a few bonus scenes, which act as lead-ins to these phenomenal numbers; here, too, Osnes moves the room with an uncanny ability to evoke the full trajectory of a character, channeling every feeling and emotion throughout, despite "entering" the scene midway through, and snapping back into Osnes less than ten minutes later. At other times, intros include stories of personal experience or historical fact, as Sperling regales us with his extensive aforementioned R&H lore, covering everything from how Julie Andrews ended up in Cinderella to why the OBC Carousel recording was originally released in a five-record set.
But again, while these additional elements are all well and good, the evening's all about the headliner, and how her story emulates the ideas put forth by the songwriters' in their words. Osnes remarks toward the end of the evening that though their productions covered darker territory, racism, bullying, and alienation among them, they always aimed to "write about the light." Their goal was to provide a beacon of hope. And that's what Osnes does with this show. She's the quintessential cockeyed optimist, bringing a buoyant and bubbly lightheartedness to the evening that permeates the room long after she leaves the stage, which, in turn, leaves us a little less unsettled, a little more relaxed, a little more hopeful about the world we live in.
Of course, it's not lost on her what it took to get to this point — and the duty she has to instill that same hope in others. To that point, barring the encore — a gorgeously stripped-down "Edelweiss" featuring Silverman on acoustic guitar — the evening finishes with a melange of scenes and songs from South Pacific, leading Osnes, in another perfect example of "art imitates life," to revisit Nellie Forbush, a role she considers to be a professional turning point, stating it marked her official transformation from a girl into a woman.
What follows offers undeniable proof. There's no question. She's arrived. No fairy godmother needed.