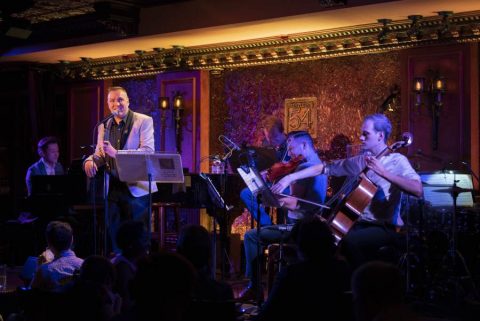 Throw in a soupçon of snark ("It's so wonderful to see faces... and pants!"), jabs at everyone from Stephen Sondheim and Alice Ripley to Liz Callaway and Norm Lewis, and passes at cheese fries, Instagram Live, and actors entering the real estate market, and you've got all the makings of a glitzy glam Robbie Rozelle evening.
And sure, at first glance, the structure may seem a bit jumbled and haphazard, bouncing from a centuries-old Irving Berlin hit to a tune from Sesame Street, with the perennial "Meadowlark" popping up at another point later in the evening. But look again. It's a collection of songs that mean the most to him, with poignant lyrics that perfectly encapsulate all that we've been through in the last 16+ months – a balm to the collective grief and uncertainties we've all endured within that time.
"I felt so lost," he said, of how he handled himself in the pandemic. "I felt so alone and sad all the time," and, where he'd usually turn to musicals to alleviate that pain, due to the shutdown, "musicals weren't there for me. And musicals have always been there for me."
As he admits to "intaking a lot of the junk food of musical theatre" on the regular, you come to realize exactly what this show is: the antidote – his antidote – to the last year and a half. He's singing because he needs to. He's singing because it helps.
And of course, it's not just himself he's healing. We, too, have missed musicals. We, too, have missed live performances. And he's so generously created a space where we can all sigh, release, and indulge together.
Whether or not he considers himself a performer, frequently quipping that he "fell into" the art form because he got a call from the staff, he's a genius at crafting an evening, mining a set list for poignancy, and stealthily planting morals and themes within songs and stories, so that we can watch them gradually blossom as the night goes on.
That's his magic. That's what he does.
And it's because of this magic – coupled with meticulous planning, thoughtful consideration of his audience, and an unapologetic zest for life and performance in general – that we, like him, despite all we've been through, have the courage and confidence to know that whatever life throws our way, that "we'll be here tomorrow... simply going on."
Happy days are here again indeed.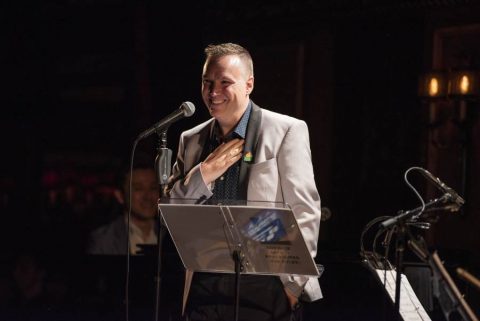 Photo Credit: Kristin Pulido