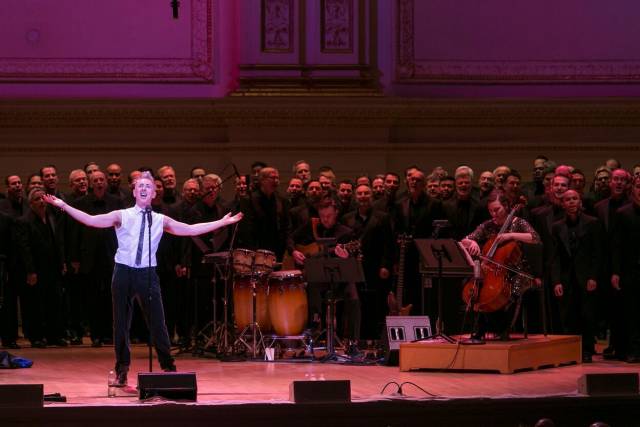 To celebrate the release of his album Alan Cumming Sings Sappy Songs the Tony-winning showman held a concert at the legendary Carnegie Hall, which at one point saw him singing an Adele/Lady Gaga/Katy Perry medley backed up by the New York Gay Men's Chorus, proving that Cumming has never been one for restraint. But nobody was clamoring for understatedness, and the more flamboyant the performances, the happier the audience seemed. Dressed in black leather joggers and a tux (by Kenneth Cole, who also dressed the band), the Scotsman opened "Alan Cumming Sings Sappy Songs with Friends" with a rousing rendition of Annie Lennox's "Why" after which he announced he would entertain us with sappy tunes, the kind we either love unashamedly, or listen with the lowest volume setting in our headphones.
This was followed by a cover of Keane's lovely "Somewhere Only We Know", but this was actually where the "sappy" part ended. The rest of the program was filled with sober, beautiful takes on tunes by Kurt Weill and Bertolt Brecht, Rufus Wainwright and Kander & Ebb (his rendition of "You, You, You" from the gorgeous The Visit was a true highlight) among others. In between songs, Cumming would entertain the audience, and one could argue himself too, with stories about showbiz. Whether he was talking about his troubled history with his father (chronicled in his intimate book Not My Father's Son, which should be consumed in audiobook form for true pleasure) or his "junk", Cumming was joyful and actually not sappy at all.
He kept mentioning how Scottish people were known for their love for everything mawkish and overtly sentimental, but all of his renditions were sincere and heartfelt. Perhaps he doesn't know how he sounds to others? Perhaps this reviewer has a higher tolerance for sentimentality than others? The show's true heart though, was in its guests, the "friends" of the title, who came in the shape of Ricki Lake, Darren Criss and the divine Kristin Chenoweth.
With Lake, Cumming performed a song about condoms (she was played to the stage to the tune of "Good Morning Baltimore" which made for a lovely intro), with Criss he did the melancholy "I Don't Care Much" from Cabaret and then asked Criss to sing the very first song he did for him when they met: "Part of Your World". It was Cheno however, who almost stole the show from Cumming, appearing in a glittery top, black pants and sparkling Louboutins, she was welcomed with loud applause, and as she joined Alan for stories about hosting the Tony Awards (they were paid minimum wage for the three hour telecast!) it became clear that these two should be asked to have their own television program/variety show/should host everything together. After joining Alan in a duet of "Easy Street" which they updated by adding jokes about Audra McDonald and other relevant figures, Cheno took over the stage to sing "When Somebody Loved Me", it was a moment of true sappiness that nevertheless felt sublime.