Review: "Rockin' Around the Christmas Tree" with Ingrid Michaelson and The New York Pops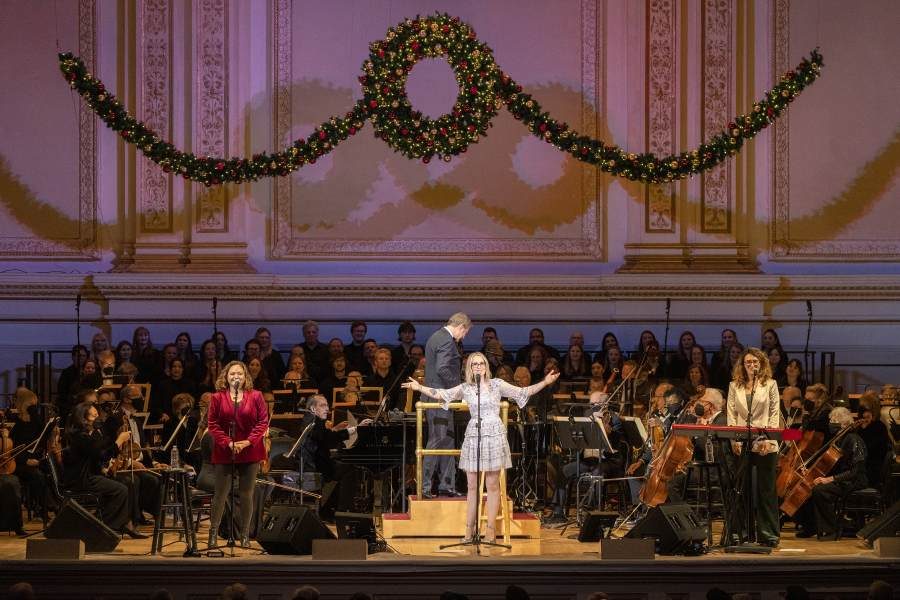 Ingrid Michaelson and Christmas were made for each other. The indie pop singer-songwriter proved this with the release of her wistfully gorgeous 2018 album Songs for the Season, and again last weekend at The New York Pops' annual Christmas concert. In a program entitled "Rockin' Around the Christmas Tree," Michaelson sang an array of holiday songs in her tender, captivating style, supplemented by a handful of instrumental numbers and chorale arrangements by The New York Pops and Essential Voices USA. From time to time, Michaelson was joined on stage by special guests: Jason Mraz, Will Chase, and A Great Big World's Ian Axel and Chad King, plus Michaelson's supporting duo Hannah Winkler and Allie Moss—but appropriately, it was Michaelson herself who shone brightest: courtesy of her whimsical charm and sensitive treatment of holiday songs both old and new.
Steven Reineke, Music Director and Conductor of The New York Pops, shared that he's wanted to do a holiday concert with Michaelson since first hearing Songs for the Season, and it's easy to see why. Her dulcet voice and nostalgic style meld beautifully with The New York Pops and are a perfect fit for Carnegie Hall: classic concert venue of stars like Ella Fitzgerald and Judy Garland, the latter one of Michaelson's musical influences. She's also the perfect translator for not only the joy and wonder of Christmas, but the longing: the almost haunting nostalgia of Christmas past, the poignant fleetingness of Christmas present, and the childlike anticipation of Christmas yet to come. The first is evident in her delicate renditions of staples like "Have Yourself A Merry Little Christmas," the second in evocative songs like "Happy, Happy Christmas" ("Love the ones who love you / They say time flies and, baby, it's true"), the third in new, tenderly joyous compositions like "It's Almost Christmas," written by Michaelson with Ian Axel and Chad King. "There is magic in the air," she sang. And there was.
Of course, any evening with The New York Pops and Essential Voices USA is an evening well-spent, Ingrid Michaelson or not. Among the highlights of the concert were David Chase's luminous chorale arrangement of "The First Noel" and Judith Clurman's stunning Hanukkah number "Eight Days of Light." Another delightful surprise was "Little Bolero Boy," an arrangement of "The Little Drummer Boy" in the style of Ravel's "Bolero." And of course, holiday concert staples like "Sleigh Ride" and a Christmas sing-along led by Santa himself added fun to an already profoundly enjoyable program.
The evening finished with Michaelson's time-halting performance of "Auld Lang Syne." As the final strains of the orchestra slowly settled into place, Michaelson turned to watch. For a moment, the chaos of the Christmas season came to a stop and the songs of seasons past, present, and future seemed to linger in the stillness between strains. It was a spell woven gently yet deftly—one song at a time throughout the evening—a triumph for the timelessly delightful Ingrid Michaelson and the musicians she shared the stage with, and a truly unforgettable evening of Christmas longing and merriment.