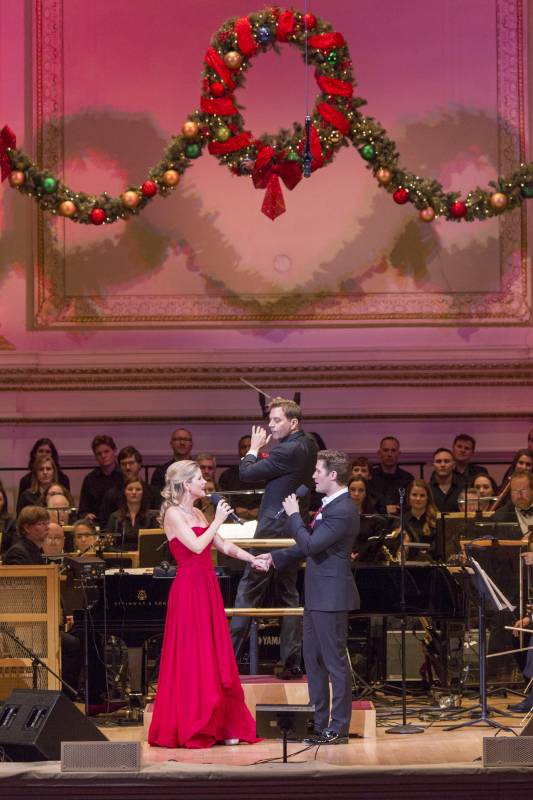 The Halloween decorations are just starting to come down, the first leaves have just began to fall, when suddenly there it is in every store, corner and radio station: Christmas music. With businesses highlighting the season's consumerism by bombarding customers with sales and new items earlier each year, usually by the time we reach Christmas Eve the last thing we want to listen to are jingles and bells. And yet, even the most cynical, Grinch-like being would have found it impossible not to succumb to the act of magic performed by The New York Pops during Kelli and Matthew: Home for the Holidays, a series of two concerts held at Carnegie Hall on December 19/20, who made Christmas music feel fresh and jolly, as if we were listening to it for the very first time.
Music director, and conductor, Steven Reineke appeared onstage wearing a festive red tie, to remind us that we were all sitting there for the music. He proceeded to introduce his orchestra, as well as chorale Essential Voices USA, who then started delivering wonderful renditions of classics including "Jingle Bell Rock" and "Winter Wonderland". As Reineke introduced headliners Kelli O'Hara and Matthew Morrison, the anticipation at Carnegie Hall grew so much you could practically touch it, and the musical theater icons did not disappoint. Effortlessly slipping into their established stage personas, he a Rock Hudson-like suave charmer, she a coy Doris Day-type who makes our jaws drop with her pristine soprano voice, the duo performed a playful version of "Let It Snow! Let It Snow! Let It Snow!" combined with "Baby It's Cold Outside".
O'Hara and Morrison charmed the pants off the entire auditorium with their rapport, probably based on the respect and love they have for each other after having starred together in South Pacific and The Light in the Piazza. Morrison even performed a touching, modest rendition of "Younger than Springtime" from the Rodgers and Hammerstein musical, which was followed by a majestic rendition of "Tonight" from West Side Story with O'Hara joining him. Listening to Leonard Bernstein's score at Carnegie Hall must have been an unexpected Christmas treat for many in the audience.
The duo left the stage for a short period during which Reineke explained he had spent a lot of time trying to find good Chanukah songs - eliciting laughs from the audience - only to then introduce Essential Voices USA's director Judith Clurman who conducted the orchestra through a number called "Songs of Freedom: A Celebration of Chanukah", they were joined by scene-stealing baritone Arlo Hill, who with his stunning voice and stage presence made one wish the number would have gone on longer.
The last part of the performance was highlighted by O'Hara's rendition of "O Holy Night" which epitomized the meaning of the word "soaring". Chills ran down people's spines as she reached towards the last notes of the piece, eliciting an impromptu, but very well deserved, standing ovation before the song was over. It was a true Christmas miracle. The last number was a sing-a-long made even more charming by the presence of Santa Claus himself, and O'Hara "whispering" to the audience what number was next, so we could all join in. As far as musical experiences go, everyone who got a ticket to this show must have been on Santa's very nice list.