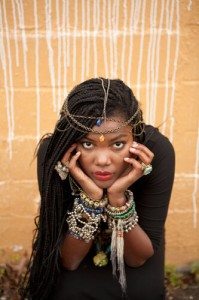 Lynette Williams has a voice that is as much an instrument as her guitar. A Harlem-based singer-songwriter, Williams has become a staple around New York, playing venues such as Rockwood Music Hall, S.O.B's and 92YTribeca. Her EP, Songs for Sarah, is full of songs that have organic, down-to-earth lyrics, soulful singing and amazing musicianship (pay particular attention to the guitar playing).
The EP is a small little gem that reflects the New York music scene. It doesn't just stick to one style; Williams travels throughout the genres, sampling with jazz ("What Am I Loving You For"), alternative ("My High") and pop ("Sarah"). The wide range lends itself to an EP that has something for everyone and never gets boring. My favorite track is "My High." The lyrics are stark and in your face, confronting the listener with the issues head on. The music doesn't fall into a rhythm; it goes from slow and dark to faster and lighter. The track, like the rest of her songs, has a timeless appeal.
Williams is one of the musicians chosen to play Downtown Comes Uptown, a concert put together by Rockwood Music Hall and Lincoln Center to showcase talented musicians. You can check out more of her music at her Facebook page (https://www.facebook.com/lynettewilliamsmusic?fref=ts), and keep up to date on what she's working on by following her on twitter (https://twitter.com/lynettewmusic).
Tonianne Bellomo
May 14, 2013
Listing: https://www.stagebuddy.com/listingdetail.php?lid=13169