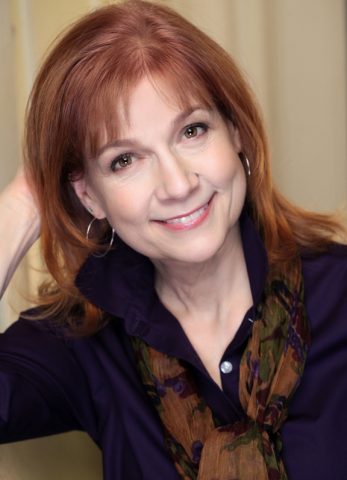 Get Happy, New York City Community Chorus' upcoming concert, is a celebration of the songs of composer Harold Arlen and his brilliant lyricists, Johnny Mercer, Ted Koehler, Yip Harburg and Truman Capote. The chorus, under the musical direction of Jack Eppler, will sing arrangements of some of Harold Arlen's most beloved songs including his first big hit, "Get Happy", "Stormy Weather", "Lydia the Tattooed Lady" and "Somewhere Over the Rainbow". Singer, storyteller and StageBuddy writer Navida Stein is the guest soloist. She'll be singing with the chorus on a jazz arrangement of "A Sleepin' Bee" from House of Flowers, the Broadway musical Arlen wrote with Truman Capote as well as a diverse selection of solos from obscure gems to recognized standards like "Down with Love" from Hooray for What with lyrics by Yip Harburg. Ms. Stein answers a few questions about the joys of preparing to sing Harold Arlen's songs.
There are many community musical groups here in New York. What is the New York City Community Chorus' mission and how long has it been in existence?
I just love the mission of The New York City Community Chorus! It's a non-sectarian musical organization who make their home at Holy Apostles Church on 28th St. and 9th Ave. in Manhattan. The founder and conductor of the chorus, Jack Eppler, after leading singing workshops around the United States and Europe in the 1980's had this idea of creating a chorus for average people who wanted to sing, even if they thought they weren't singers and even if couldn't carry a tune. In 1994, Holy Apostles Church, an Episcopal church in Chelsea committed to social justice and community building invited Mr. Eppler to try his idea out and giving space for the experiment. The NYCCC was born. Over the past 23 years the chorus has grown to 70 members, from all walks of life who come together to sing a variety of music and perform two standing room only concerts a year. Mr. Eppler, who has had a long career both as a professional singer and voice teacher, says the mission of NYCCC is to "restore the joy of singing to day-to-day life, and to heal our community through singing. All are welcome, there are no auditions. Everyone can sing and we give them that opportunity!"
Harold Arlen was such a prolific composer, with so many hits. How did you choose which songs to include in this concert?
It was so difficult to choose! I spent January just listening to his music on YouTube being sung by everyone from Judy Garland to Rosemary Clooney to opera singer-turned-jazz artist Eileen Farrell to Harold Arlen himself, who has a wonderful slightly bluesy voice. I also read his biography and let my imagination wander back to the 1930's, 1940's and 1950's when his songs were everywhere; movies, radio, records, big bands and Broadway. His music is an essential part of our Great American Songbook! I picked a combination of up tempos and ballads that spoke to me. I'm singing some very familiar songs and some unknown treasures. And then Jack and I got together to see how my choices matched up with what the chorus would sing and what the audience would sing. Yes, there will be a sing along too, with lyric sheets provided! Finally, I wanted to make sure that I chose songs that included all the extraordinary lyricists that Arlen worked with: Johnny Mercer, Ted Koehler, Truman Capote and the great Yip Harburg! Arlen and Harburg wrote The Wizard of Oz and of course the song of the century, "Somewhere over the Rainbow"! I actually worked on and learned 12 Harold Arlen songs and then had to choose eight from that list. That was hard, cutting it down to eight songs! It has been a joy to explore each song musically, lyrically and historically. How these songs fit into what was happening in our country and in the world at the time they were composed is fascinating. Some of the songs I'll sing are from movies, some from Broadway, some stand-alone songs recorded by big band singers of the day and even one song that was cut from The Wizard of Oz!
What was your process in working on these songs?
I'm so fortunate to regularly take class with David Brunetti, a fantastic New York City vocal coach and teacher. His class is called Acting Songs and each week for the past six months I've been bringing in an Arlen song to work on. David teaches a technique that helps you explore a song from so many different angles. I feel I'm living the songs when I sing them, because of how I worked on them in class! Which is so great, because the songs I've chosen are very diverse -- from a torch song, to an almost operatic aria to a jazz standard -- and working with David has really helped me drop right down into the particular situation, the character's desires and the story of each song. Another thing I did was to take the song apart musically – really look at the rhythms, the chord progressions, the structure of the song so I'm not just skating on top singing the melody, but I'm connected to what is going on in the accompaniment. And I was able to rehearse with the NYCCC's pianist, J. David Williams several times as well as with the rest of the great band, Robby Jost on bass and Brad Wentworth on percussion.
What makes Harold Arlen's music unique? Are there any "Arlenisms" in his music?
Harold Arlen is known for octave leaps, like in the first two notes of "Somewhere Over the Rainbow". Often in his songs you find these soaring leaps of an octave or a ninth. His music has his unique combination of jazz, blues and classical lyricism…and the melodies are so sublime! Often times there is a surprise harmonically or rhythmically or in the structure of the song – the music doesn't go where you expect it to, it isn't predictable, instead it transports you to a new place. Plus Arlen was the son of a cantor, so sometimes one can detect a little Hebrew inflection thrown into the mix.
What do you hope the audience takes away from this musical experience?
I hope people will leave Get Happy with musical happiness in their heart and that they hum a Harold Arlen tune all the way home!