Margaret Glaspy is an up and coming singer songwriter who grew up in California, cut her teeth in Boston, and then moved down here to New York. She just released her first EP If & When, a five song collection of tracks that have vocals similar to Norah Jones and Cat Stevens-esque lyrics, and has just finished up a residency at Rockwood Music Hall. She has a soft stage presence, nothing jolting or crazy, but not something you can just pass by, similar to her music.
Talking on the phone with her was just as conversational as her lyrics, filled with talk about inspirations and goals, as well as an insightful comparison between the New York and Boston music scenes.
Glaspy grew up in rural California where, in the third grade, she started playing the Texas style fiddle. This was the first instrument she really got into and it was through playing this instrument that she was able to meet many professional musicians. She said that it wasn't until high school, though, that she became "curious about songs, folk songs, and started writing and singing more." In high school she tried her hand at the guitar and by the time she was sixteen, she had dropped the fiddle and focused on it.
She was able to get a grant to study at Berklee College of Music and, with the support of her family, made the move from California to Boston. This wasn't a spur of the moment departure; she had always wanted to transition to the east coast but the main thing stopping her was the money. With this grant, she was able to realize her dream of East Coast living and, though they were apprehensive at first about their "little girl" moving east, her family has become, in her words, "total cheerleaders". "They've been out to visit when they can…and I call them for everything."
The grant, unfortunately, only lasted for a semester, at which time Margaret had to leave the school but she did stay in Boston. When asked about the Boston music scene, Margaret sounds very fond, almost like someone talking about her childhood home. "People are dedicated to certain clubs," she said. "There's a little more dedication in Boston. People there are just music listeners where they have their day jobs and their hobby is to listen to music."
Glaspy spent three years in Boston, cutting her teeth, learning the ropes, and getting to know the stage. Finally, she decided to move to New York.
She's found New York a little different. She said that New York has a more going out vibe where people are bar hopping and not necessarily going out to listen to music; they're going out for a good time. "It's a combination of alcohol and dating and people are not as loyal. It's hard to find a dedicated fan base and you have to bring something that's really pertinent or telling."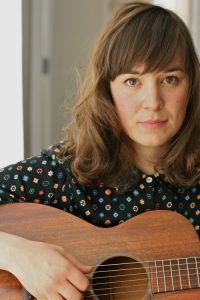 I did tell her that the night I saw her at Rockwood Music Hall, I was shocked by how quiet the room was. People were legitimately listening to her, some taking photos and even video taping her performance. One spectator was so excited about her he kept telling me she was there all month. And it's hard not to be drawn in. Her vocals are soft but edged with a certain raspy quality that makes it stand out. Her lyrics are those of a storyteller and, while this is a little more folk infused than my normal tastes, I do enjoy its simplicity.
She's had a few memorable shows while in New York. For example, her residency at Rockwood Music Hall was something she raved about. This was the first time she was playing with the band she's with now and she feels it's the most successful experience she's had. There was also a show in upstate New York that sounds more like a magical moment in some Southern literature book than the life of a musician. They had the concert in a barn, went swimming in the pool (even though it was the end of the summer when those autumn winds add a bit of chill to the night) and ate potluck. Honestly, I think we'd all be musicians if we could play shows like that.
Her EP If & When, which features amazing artwork by Stephanie Davidson, is a strong collection of songs, the type of songs that bridge folk music with jazz. It's not surprising that she has a wide range of influences. She said she has "the staples, things I grew up on- Joni Mitchell, James Taylor, Michael Jackson, Cat Stevens- records my parents would play constantly." That was basically what got her into music. It wasn't until music school that she "found herself". She started listening to Jeff Buckley and Feist, who she really looked to not only performance wise but also style wise. Her wide array of influences suits her approach to writing, which is primarily focused on always keeping on her toes and looking for new ways to approach the song. Her most effective way is to take songs that she really loves and break down what she really loves about them. She, as an example, broke down John Mayer. She said that he has really solid guitar forms. "The guitar has its own voice and own reason to be there. He had a purpose for the guitar."
Giving the guitar purpose was something she wanted to do with her own music. She wanted to give it its own voice, not just play it for the sake of playing it, but to give it a reason for being there. Lyrically, it all started with songs about love and romance but she's come to know herself as a person. At her core, love and heartache are not her things. She wants to write more about what she sees. "I want to take what I see in other people and give it back to them."
She cites Rage Against the Machine as great lyrical influences. "They were the voice of a generation," she said. "I have an opinion and a voice that people are listening to so I want to give them that, to be a voice. I want to talk about things that need to be talked about and what better way than music?"
When asked about future plans she said that the release of her EP has affected her in a really "funny" way; that it's inspired her and she can definitely see a full-length release in 2014. She's been very inspired by the new band she's working with and is just trying to get through writing more material. In May, she'll be playing in Colorado, taking part in a program centered on the recordings of Alan Lomax, a renowned field collector of folk music.-TB
(Originally posted on Stagebuddy.Tumblr.Com)