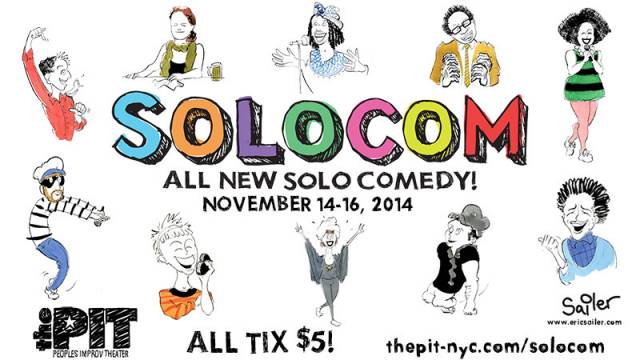 The People's Improv Theater is hosting the second annual all-new solo comedy festival, bringing you up to 80 performances November 14-16. Each hour only costs $5 and holds a unique adventure of solo performances ranging from 60 minutes to 15 minutes a performer. (For those of you that love a deal, that means you could get a steal at $1/comic!) After much contemplation and debate, I've accumulated a list of the top 10 shows to see at this year's SOLOCOM:
November 16th at 10:30pm
Possibilititties: Often times in her life Ali was tormented by the questions "Who am I? Where is all of this really going? Are you going to eat that?" until she met the woman that changed it all. Ali plays a character named Vivianna Cortez who cures all with a delicate dip of Churros in chocolate and a "Suavemente" salsa sway of the hips. All the answers of life lie in this spicy Cuban Holistic Wellness Counselor.
Singlish: A native English girl/now U.S. citizen has rocked the stage in over 20 productions in NYC and is now at SOLOCOM. Katie is not only a performer but also a writer and producer who will be singing comedic songs that answer questions like: How sexy can a sad song be? What is the American-ish for...?
November 16th at 12pm
Trying Hard Losing Harder: One Woman's Journey to Ultimate, Nationally-Televised Humiliation: Eva Andersen has been on Jay Leno, played sax at the Apollo and has spoken up on the news about respecting women's Cosplay at Comicon. This girl has done it all and now she is revealing at SOLOCOM her story about about a being recruited by producers of a nationally-televised talent show, which turned out to be something not so glamorous.
Finally Hitched: Comedian, host, inventor and now married woman Marla Schultz is "finally hitched". She is going to take you through her journey of dating a wide range of men from cereal killers to psychopaths. After surviving more melodrama than a Wagnerian Opera, she happily ends her adventure at the altar.
November 14th at 7pm
YES: Brad Stuart may have the same name as a famous Hockey Player, but that won't stop him from putting all his bets on making it as a comedian. See why these characters and one man sketches are his ticket out of his self-described hellhole.
Leah Has It All (most): The improviser, writer and actress Leah Spigelman has got it all figured out. Marriage: check! Career: check! Social cues: check! This parody of her life will make you giggle with joy and hopefully not jealousy. As a gracious host she doesn't want you to be intimidated, but she is pretty perfect.
Joanna Shaw Flamm: The actress and improvisor of the PIT team Gypsy Danger has appeared on Anderson, Brain Games and now right in front of your faces! Joanna Shaw Flamm will be keeping it real, performing a collection of original, nervous and graceless characters.
Just doin' My Damn JOB: With the economy today many find ourselves with many side jobs but Philip Casale takes it to the extreme. Coffee. Catering. Dancing animals. While doggedly in pursuit of his artistic endeavors, Phil has worked more than a few odd jobs. These are just a smattering of characters and occupations he's experienced over the past 30 years.
Sick Transition, Bro: Everyone loves a good story about transitioning through periods in our lives: adolescence, moving into your first apartment, or even that short period of time between two characters during a comedy show. Julie Rosing will be doing a show full of fun characters but the transitions…the transitions are sick.
November 16th at 9:30pm
Jillian Green: Blogger, Comedian and musician Jillian Green will perform characters and music magic making you ROFL. Hashtagging, liking and retweeting along the way this show will def be #comedy #funny #show #music #nyc #important
AFRICA: America's Favorite Continent #TotalJoke: Actress, improviser and writer Keisha Zollar will be playing the character Nia Mumbatu. Nia is the world's most favorite late night host and winner of LAST COMIC STANDING -- AFRICA! You will laugh in the First World while learning about the Third World.
November 15th at 5:40pm
Amongst many things, Peter is a comedian, writer, and developer who will be performing an hour show as the character Lance. Failed cruise ship entertainer Lance is docked in NYC for one night only, so he's hosting a variety-talk show with guests Liza Minnelli, Sir Ian McKellen and musical guest Miami Sound Machine. Whether any of them shows up has yet to be determined.
November 16th at 1pm
We may not have carved the turkey yet but it's never too early for Christmas cheer. Nancy will bring out the little Christmas elf in you with her hilarious songs, comedy, and monologues. So be good for goodness sake...and HO HO HO along with the crowd at this early Christmas Special.
November 16th at 5:10pm
Don't Look at Me!!!: The Canadian comedian Carson Pinch will be giving you a glimpse into the lives of his characters when their reality has been torn apart. He will explore the subjects of Science VS Superstition and obscurity VS Substance.
Tim Racine Is a Liar: In all bluntness, theater is a form of lying so technically you could say all forms of performance is based on lies -- and that is exactly what Tim Racine is saying. He wants you to listen to every single word he utters but not one will be true.
November 16th at 8:30pm
Blue Comedy: A Collection of Sad Characters: Divorce, soul crushing day jobs, repressed sexuality: cry till you laugh with Jenn Dodd, as she portrays several blue misfits in this solo sketch comedy of tragedies.
Yeah, this might be stupid: The actor Rich Templeton loves to prove people wrong and he's doing it again. There are those that say that there is no such thing as a stupid idea. Watch as Rich tests this theory with his high energy and in-your-face humor.
November 16th at 5:30pm
Violence of the Lambs (or the Animal vs. Human War): Chris Davis will be playing the character Marcus Livengood, comparative zoologist and animal behavior expert. Marcus is convinced that the next war will be an Animal vs. Human war. Your life may be changed or you may just laugh a whole lot.
Oh My God I Forgot to Write My Show: Sometimes we as humans forget things, such as brushing our teeth or setting our alarm clocks. Not this guy! He just forgets to write his shows. This will be the ultimate surprise since… there is literally no information on it, but what I can tell you is Andrew Kimler is one funny guy.
November 15th at 9:50pm
Fara is full of Ideas and Can't Shut Up: Do you ever get a burst of ideas and can not figure out what to do with them? Some people call this ADHD and others call it being creative. For Fara Greenbaum, it's just entertaining. Some ideas include Motivational Speakers in The Stone Age...Men Are Confusing And Then They Die...and more!!!
Puke Bucket: The comedian, musician, and actor recently seen on Gotham escaped the city and went on a cleansing spiritual journey… to get really high and puke. Jonsey shares with you his experience taking the Native American spiritual hallucinogen Ayahuasca.