The sixth incarnation of the RULE OF series, started by playwright/actor/director Brett Epstein, is here, and the plays keep getting better and better.  In Rule of 7x7, seven playwrights follow seven rules to create seven new plays presented for one night only.  Here are seven reasons you should check them out Thursday, July 17th 7 p.m. at The Tank.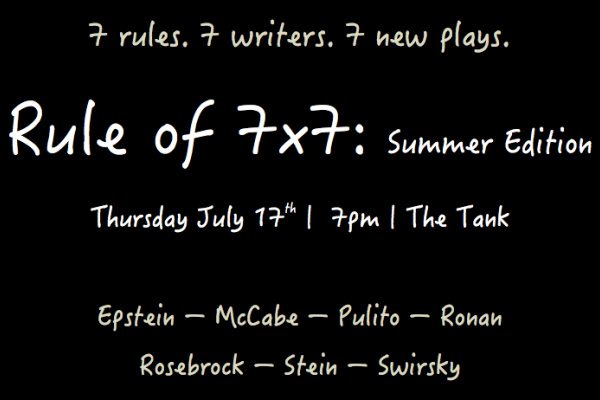 1. The Tank
If you've yet to see a show at the Tank, I highly recommend you do before the summer is up.  The Tank is a great organization for artists offering free space in the heart of New York's theater district.  See our Behind The Stages Interview here.
2. One Night Only
You won't get the opportunity to say I'll check it out next week, because it only plays for one night so get our your calendars and cross off whatever you thought you were doing on Thursday.
3. An Amazing Promo Video
There's a great promo video for the event where Epstein interviews himself.
4. 7 New Playwrights
The playwrights in the "Rule Of" series don't always stay the same, so get to know these seven.  Click on their names to learn more about them:
Brett Epstein, Dan McCabe, Ivano Pulito, Jeff Ronan, Abby Rosebrock, Lilli Stein and Stephanie Swirsky
5. 7 New Plays for $7
You do the math, that's $1 for every play.  I don't know if theater prices get any better than this!
6. 7 New Rules
You can only imagine how these playwrights incorporate these rules.  Satisfy that curiosity in the comfy seats of the theater to see how these rules unfold.  We're super excited about Rule #2.