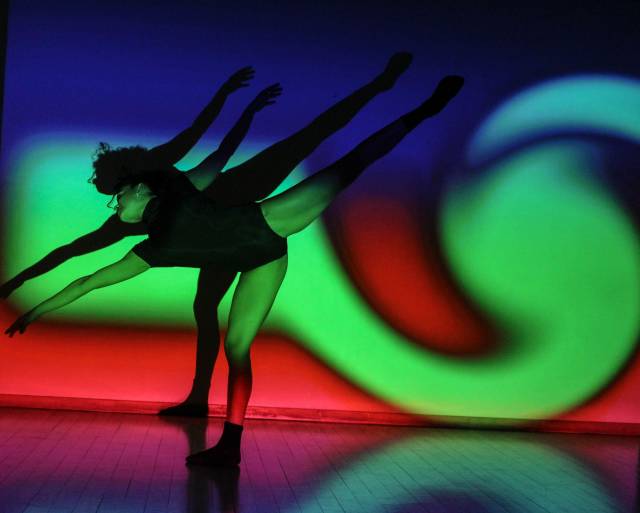 ZEST Collective, a contemporary performance art company founded in 2013 and comprised of dancers, visual artists, musicians, composers, theater-makers, and choreographers, will perform Thursday, March 19 at White Box Art Center as a part of Harlem Arts Festival's Young Patrons' Session. They will, for the second time, present an interdisciplinary program with their projection director Andrew Kaminski.  We spoke with Artistic Director Gentry I. George about the upcoming performance.
How did ZEST COLLECTIVE Contemporary Performance Art get invited to Harlem Arts Festival's Young Patrons Session?
The Harlem Arts Festival (HAF) celebrates the cultural landscape and the artistic community in Harlem today. Last year ZEST had it's first live performance at Madiba Harlem for HAF's fundraising gala. We went on to perform for the festival's main stage at Marcus Garvey Park that summer. This year the organization started the Young Patrons Session to gain additional support from those interested in HAF's continued success and again, ZEST was asked to perform. It's a privilege to be invited to perform at White Box Arts Center in addition to being a welcomed member of the HAF family.
Can you speak more about your collaboration with Andrew Kaminski?
ZEST first performed with Kaminski on July 27th, 2014 at Harlem Arts Festival's Opening Night Celebration at Mist Cinemas. Viewers witnessed the world premiere of live "Audiovisual Dance."
Andrew Kaminski is ZEST COLLECTIVE's Projection Director. His images mimic artificial and organic forms, revealing a sense of play between the human body and how it interacts with moving images. I particularly love how he merges audiovisual projection art with movement.
Kaminski's current body of work focuses on the interactivity between trained dancers and newly developed live video editing software. The goal of our work together is to create a synchronicity between sound, sight, and live dance. Our performances emphasize the tension of mindful movement and manipulated light.
What does it mean to be a Young Patron?
Young Patrons are a group of supporters under 35 who share a personal mission with an organization and a commitment to its success. Their financial support enables organizations to continue creating innovative programming and provide opportunities for its artists as well as outreach performances for the community. It is so important that we are all involved when it comes to shaping our community and ensuring the increased love of Art and creation.
You're presenting four new pieces in the evening, which one are you most excited to share?
Yes, in addition to four new works we are showing two returning favorites - an excerpt from "REVERIE" as well as "All For The Life," choreographed by founding member Jesse Obremski. Dance Artist Cesar Brodermann will perform an improvised solo as well.
I am excited about the premiere of "RIVER RIVER," which will be performed by Zui Gomez and Mariusz Kujawski. The piece is set to a homage suite by one of my favorite composers - Peyman Yazdanian. I have thoroughly enjoyed the duet's creative process. "RIVER RIVER" is the depiction of two tears, like streams overflowing. The intimate creation reveals dark ideas of love, loss, guilt and the fluidity of life.
Being a young company whose accomplished so much, where do you find the fuel that drives your stamina?
I want to share with the world and I want to create more opportunities to learn and engage with positive people. The journey of success and creative freedom is what drives me everyday. The #zestbugs and I have a long way to go and we are well on our way.