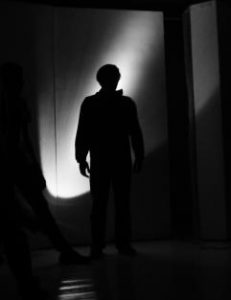 Emily Simon's Old Haunts, playing at the New York International Fringe Festival, follows a young Mark Robbins (Levi Satter), going back and forth from his past to present as he explores his love of poetry, a distant relationship with his father, the girl he left back in his hometown and the death of a friend who sees him through to liberation.
Putting on any play in a festival is no small feat and writer/director Simon excels at staging some pretty dynamic pictures that add to the audience's experience; what she lacks in dramatic action, she makes up for it succinctly moving her actors around with ease and agility. Two actors in particular, Par Juneja and David Feliz, really brought genuine life to the play, as Robbins' friends from home and college. Juneja is entertaining and relatable as the unambitious Clay Kinnear, that friend you've grown up with that always has your back no matter what.  And Feliz as Chris, a young gay music therapy student, uses every opportunity on stage to add humor and heart to the story, breaking away from being a clichéd caricature.
Most of us can remember what it's like to be young, lost, confused and angry, searching for purpose and meaning in our lives and in those we are connected with. The characters are right, the setting works, and with another pass at instilling conflict and drive for the protagonist, Old Haunts will deliver past the expectations of what a young playwright and director can deliver.