Abingdon Theatre Company Rings In 25th Anniversary with Kander and Ebb Extravaganza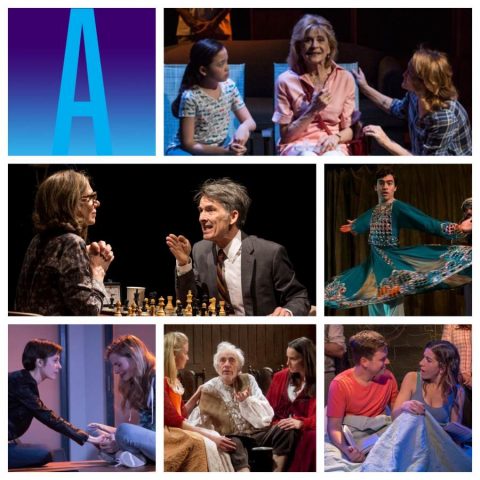 It was a cold winter's night in January 1993, when a small group of theatre artists banded together, and unanimously decided to take greater control of their creative lives. Determined to leave their own distinct mark on the New York arts community, they would gather twice a week in a brownstone apartment located in Abingdon Square Park for informal discussions and readings of new plays. Proud to be contributing, in a small way, to the ongoing conversation of the ever-changing art form, they hoped to someday parlay their discussions onto the world at large, but weren't sure if anything would come of it.
25 years later, with more than 700 readings, 85 full-length plays, and collaborations with more than 200 diverse playwrights under their belt, it's safe to say their experiment was a success.
Now flourishing under the artistic direction of Tony Speciale, who joined the venture in October 2015, ‪Abingdon Theatre Company continues to be a "safe haven" for playwrights, directors and actors from around the world — upholding the very ideals the original group had sought to achieve from day one.
All the more reason to celebrate, and celebrate they will, as they mark a quarter-century in the New York theatre community with a glitzy gala event like only they can produce.
"The truth is, I really wanted it to be spectacular," says Chad Austin, Abingdon's Associate Director, who will helm the star-studded production ‪on Monday night. "You only get your 25th once, you know?"
Reflecting on the growth of the company throughout the years, and with the idea of pushing through adversity so fresh in our minds as a result of the current state of our world, he adds, of his decision, "It had to be a celebration of going forward. And I thought, 'What better way to do that than with the catalogue of Kander and Ebb?'"
On October 23rd at 8pm at the Edison Ballroom, his vision will come to life when ATC presents The World Goes 'Round, a revamp of the popular 1991 revue, featuring 25 stars from the Broadway, national and intertantional stage circuit singing the music of that indefatigable pair.
Additionally, the evening, which includes musical direction by Kevin David Thomas, will also boast dynamic choreography from triple-threat Deidre Goodwin, someone whose involvement in the event, for Austin, was a no-brainer — and not because she's a veteran of both the current Broadway revival of Chicago and the 2002 Miramax film version, thus deeming her extremely well-versed in the world of Kander and Ebb, able to bring a wealth of insider knowledge to the table (though, of course, that helps). No, it was rather because the two are longtime besties, and Austin jumped at the opportunity to work with such a close-knit friend.
"I just value her opinion so much," he gushes, detailing how such a "dream team" partnership has been germinating within him since his first days with the company. "There was really no other person I wanted to work with more on this piece than Deidre."
Goodwin, of course, agrees, calling the opportunity to work alongside her BFFL simply "heavenly."
The performance will mark the "official" debut performance between the pair, who've known each other for over a decade; Austin, for one, couldn't be more hyped. "Look how far we've come!" he says, with a laugh. "Seriously, it means so much to not only be able to run this event as the company's Associate Director, but also to get the chance to work with my best friend. I mean, how many times does that happen? The stars have aligned! I honestly couldn't be luckier."
But while the long-awaited partnership of Austin and Goodwin is indeed something to celebrate, they both knew they could do more to commemorate the monumental #25. They needed to go all-out. So, they did. In addition to boasting such superior A-list talent as Brenda Braxton, Nick Adams, Carrie St. Louis and Bianca Marroquín, the evening will serve to honor none other than two-time Tony and Emmy winner Bebe Neuwirth.
As Austin explains, in 2012, "Bebe did A Midsummer Night's Dream with Tony at Classic Stage Company," which he says Speciale considers to be one of his greatest career achievements. "She's always been such a wonderful supporter of Tony and of Abingdon, and obviously has such a rich history with Kander and Ebb that I thought, 'Why not use this momentous occasion to honor Bebe as well?'"
Goodwin was all for it, calling the pairing of the ethereal queen of Broadway with the luscious melodies of Kander and Ebb the "perfect marination and merger of theatrical voices."
But again, they couldn't stop there.
"In paying tribute to Kander and Ebb, it was obviously important to me to assemble a group of performers that have a long history with their music," says Austin. "But in paying tribute to Bebe, we wanted to incorporate some younger, greener people into the cast."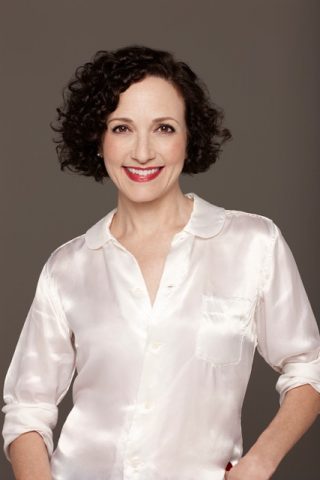 "[Neuwirth] started out as a gypsy," Goodwin explains, elaborating on the connection, "and we really wanted to tie back to those roots and honor that part of her [history] as well. Therefore, [we're highlighting] people who may not have as many credits to their name, but who are equally brimming with talent. We wanted to champion and support that burning passion, and say  'thank you' to them for all they do as artists. 'Cause it's inspiring to us to see that, too."
Furthermore, in relating the idea back to Neuwirth's story, "We hope it encourages them to know that this bonafide Broadway star started out just like them. It'll give them hope and inspire them to never give up."
An idea that, not so coincidentally, aligns quite perfectly with the mission of Abingdon.
To that end, while he acknowledges that mounting an extravaganza of this proportion is no doubt cause for excitement, Austin also wholeheartedly recognizes the importance of saluting Abingdon as a company itself, not only for reaching the outstanding milestone, but for changing the face of theatre along the way.
"For any theatre company to have lasted 25 years is an achievement worthy of a celebration in itself," he shares. "But the growth of this one! I mean, the fact that five people in 1993 started something in their apartment and now, 25 years later, we're having a one-night-only gala event honoring Bebe Neuwirth?! It's crazy!"
That on top of "the fact that we're able to give young actors their Equity cards, and give young directors a change that may give them the exposure they need to change the course of their career… all these things make 25 years worth it, wouldn't you say? If I were one of those original [founding members] in that apartment, I'd be pretty proud."
What's more? They show no signs of slowing down, especially as they head into their landmark season. Coming off a whirlwind 24th, which, for Austin, included working alongside such luminaries as Ann Bogart and James Lecesne, and on the creative team of the very first musical the company has ever produced, the associate director is entering the 25th ready for anything, placing no limit on what can be accomplished.
While he admits the specifics of the upcoming season are being kept under wraps, Austin reveals that each piece produced will be a "perfect fit" for the company in terms of its mission. Considering their past work, we'd expect nothing less.
So, with that in mind, what is the "secret ingredient" that gives Abingdon productions their extra special touch?
"Quality," Austin replies, without missing a beat. "It's the fact that every detail is thought out… every detail is very specific. It's opened my eyes to all the possibilities regarding what theatre can be."
"What sets Abingdon apart from others is their desire to listen and share new stories," says Troy Iwata, who appeared as Paiman in the company's premier musical production, The Boy Who Danced on Air. "They're willing to take risks on pieces you know other companies wouldn't shake a stick at….There's something dangerous and beautiful about that."
"Whether it's a full-fledged production or a reading of something, what I've always enjoyed as an audience member — and still do — is that Abingdon gives a voice to new voices," says Goodwin. "Ones that may have been around for a while, but wanted to make a statement and really say something new."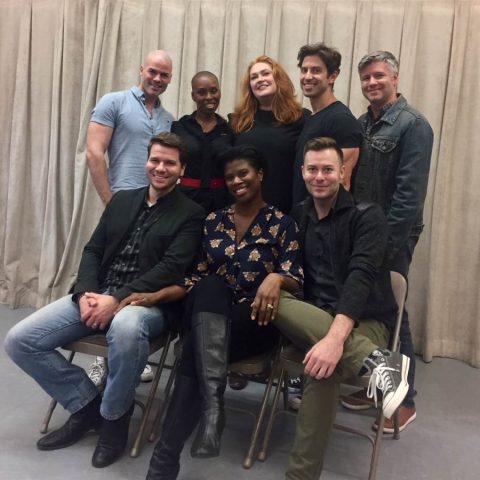 For Isabella Russo, who played the bookish young Ryder in ATC's world premiere production of The Mother of Invention, it's about the unparalleled camaraderie between each of the players. "The cast and creatives immediately gave me loving support and treated me with the utmost professionalism," she says, of her experience. "Being in an environment with people who supported and collaborated with me allowed me to make choices that helped my character to thrive."
On the other hand, Austin Pendleton, who both directed and starred in Abingdon's The Last Will in 2013, urges other theatre companies to follow suit with what Abingdon has put forth, stating "theatres that present adventurous new work are essential to keeping the flame alive."
But it's Jonathan Raviv, portrayer of the authoritarian Jahandar in The Boy Who Danced on Air, who really drives the point home, stating, succinctly and emphatically: "Abingdon is creating bold new work that defies convention. Everybody should be paying attention."
"It's cutting-edge and daring and thought-provoking," Austin concludes, with a smile. "If any of those words make you think of Abingdon, I would take that as a high compliment. It means we're doing our job right." 
Abingdon Theatre Company's landmark 25th anniversary event will take place on October 23rd at the Edison Ballroom (240 W. 47th Street) in New York City. The performance will be preceded by cocktails, dinner, a live auction, and a ceremony honoring Neuwirth.  All proceeds will benefit the company directly. For more information, please visit www.abingdontheatre.com.