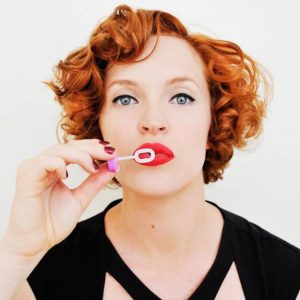 Those currently residing in New York City can't escape the fear of the ever annoying bedbug -- the little creatures have even found their way into our subway system.  On the plus side, our city's infestation has inspired a wonderfully outrageous original musical called Bedbugs!!!  Yes, under normal circumstances you'd want to stay away from them, but you won't want to miss out on this sci-fi thriller rock musical.
Grace McLean plays Carly, a scientist whose attempts to develop a bedbug-killing compound instead create a giant, mutant race.  StageBuddy chatted with the rising star about her character, her experience with bugs and some little known facts about bedbugs only a hellbent avenging exterminator would know.
How are you similar to the character you play in Bedbugs?
I am no scientist but I'm a big dork. I'm a super nerd.  I do have a Harry Potter band and we play at conventions sometimes, I'm pretty much like an awkward person for sure.  I'm very good with my friends but I can get very closed off.  I like to spend time alone.  I don't necessarily push people away like Carly does, but I know what it is like to be alone, I get that.
Then she's a rock star in the second act.  I can dig that.  I hope to not have a Harry Potter band.  I have a regular band.  We're called Grace McClean and Them Apples and I've been doing that more than pursuing acting work in the past couple of years.  For a while it was just music for me.  There is a Grace McLean character, she's a little bit more forward and tells people what to do.  It's really nice that Fred Sauter [lyricist/bookwriter] has written this character that has both sides.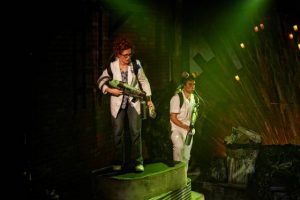 A lot of people are terrified of bedbugs, how do you feel about them?
I have a horrible time with bugs.  I've never had bedbugs but I did live in a house two years ago in Brooklyn that had horrible roaches.  This house was built in 1910 but hadn't been renovated and these cockroaches were never going to leave.  I scream at them before I kill them, I can't control it. I would be a horrible exterminator but I would share Carly's theory: Just don't be near me, you can exist. I don't want to kill you just get out of my room.
How did you find the love with Cimex, leader of the bedbugs?
Chris Hall, the actor playing Cimex, is very easy to love.  A beautiful man with a crazy voice.  The first day of rehearsal everyone was already inside rehearsing and I heard him singing in the scene from outside and I was like, 'Who is that! That's your love Grace,' and I said, 'You're doing the right thing.'  For Carly, someone who hasn't experienced love, yeah, he's a bug, but he's super cute.  He is the one who turns her into the rockstar.  He really does see the beauty of her potential.
What's your favorite number in the musical?
"Women," which is the song characters Cimex and Dexter sing.  And "Love to Love You," which is the Dionne Salon song [the musical's Celine Dion figure].  Paul Leschen [composer] just writes such great music.  I want to listen to them all day long.  He's never making fun of anything.  It's all so pure and done well.
How did you become involved in the project? 
The casting director contacted me early in the summer and apparently a couple of people I knew recommended me for the project.  I went in, saw the script and thought 'this was ridiculous' -- and went 'okay,' and played it as straight as possible.  I made our producer Dale Joan Young cry; it turned out I had met her before because I lived with her daughter my freshmen year of college, it was her senior year and we all went to Dale's house for a party.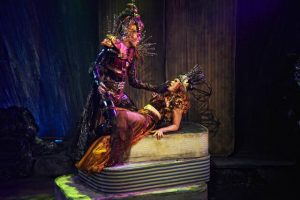 Do you have any take-aways so far from this project?
This show is such a learning experience for me.  I've never had so much to do in a show.  I'm usually a supplemental character on the side, [where] you never have to carry the show, you can make different choices. But this is the core of the story, you have to feel things, have to do things and have a through line. It's incredibly exhausting but really rewarding; I look at it like a workout or meditation.  In order to get through this show I have to find a place where I'm totally centered where I know my boundaries.  The show is like a marathon but it feels like a sprint.
What do you know about bedbugs that you didn't know before? 
I know how they have sex which is friggin' gross.  They're like little vampires, they come out between 2 and 5am like little Dracula.  What is their purpose? I don't know if they are protecting anything or if they are just little demons.
Bedbugs!!! continues its run at the ArcLight Theatre through November 2. For more information and tickets, visit https://www.bedbugsmusical.com/