Artist Spotlight: Adrienne C. Moore of "Ethel Sings" and "Orange is the New Black"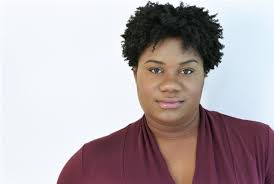 You might know Adrienne C. Moore from the Netflix sensation Orange is the New Black, on which she plays Cindy Hayes.  In person, she's funny, courageously bold, endearingly sweet, and a pleasure to speak with.  This summer, she's gracing the stage as Loraine, a guide and confidante to Ethel Rosenberg in Ethel Sings.
We caught up with Moore before a performance to talk about the play, how Orange is the New Black has influenced her career, and what she would do if she were God for a day.
StageBuddy: Tell us about the play Ethel Sings.
Adrienne C. Moore: Ethel Sings tells the story of Ethel Rosenberg and her husband Julius, who were executed back in the 1950s for being Russian spies. My character, Loraine, comes to assist Ethel on this journey to her death.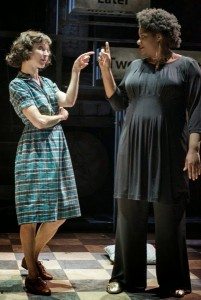 SB: What's the most exciting thing about playing Loraine?
AM: When I learned about the play and role she plays, I thought she was, for lack of better words, a God in a way, because she talks about knowing Ethel before she even knew herself. There is a beautiful monologue in the end of the play where she talks about being multicultural, multidimensional, exuding, including, she alludes to the fact that she's bigger than religions and people and things boxed, I'm that and more.  It's fun as an actor to think: 'If you could be God for a day, what would you do?'
SB: What would you do if you were God for a day?
AM: I think I'd like to fly around the world all in one day to see it all.
SB: How has Orange Is The New Black influenced you as an actor?
AM: I would say it's been one of the greatest apprenticeships of my career, it's been such a great opportunity to work with such amazing actors and writers, and a crew that really believes in putting great work out there.  Working with  Lorraine Toussaint (Vee) this past season (Season 2), who's done theater, television and movies, and Kate Mulgrew (Red), who's also had a robust career, all the veterans in the theater world and film world, it's been a great learning experience while also strengthening and perfecting my craft as an artist for television.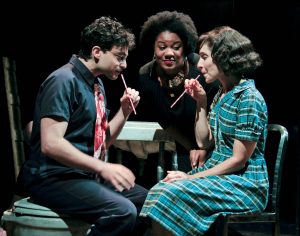 SB: How does social media influence our careers as artists?
AM: As an artist you have to think of yourself as a business, and social media is a quick way to alert the public, your followers, fan base. If you're doing a play, whatever it is you're doing you can let your fans know.  It's the best press out there.
SB: What advice would you give to a younger you?
AM: I was an anxious kid, I would tell myself to take each day and enjoy what comes.  Have your dreams, work hard for your dreams but be patient because when you get the things you want because you worked hard to get them you'll enjoy the reward that much better.