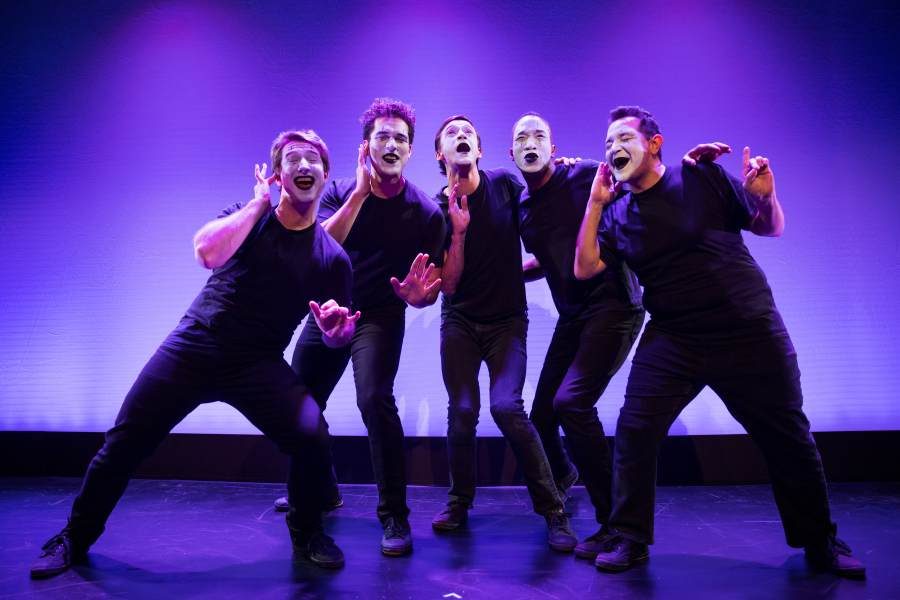 Take Shape, Broken Box Mime Theater's newest devised show, explores ten stories about emergence and transformation. It's the company's first Mainstage show in three years, and to celebrate this momentous occasion, we spoke with Artistic Director Becky Baumwoll about how the show came together, the joys of mime theater, and how Broken Box Mime Theater keeps the art form fresh.
What attracts you to mime theatre?
Oh goodness, so many things! First off, mime is theater with a delightfully limited palate. It's a fantastic puzzle: how can I tell the most with the least? It demands creativity, sensitivity, and ingenuity. It asks: tell a story just as powerful as the most amazing play you've ever seen, but without words, costume changes, sound effects, set pieces, or props. What results is this incredible efficiency of storytelling. As an actor, it makes me aware of every turn of my head and curve of my spine, because each movement or gesture is equivalent to a paragraph of text. I'm using every trace of insight I have as a human being who uses my face and body to speak constantly. As an audience member, it's super satisfying, because it's only what it needs to be, nothing extraneous to distract or hide behind (when done well!). It also assumes the most of me as I watch: that my mind can fill in the blanks, piece the story together, and make sense of the narrative, whether literal or abstract. It affirms my imagination.
Do you think miming can cross boundaries in ways that other theatre can't?
Absolutely. For example, without language, many barriers associated with language disappear. Of course not all barriers to access are gone (we use written English titles throughout the piece, the program is printed in English,  and we use an arguably neurotypical body language that calls upon US-American tropes and symbols), but it is incredibly significant to be able to watch this play without a need to understand English. What's even more powerful is that people of different spoken languages can enjoy the same show and watch the same stories, sharing a narrative-based experience without need for translation.
Regardless of the language you speak, Mime's "language-less-ness" brings out something refreshing in a society that so often favors codified language over more physical, abstract, fluid, or visual ones. I am always amazed when someone who saw our show years ago mentions the story they remember and the experience they had with it. "I will always remember when you stepped through that refrigerator into the tundra," or "I'll never forget when that soldier gave the nurse the music box." Without words, emotions are stirred much more directly.
What's an aspect of miming that might surprise people?
We talk a LOT in rehearsal. Because we devise our own work, we are constantly discussing what makes a piece "read" the best for our audience, what it's about, what it needs or doesn't. The conversation shifts quickly from technical creation of the performance (e.g. "what is best here: my hands held up like this or should we try a different technique?") to purpose (e.g. "what are we really trying to say here, because I don't want to reinforce this storytelling trope with this scene"). There are also a lot of…sound effects. This week, "shmoop" meant to condense something to make it shorter, "bzzzzzzzzhhh" was the sound of a perspective shift, and we "shlahcked" into place when our future space traveler turned on the gravity simulator.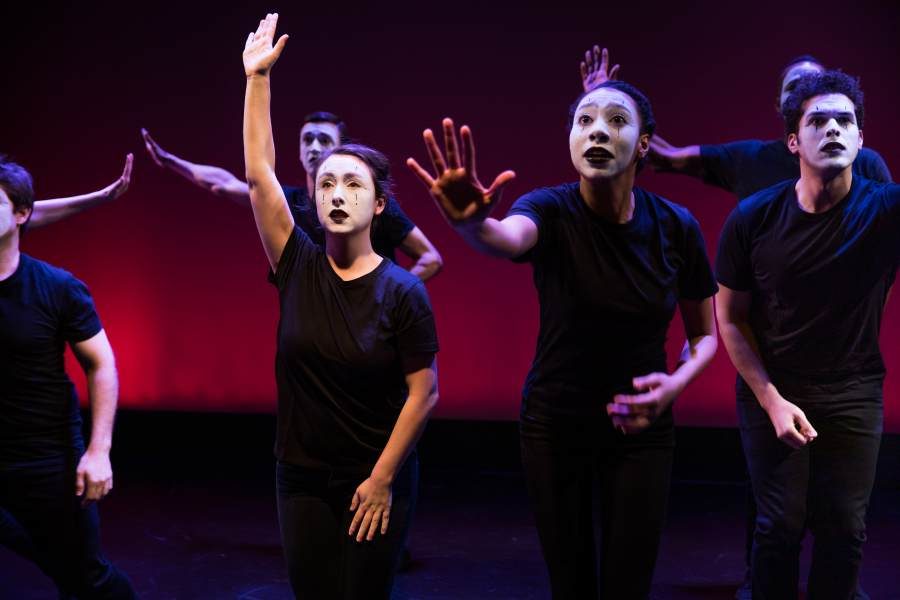 How do you modernize miming for today's audiences?
We're writing stories about the housing crisis, parenting, pop culture, isolation, gender norms, virtue signaling, the climate crisis…essentially whatever our artists are interested in writing about. As a collective of company members who are actively engaged in various nooks and crannies of our society and modern discourse, our work is unmistakably a reflection of today.
Nerdy historian note: This isn't new for Mime per se--much of Mime's history is marked by reacting to modern society (e.g. A new law that says we can't speak a word against the queen onstage? Fine! We'll just mime them!).
Our style is also based in naturalistic realism, so it removes a sense of presentational or exaggerated storytelling that is so often associated with mime. No tricks for their own sake, just invisible objects and illusions in service of a larger narrative impact.
What goes into creating a devised physical theatre piece?
A positive, supportive, caring ensemble culture. Games that physicalize a group brainstorm. Note-taking. Discussion. More patience. A "proposal day" where our company members pitch piece ideas, followed by hours of discussion to craft the pieces of our show. Fantastic designers, dozens of hours of rehearsal space, and a schedule that works around pre-existing conflicts and day jobs for our actors. Many hours of childcare for our artists who are parents. Outside eyes that tell us what they see and what they don't, followed by more discussion. Money to rent a theater, to rent the space, to get the make-up wipes, to hire the personnel. A press rep to make sure folks come to the theater, and to introduce us to interested publications, like this one!
How did Take Shape come together?
We wanted Take Shape to premiere in early 2021; at that time it was called Capacity, and focused more on what the body could hold. With pandemia, that theme morphed into Take Shape, which shifts off of limits and boundaries and onto "what emerges over time." This new thematic center was not a hard switch, rather it was found in rehearsals  and sort of…well…took shape! We are thrilled to be back in the theater after years of waiting to make our artwork again. This is the creative home of many of our artists, and it is also a "first" in many ways--artistically and producorially. We hope audiences feel a sense of connection--with each other, with us, with themselves. We want to make theater magic.