Michael Urie talks playing Shakespeare in 'Jane Anger,' being the new kid on the block in 'Shrinking,' and revisiting 'Single All the Way' for the holidays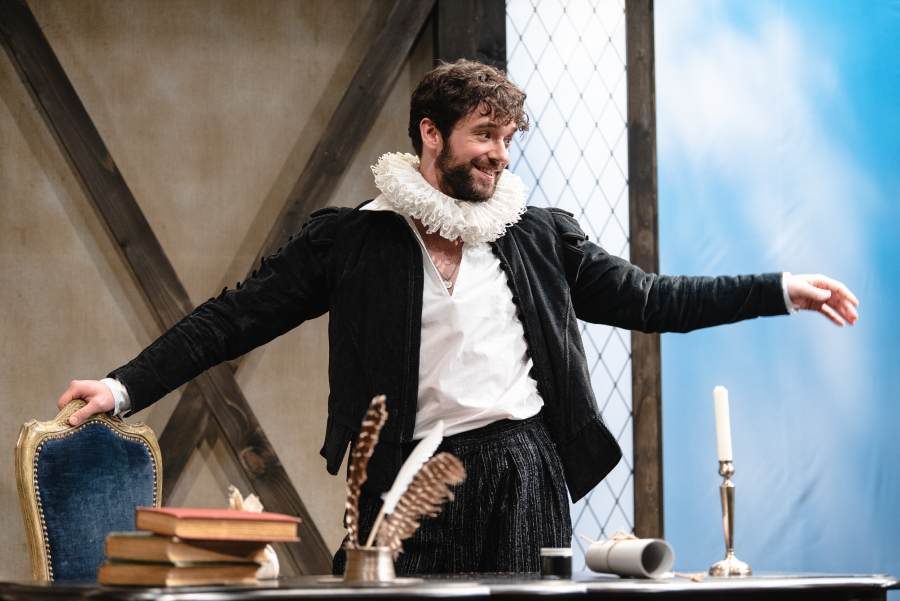 Michael Urie is always a delight to watch, so it should come as no surprise that he's also a delight to talk to. While his most recent Broadway credit was the uproarious comedy Chicken & Biscuits, he's been busy Off-Broadway and beyond: in the new Apple TV+ comedy Shrinking (created by Brett Goldstein, Bill Lawrence, and Jason Segel) which premieres January 27, and in the modern Jacobean Revenge Comedy Jane Anger (written by Talene Monahan), in which he plays a narcissistic, melodramatic William Shakespeare. After an Off-Broadway run, the show is headed to D.C.'s Shakespeare Theatre Company—where Urie previously played Hamlet. Somewhere between all these stage and screen gigs, Urie took a few moments to share with us what he loves about Jane Anger, how he found his footing among Shrinking's cast of film and TV all-stars, and why Single All the Way is still spreading holiday cheer.
You're no stranger to Shakespeare, most notably having played Hamlet in D.C. Has any of that Shakespearean training come in handy for Jane Anger?
Oh yeah, for sure. Talene Monahan, who wrote the play, is just a fantastic writer, and her dialogue is huge: long sentences, big words, tongue-twisters, and verbal gymnastics. In Shakespeare, especially when you play a role like Hamlet, you have to take big breaths and get to the end of long sentences, but at the same time convey a specific thought using words that we don't use, or putting them together in ways that we don't do in our lives anymore. She's managed to find a way to create something that sounds like Shakespeare yet is very modern. She uses a lot of modern words, and a lot of modern sensibilities, and sometimes the lines are very anachronistic, very much us today, but then other times it sounds like something Shakespeare might have said. Being able to draw on the training we have from doing actual Shakespeare plays has been invaluable. Also the stamina it takes to do a Shakespeare play is very different than the stamina it would take to do a lyrical kitchen sink drama, although that is also challenging. Having to do something big, physical, sword fights or whatever, that's all stuff we had to draw on for this—which is kind of non-stop bouncing all over our set. There are even some physical stunts in this play. So yeah, we definitely have to train like it's Shakespeare.
You get to perform alongside your real-life partner Ryan Spahn in this show. What's that been like?
We really like working together. We've done it many times over the years. In fact he was in Hamlet—when I played Hamlet he played Rosencrantz. And we both went to Juilliard, not at the same time, but we both went. So we approach things in a very similar way, and we just really love this play. I think it might be a little different if we were doing a sad play or a play where we were fighting for real. This play is incredibly smart and very much about something, but it's silly, and very fun, so we really enjoy each other. Talene is one of our best friends, and Amelia has become one of our best friends, so the four of us are like kids. It's really, really fun.
The Shakespeare in Jane Anger feels a lot of pressure to both outperform his competitors and top his past successes. As a performer who's had a lot of past success in various projects, do you ever feel that?
I do now! I mean, yeah, for sure. I always have this sense in my head: is this something you've done before as an actor? If it is, what's different this time? Really, in the theatre especially, that goes for every night. You want to keep it fresh and alive for yourself. But at the same time, you have to remember that most of the audience probably hasn't seen the show before. They don't want to watch you entertaining yourself—they want to watch you giving them the best version of the play that you can give. So it's a dance. You have to listen very quietly inside yourself to what it is about you that's good and interesting, and what do you know you're good at, and then try to do that every time. But at the same time, continually grow and change as an artist. This Shakespeare theatre audience saw me play Hamlet, and this is very different. I hope they come in and see a guy that's five years older and stretching different muscles.
As you mentioned, this is such a fun play. Is there anything you're especially excited to share with audiences?
Oh yeah. There are some delightful surprises in this play that I can't wait for D.C. audiences to see. I love Washington, D.C. so much. I've worked there several times: at the Folger Shakespeare Theatre and The Kennedy Center. Every time I come here I have a renewed love for their audiences, because—and this isn't a slam on any audiences in other cities, I've had great experiences doing theatre in New York, obviously, and L.A. and Chicago—but there's something about a D.C. audience. I don't if it's because it's an industry town, there are a lot of lawyers and politicians and they probably all have really high-stress jobs, so when they come to the theatre, they're just ready to check out and see a play. It's unlike in a theatre town like New York or Chicago where there's such a microscope on the play and how it compares to other plays. When D.C. audiences come in, they're excited to be there, they want it to be good, and they're 100% invested and listening and focused. And this is a play that you can enjoy on the surface, but the more you listen, the more you'll hear. Talene has filled it with inside Shakespeare jokes, inside Jacobean jokes, inside feminist jokes, and actor jokes and showbiz jokes. It's just got a ton of stuff inside of it, and the more you listen the more you'll enjoy it. It's not your normal holiday fare, but it will tickle your funny bone and really make you think. That's the thing I love most about the play, I think—it is really funny, almost non-stop funny, but it's so smart. And it's about so much: the past and the present and the future. I really stand by it being a work of great thought. So I'm excited to do it again just because it's always fun to revisit any play, but to do it here, to do it for these audiences, they're really going to love it.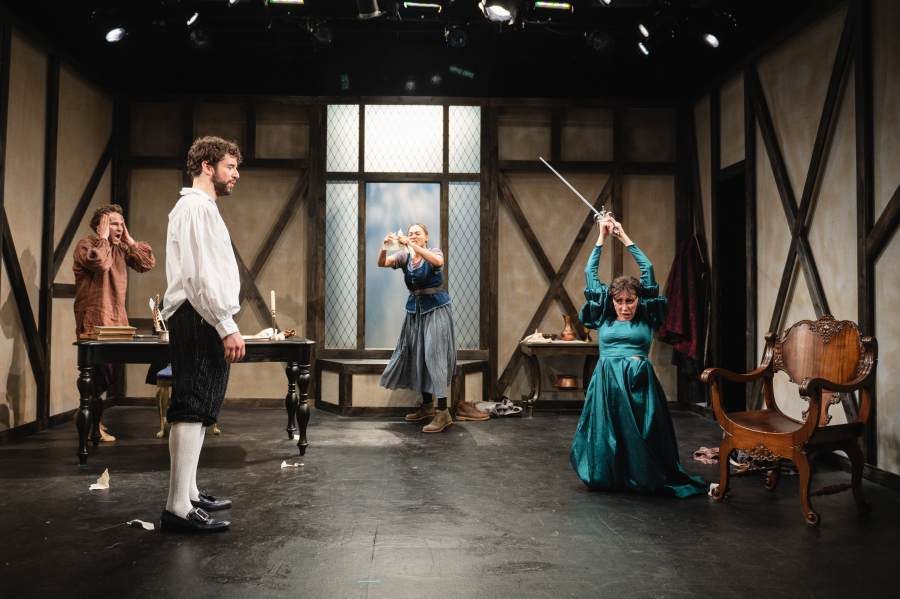 A lot of people may know you primarily, or at least originally, from TV, and soon audiences will be able to see you on the silver screen again in Apple TV+'s Shrinking. 
I'm so excited for people to see Shrinking. It was a complete blast to work alongside amazing TV people. When I started that job, I didn't know any of them. I knew one of the writers, I'd worked with him once and I loved him and was very excited to work with him again. But I didn't know Bill Lawrence or Brett Goldstein—the creators. I had met Jason Segel one time very briefly. I did not know Harrison Ford, I didn't know Jessica Williams or Christa Miller or any of the directors. It was one of those things where I auditioned on video, then I got the job and had to relocate to Los Angeles. I sat in this place I rented and thought, they don't even know me. It was like when I was in 2nd grade and we moved to a new city and I had to go to elementary school where I knew no one. It's a really vulnerable thing. And the stakes are really high—I'm working for Apple, for crying out loud, alongside movie stars! But the good news for me was that my character was plucky and happy-go-lucky and very sunny. I mean, there's more to him than that, as you see as the series goes on, but that was my starting point. That's an easy thing for me to put on, even if it's not how I feel inside, so even if I was nervous, I could put that persona on and then I had an easy time talking and making friends. It ended up being a completely delightful experience. And then on the business side of things, the audience is massive. These are viewers that maybe didn't see me on Ugly Betty or The Good Wife. So it's a new audience for me and I'm really looking forward to what this next chapter might bring.
Since it is the season for Christmas movies and the one-year anniversary of Single All the Way, I feel like we have to at least mention it. Obviously it's a film that's beloved by many. Is there anything about its reception or continued life that's surprised you?
Yeah! You know, I didn't really think about the fact that when Christmas came around again, people would watch it again. It came out, it happened, it was great, people loved it. It got watched by many, many people, very very cool, very exciting. And then this year, people are watching it again—or people are finding it for the first time. I mean, I watch Netflix and I see myself! I scroll through and I'm like, Oh my God, there I am, I'm on what's popular. I've never done anything that was seasonal like that. What's really cool about something like Ugly Betty is that people have discovered it over the years and it's a full thing, a big story that people can binge. So that's been really rewarding. But working in the theatre, you finish that play and it's gone forever. It's only in people's memories. And lots of movies and TV shows, they just sort of go away. But wow, I guess every year people are going to watch Single All the Way again—which is really special and really amazing. And our cast is so incredible—Philemon Chambers, who plays Nick opposite me, is on the new Western Show on the CW called Walker, so he's getting all those new fans. And they're all going to watch Single All the Way because they love him on Walker. And of course Jennifer Coolidge is having the most banner year you can imagine, so people are going to come back to see her as Aunt Sandy. And Kathy Najimy just had the new Hocus Pocus movie come out. So it's cool that it's this wonderful seasonal movie. And, you know, the barriers that it broke down being Netflix's first gay romcom, that's still going to mean something to people who are home with their families and they're the only queer person in their family and they can watch this thing together. Yes, it's about gay people, but it's really about love, and family, and Christmas.