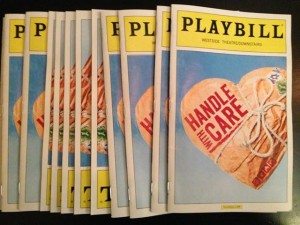 The hit romantic comedy "Handle with Care" may make you believe in the power of destiny.  Starring Charlotte Cohn and Broadway legend Carol Lawrence (the original Maria of "West Side Story"), it tells the story of a young Israeli woman who travels with her grandmother to the States, where surprising circumstances bring an American man into her life.  Written by Emmy nominee Jason Odell Williams (Cohn's husband) and wonderfully directed by Karen Carpenter, "Handle with Care" will have you in tears -- mostly of laughter.
StageBuddy's Paige Allen caught up Charlotte Cohn after their 100th performance to talk about her take on the play and inevitable love.
Check out the interview with Carol Lawrence and the original cast of "West Side Story" here.