Up-and-Comer Kate Benson Talks About Working with New Georges/Women's Project Theater on Her First Produced Play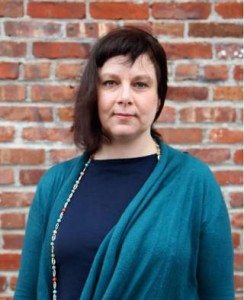 Kate Benson is living the dream! This thoughtful and courageous playwright is now enjoying the fruits of her labor as her first produced play, A Beautiful Day in November on the Banks of the Greatest of the Great Lakes, opens at New York City Center Stage II. Produced by New Georges, in association with Women's Project Theater, Great Lakes also has been given the gift of a supportive community for women in theater -- allowing them to grow, expand and push the limits -- as Benson has experienced firsthand.
Benson's play captures the events of one family's Thanksgiving preparation and presentation, with two sports announcers calling each and every move. From the second the games begin, the audience is introduced to this diverse and thrilling family, each with their own opinions and ways of doing things, as they attempt to work together to make the holiday meal one to remember.
StageBuddy got the chance to speak with Benson to discuss her journey, lessons learned along the way, and finally, the piece de resistance – the feeling of making her debut!
First and foremost, Kate, congratulations on your first produced play officially opening! Let's start at the beginning…. tell me how your career path unfolded and how you got your start…
Kate Benson: Thanks so much! It has been quite a journey. Well, I went to New York University for undergrad and actually started as an actor. I worked for many years at the Flea, but it wasn't until grad school [Benson graduated from the Brooklyn College MFA Playwriting program] that I realized I was secretly a writer. I became very interested in doing new plays and began hanging out with writers, as we all became eager to bring in our own work to discuss. With Great Lakes, we met for nine months and staged some workshops and held readings, before it was chosen. I feel very lucky to be a part of the writer's group, the Jam [at New Georges].
How do you prepare for an undertaking like this? What are some of the challenges that you have encountered along the way?
I am a huge reader, and also love movies and TV, but have experienced [as an actor], having to wait for someone to write a part that you are right for. With that said, I've come to see that now is my time to write. The biggest challenge is finding a balance, but now that I think about it, it's a great problem to have. You're forced to really stretch your time and find a home for your ideas – but in the end, it all evens out.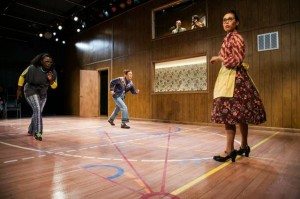 The storyline is genius, having a pair of sports announcers call a holiday dinner. How did that concept come to life?
Well, while this is not a memoir, I did want to take apart a holiday that we all are very familiar with and turn parts of it upside down. Really, show how very weird our country is, and share that with everyone else – as a way to engage. I set out to write a play without stage direction. I wanted to see if I could put everything in the text and glean the most from the actor's voices. When you close certain roads, you end up gaining a new kind of freedom.
What is the dynamic of the cast like?
The regard for their craft is truly so inspiring. Each and every cast member is so detail-oriented, as you will see reflected in their characters, right down to their outfit choices. The vigor and talent of all the collaborators is astounding.
You said earlier that you wanted to show "how weird our country is" -- how does Great Lakes reflect the principles and spirit that our country was built on?
The scope of the production is really excellent. Having a multi-racial cast represents the depth and uniqueness that has made our country what it is today. So many people can recognize the humanity in Great Lakes and will be reminded of their own families and traditions. On a deeper level, this production also illustrates the competitiveness and great violence that our country was founded on. I had to get so much more invested in picking something simple that I knew – Thanksgiving.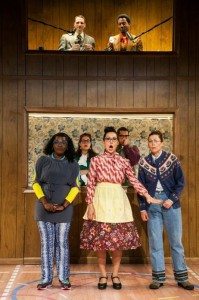 Describe what this whole experience has meant for you.
Simply, this whole experience has been a dream! It has been the best experience working with New Georges and Women's Project Theater, working with the best artistic writers and creative staff that I could hope for! It has been thrilling to collaborate with these women, as well as a few men, and I really appreciate how they support their creative community. They handle each obstacle with a positive attitude and are realistic about constraints, while offering plenty of solutions. It has been wonderful to see everything come together as it has!
What do you want audiences to take away from Great Lakes?
What audiences will take away will be entirely up to them. What I hope, is that their memory and imagination will be triggered during the production. I hope they come ready to listen, while enjoying all this crazy holiday has to offer!